A Bold New Color Choice For Me
Well, I did it. I painted the room white.
And the most shocking part?  It only took two coats!  And I didn't use primer!
I used the same white that I've used on all of the doors, trim, board and batten in the living room and breakfast room, and the built-ins in the living room.  It's also the same white that I used on the cabinets in the connected bathroom, and the faux wood slat walls in the other bathroom.  It's a white called Polar Bear, and it's a touch on the warm side.  (I hate whites that are so cold they look blue!)
So while this white is definitely present quite a bit in the condo, this is the first time I can remember ever painting the walls (without wainscoting) in a room solid white.
Now I know that some of you think I've just made the worst decorating decision of my life. (Okay, so that's probably a bit too dramatic. 😀 It is, after all, just paint.)
But I kind of already had my heart set on trying white, just because it's something that I probably won't ever do in the house (or will I?), and I just wanted to try it out…once.
And you have to admit, it's a lot cheerier (and blends better with the tile floor) than the black walls…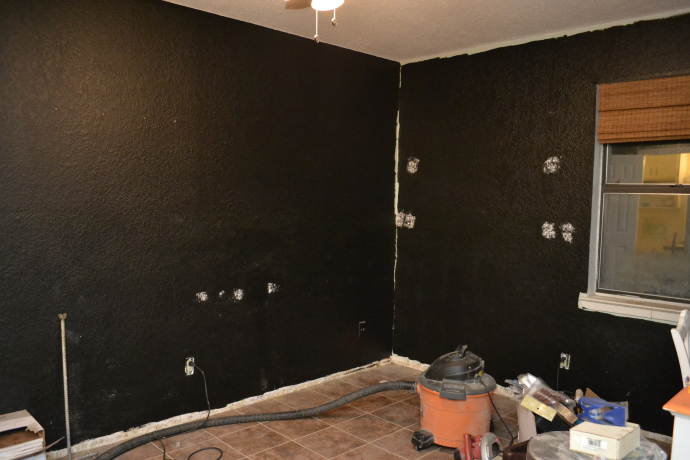 And just about any color in the spectrum would look better than baby poo brown…
That picture seriously makes me cringe.
So…yeah.  White it is.
Aaaahhhhh…so fresh, so bright, so clean!!
Plus, I read all of your comments like "Kristi, don't do it!" and "It won't look right in the condo!" and "It'll look out of place!" and "White just isn't you!"…
And the more I read those comments, the more I was like…
😀
I think it'll work.  And really, all of that color that I love so much looks amazing against crisp white.  Like this…
And this…
And this one…
So I'm up for the challenge.  We'll see if I can pull it off.  Maybe I can, or maybe some of you will end up saying "See?  I told you so!"  🙂  Either way, I'll have fun trying.
Addicted 2 Decorating is where I share my DIY and decorating journey as I remodel and decorate the 1948 fixer upper that my husband, Matt, and I bought in 2013. Matt has M.S. and is unable to do physical work, so I do the majority of the work on the house by myself. You can learn more about me here.