Last Updated on December 24, 2015 by Kristi Linauer
As predicted, I didn't finish my mosaic tile framed bathroom mirror yesterday. Boy, do I know how to pick the tedious, labor-intensive, time-consuming projects, or what??!! 😀
I did, however, get all four sections covered with tiles, and get them mitered. The frame isn't put together yet (I'll use my Kreg Jig to do that), so the pieces are just lying there, but here's what I have so far…
The tiles on the mitered corners don't line up, and that bothered me for about ten seconds before I finally decided that perfection is way overrated.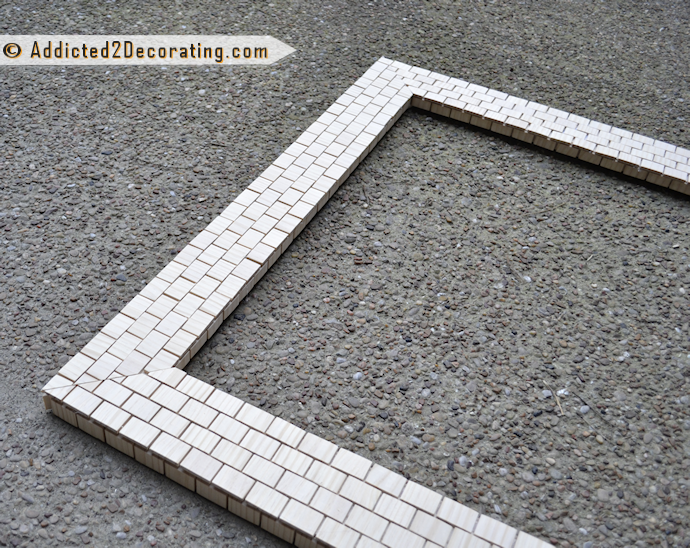 But if you decide to do this project, and the unmatched mitered corners will bother you, I'd suggest cutting the tiles into squares rather than rectangles, and then putting the frame together before gluing on the tiles. That way, there will be no mitered corners showing.
But I wanted rectangle tiles, so I have to live with my mitered corners. And I'm okay with that. 🙂
Now I know that some of you got a little lost with my assembly instructions yesterday, so I hope to clarify a few things for you.
First, here's a look at the back of the frame.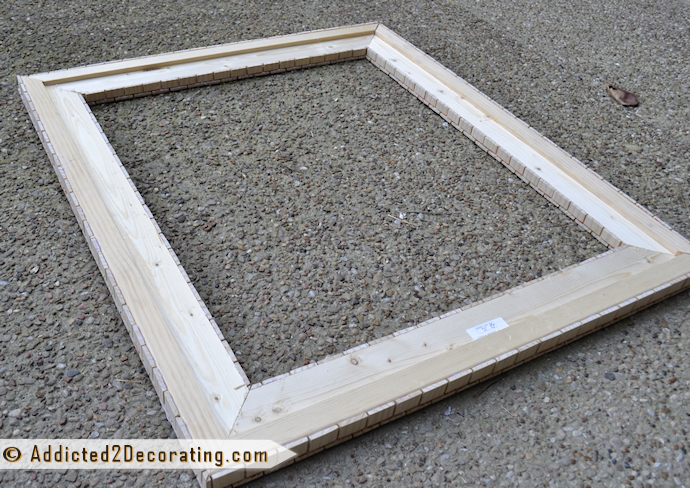 Again, it's not assembled yet, so the pieces are just lying there. I'll try to remember to get a picture of the back once it's all put together with the Kreg Jig.
So now you can see the purpose of the lattice piece that I glued onto one edge of the 2″ x 4″, right? It's on the outside edge of the back of the frame, and the mirror will be placed right into the inset part.
On a frame, that inset part where the picture / glass / mirror / cardboard backing go is called a rabbet.
And once the glue on the lattice was completely dry, I started attaching the tiles beginning with what would be the outside edge of the frame. Once the tiles were attached, I cut out the frame pieces at a 45-degree angle. You can see the cut lines represented by the red lines on the left, and each of those sections became one side of the frame.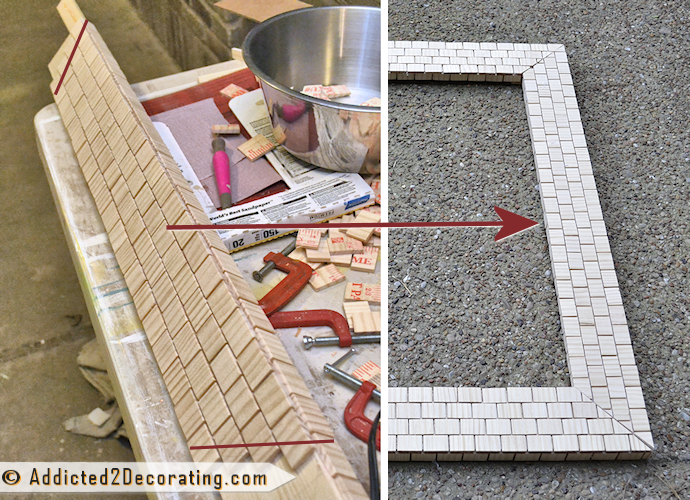 I hope that helps to clarify the construction for those of you who were confused!
I have two more steps (putting the frame together, and preparing it with a spray primer) before I can get to the fun part…painting the tiles!!!
I'm aiming to have it done by tomorrow. We'll see.
Addicted 2 Decorating is where I share my DIY and decorating journey as I remodel and decorate the 1948 fixer upper that my husband, Matt, and I bought in 2013. Matt has M.S. and is unable to do physical work, so I do the majority of the work on the house by myself. You can learn more about me here.
I hope you'll join me on my DIY and decorating journey! If you want to follow my projects and progress, you can subscribe below and have each new post delivered to your email inbox. That way you'll never miss a thing!