DIY Pull-Out Slotted Drawer For Cookie Sheets, Pizza Pans, Cutting Boards, Etc.
I'm back with another kitchen/pantry organization project that I'm pretty excited about. I worked more on my pantry yesterday, and I spent the afternoon building and installing this custom DIY pull-out slotted drawer for baking sheets, pizza pans and baking dishes.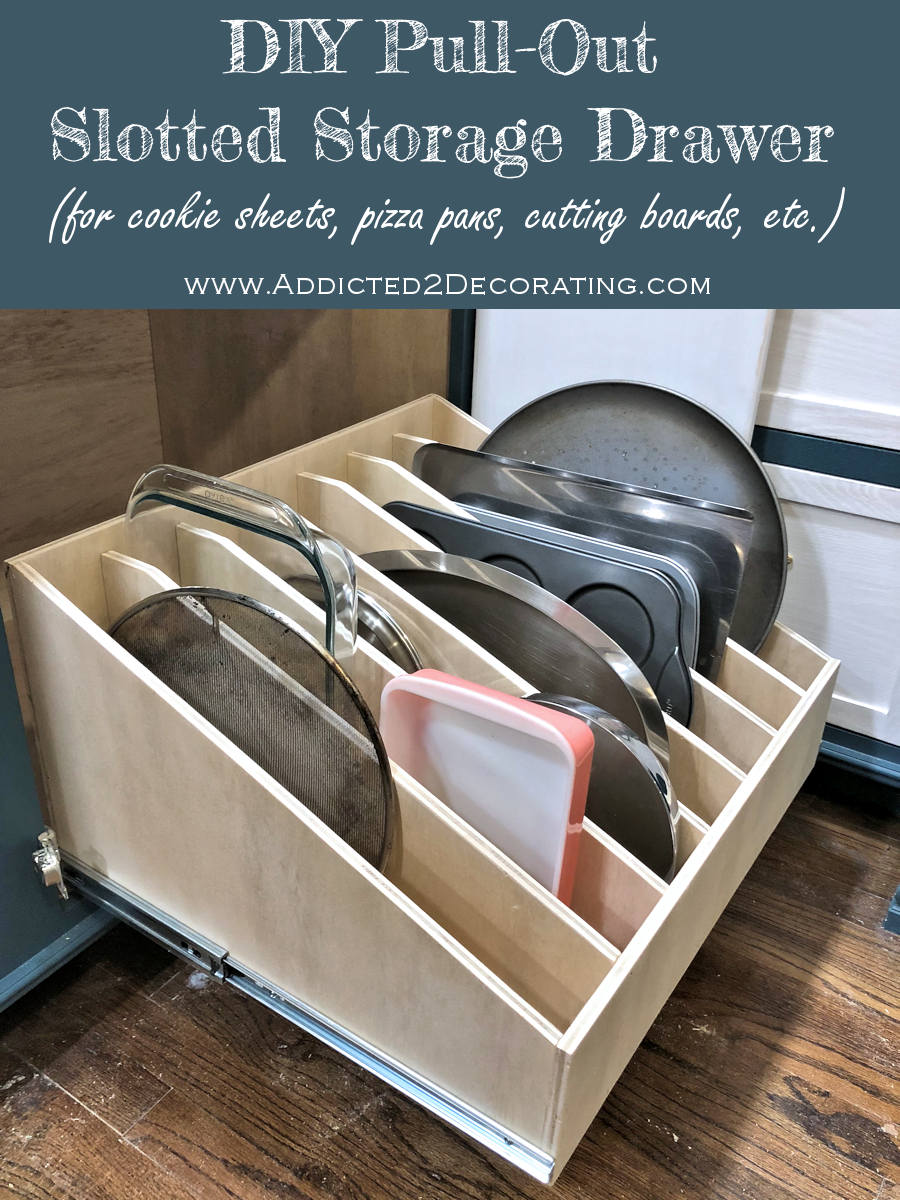 It's nothing fancy — no fancy corner joints or hidden dowels. It's just a very basic drawer with butt joints and visible staples where everything is attached. But it's very sturdy, easy to make, and very functional.
The whole drawer took almost one sheet of 1/2-inch plywood, which means it cost around $45 with the drawer slides.
And speaking of drawer slides, these are the ones I buy. That's the best price I've found on full-extension ball bearing drawer slides. The price at Home Depot is about two to three times that amount per pair, depending on which brand you get. These are not the soft automatic close slides, but I really don't care about that. As long as the drawer slides move easily and smoothly, are full-extension, and will hold the weight of the drawer and the items in it (these are rated for 100 pounds), then I'm happy.
When building drawers or pull-out shelves, I always install the drawer slides before I even begin building the drawer. The main thing to remember when installing drawer slides is that you need to make sure you shim out the drawer slides enough so that the slide will clear any face frames on the cabinets, and the slides and drawer will will clear any cabinet door hinges. I had to shim mine out an inch on either side (I used two layers of 1/2-inch plywood) so that my slides would clear the face frames and the sides of the pull-out drawer would clear the cabinet door hinges.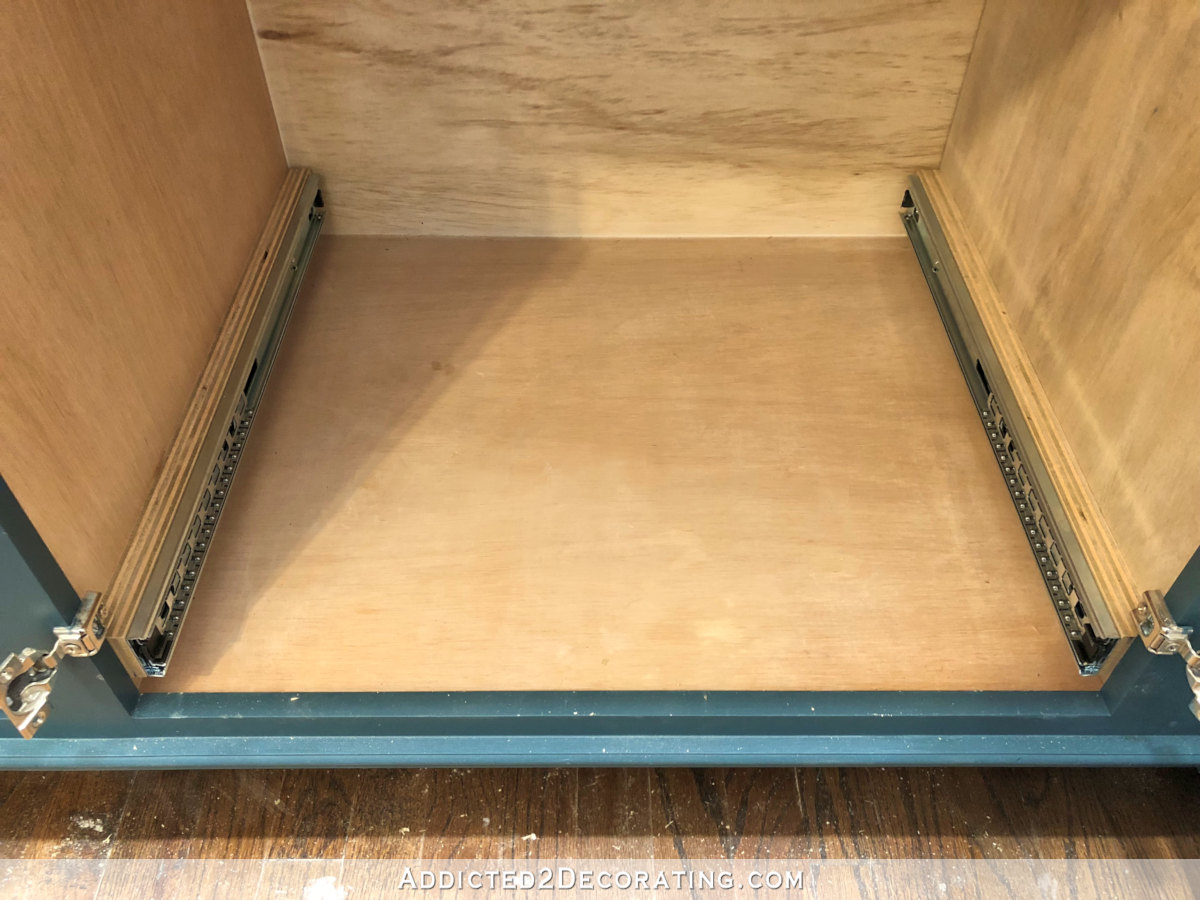 When installing drawer slides, you generally have to remove the piece that attaches to the sides of the drawer. So when the slides are installed inside the cabinet, I replace those pieces that attach to the drawers, pull the slides out about three inches, and measure between the slides for the drawer width.
With my measurements in hand, I'm ready to begin building the drawer. My drawer needed to be 23.25 inches wide, 21.5 inches long, and 14 inches tall at the back. But for easy access to the cookie sheets and other items stored in the slots, I wanted a slanted design. So I decided on six inches for the front.
For the bottom piece, I subtracted one inch from both the width and length (since I was using 1/2-inch plywood for the sides) and cut the bottom piece to 22.25 inches by 20.5 inches. Then I cut the two side pieces to 20.5 inches by 14 inches, and then used my jigsaw to cut an angled top edge.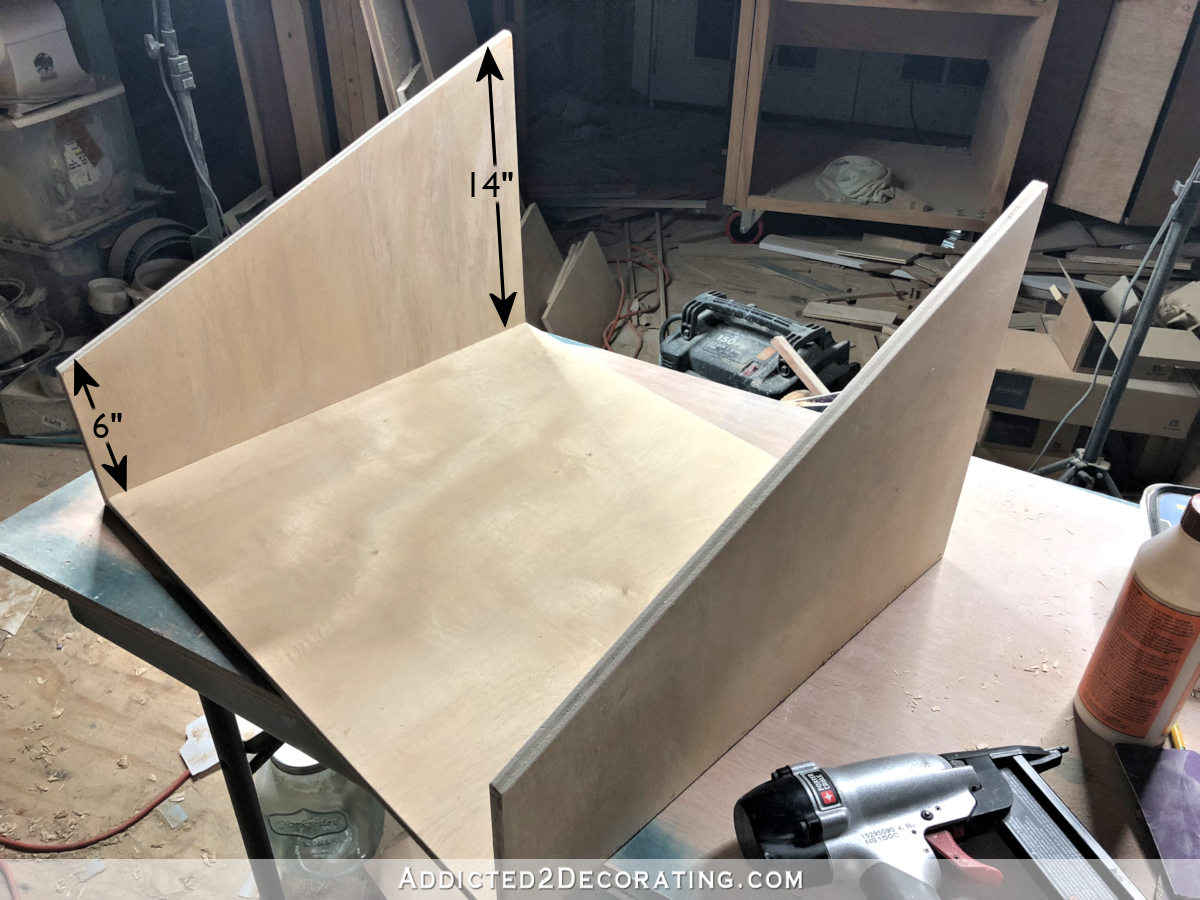 I attached those sides to the bottom piece using wood glue and my narrow crown staple gun. (This is the stapler I have, which I use with this air compressor.) I've learned that when building drawers, staples hold much more securely than nails, so my stapler has been getting quite the work out lately as I've been working on my pantry.
Next, I cut the piece for the front and attached it with wood glue and staples. This piece was 23.25 inches by 6 inches.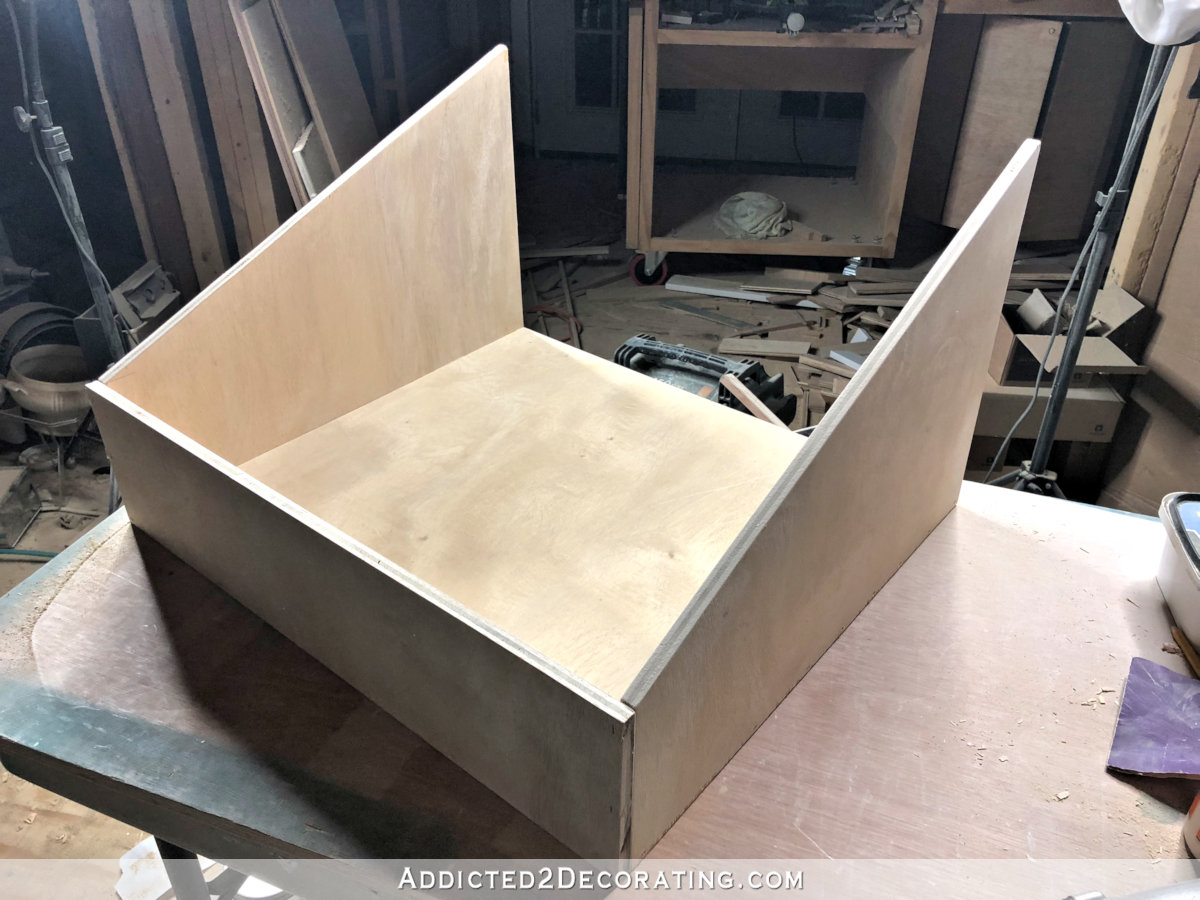 And then I cut and attached the piece for the back. This one was 23.25 inches by 14 inches.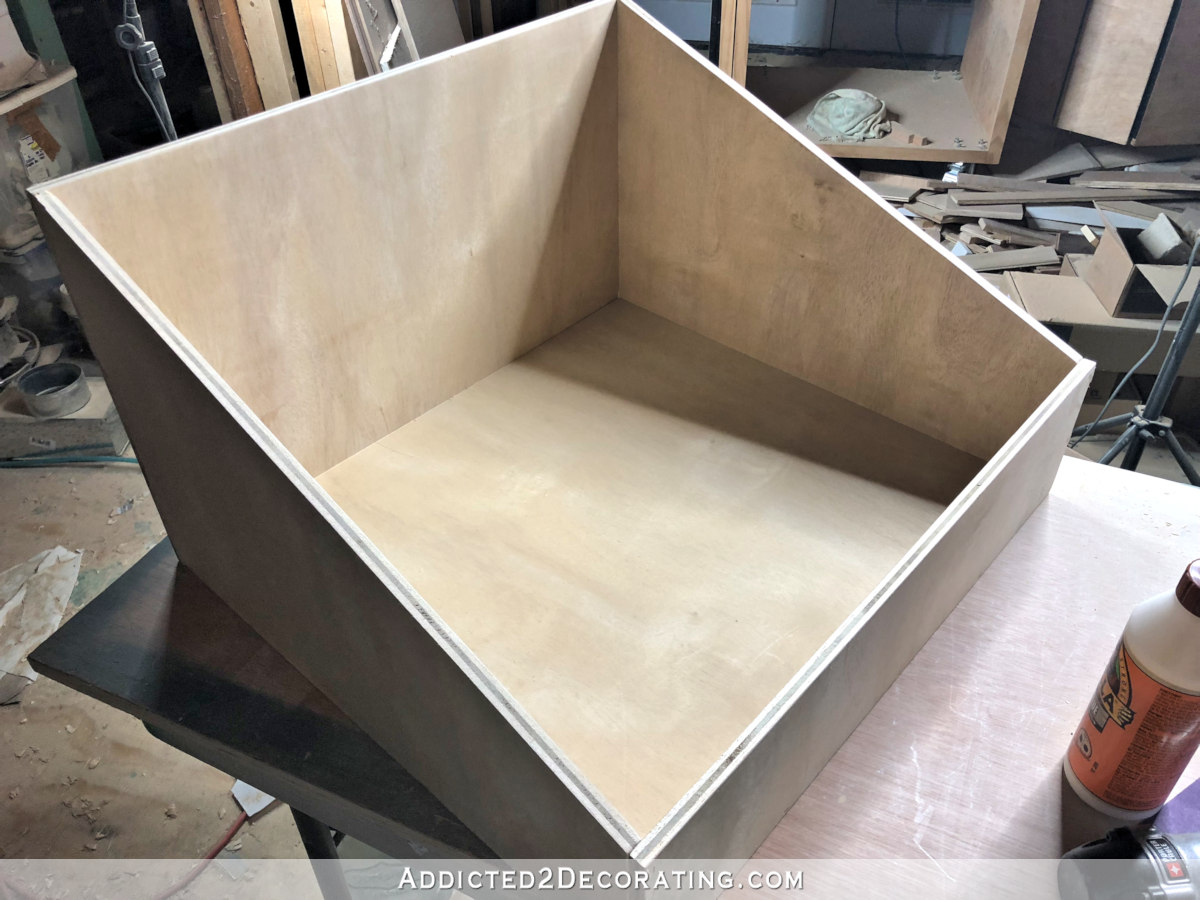 Next, I cut six dividers to go inside the drawer. Using the side of the drawer as a pattern, I traced the angle for the top edge onto one of the pieces, and then stacked three pieces at a time to cut them with the jigsaw. I couldn't find my awesome jigsaw, so I had to use my old cheaper one, which doesn't cut as well. (Jigsaws are one tool that you don't want to skimp on. You get what you pay for.) So I ended up with some very uneven top edges.
So I clamped all six pieces together, and then used my rotary sander with 40-grit sandpaper on it to sand the top edges until they were all uniform.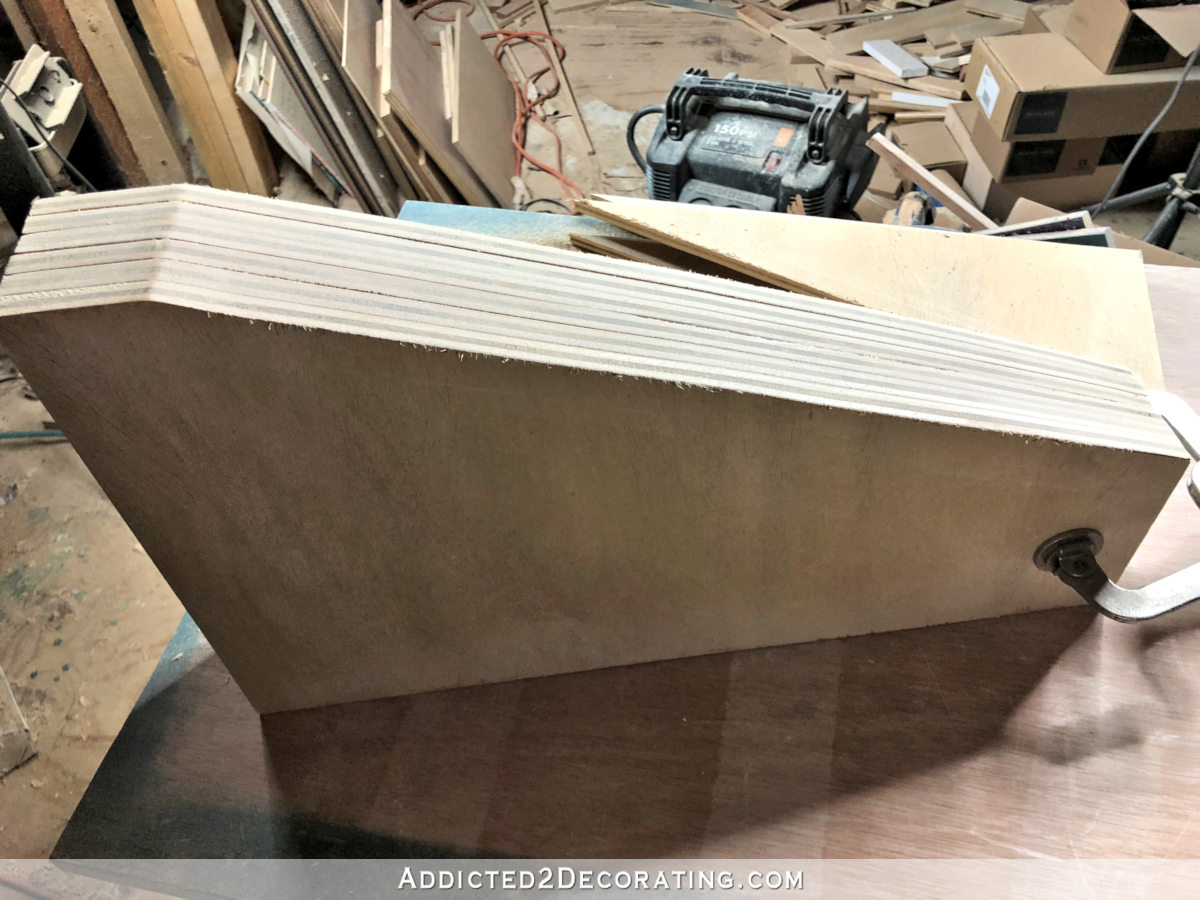 They still needed sanding individually once I unclamped them, but at least the top angled edge was uniform on all six of them now.
Then I placed all six dividers into the drawer and shoved them all over to one side, and measured the remaining width in the drawer.
I divided that by seven (six dividers would give me seven slots). That gave me a measurement of 2.79 inches for each slot, so I rounded down to 2.75 and used my table saw to rip two scrap pieces of plywood to 2.75 inches wide so that I could use these as spacers while attaching the drawer dividers.
Starting on one end, I placed a spacer at the front and back of the drawer right up against the side, and then placed a drawer divider right up against the spacers.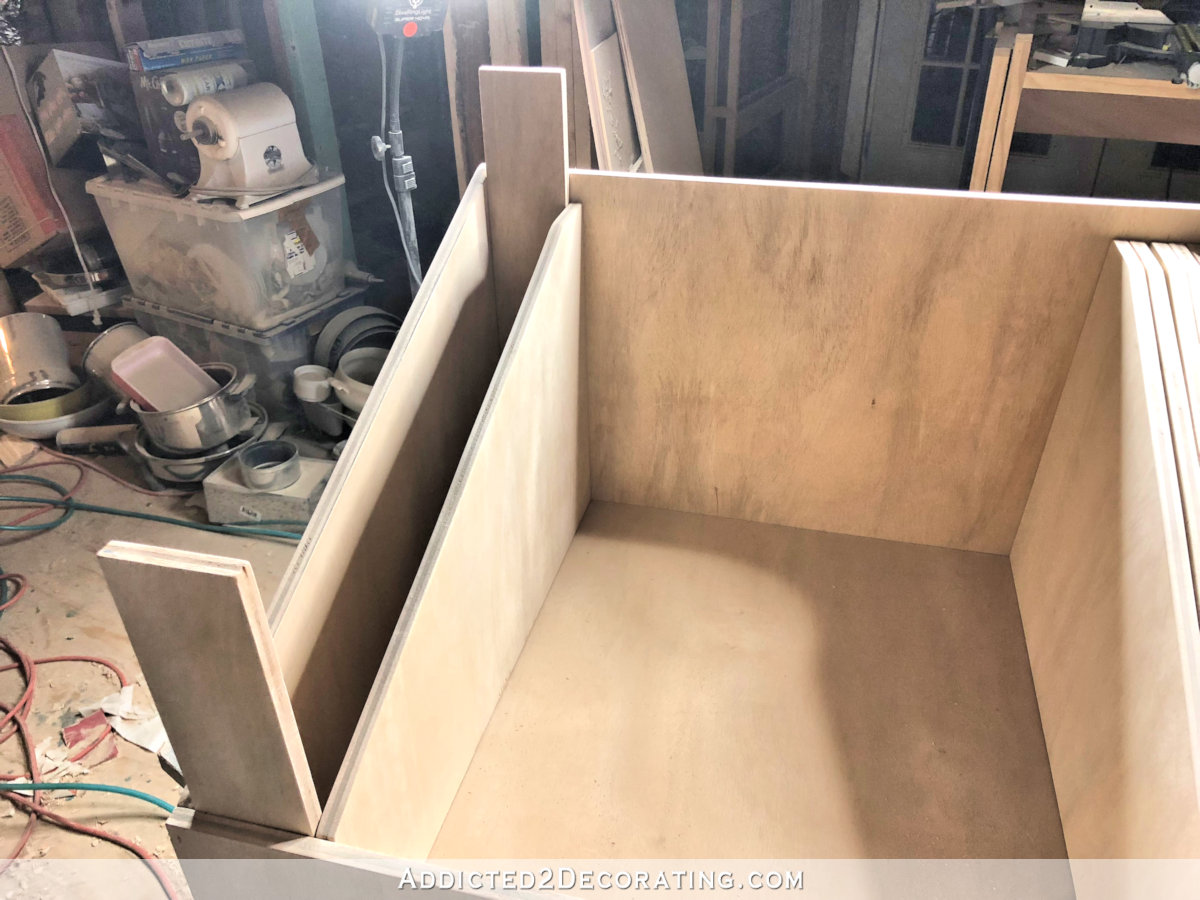 I stapled right through the front of the drawer and into the edge of the drawer divider to secure it into place. I eyeballed the first (top) staple placement on both the front and back of the drawer, and then I used my framing square to draw a vertical line so that I'd know where to put the rest of the staples.
Once all of the drawer dividers were stapled into place, I sanded the whole thing, using my rotary sander on all of the flat areas and the butt joints, and then I sanded all of the edges by hand. The sanding process got rid of all of the pencil marks and minimized the appearance of the staples. I was fine with that as a finished look, but if the staples bother you, you can always cover over them with a dab of wood filler and then sand it smooth to make them practically disappear.
And here is my finished slotted drawer, ready and waiting for the drawer slides to be attached.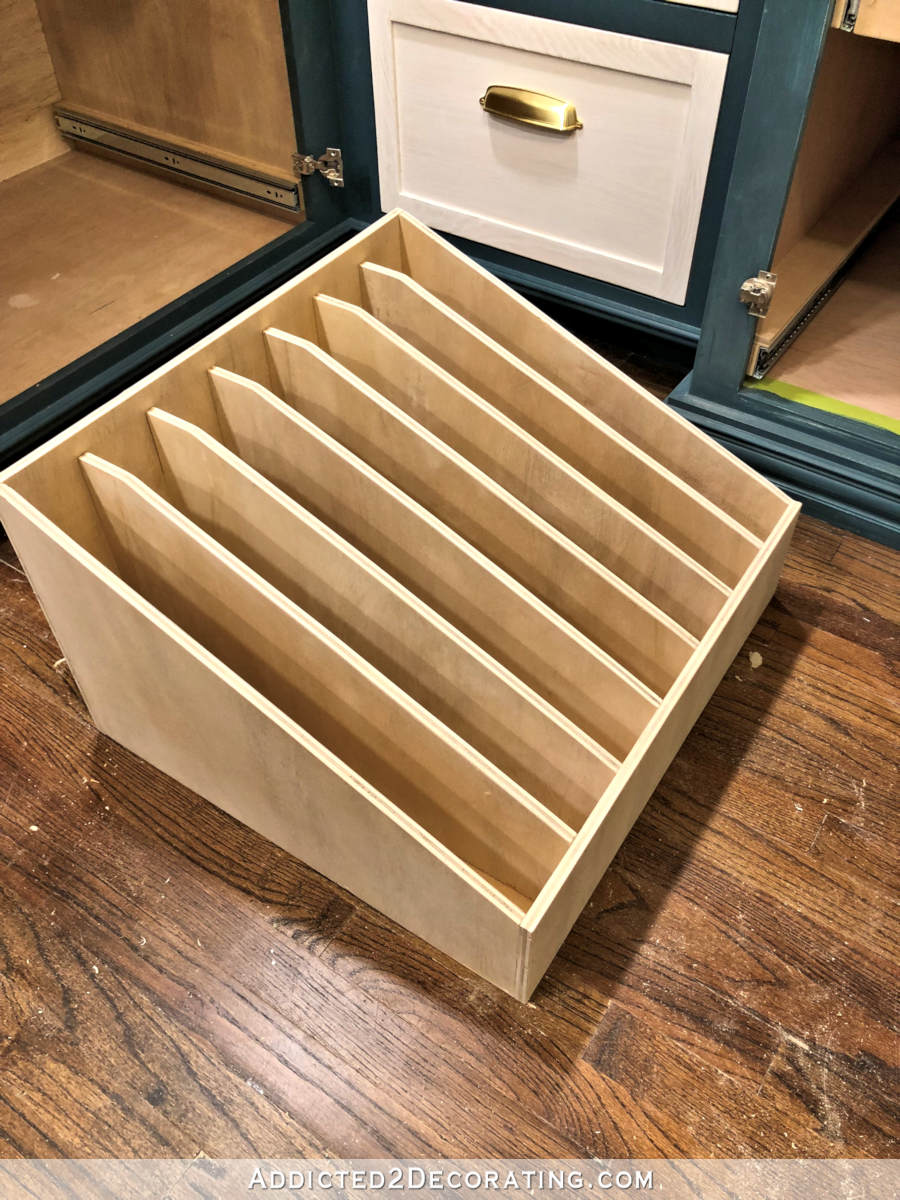 And here she is all installed…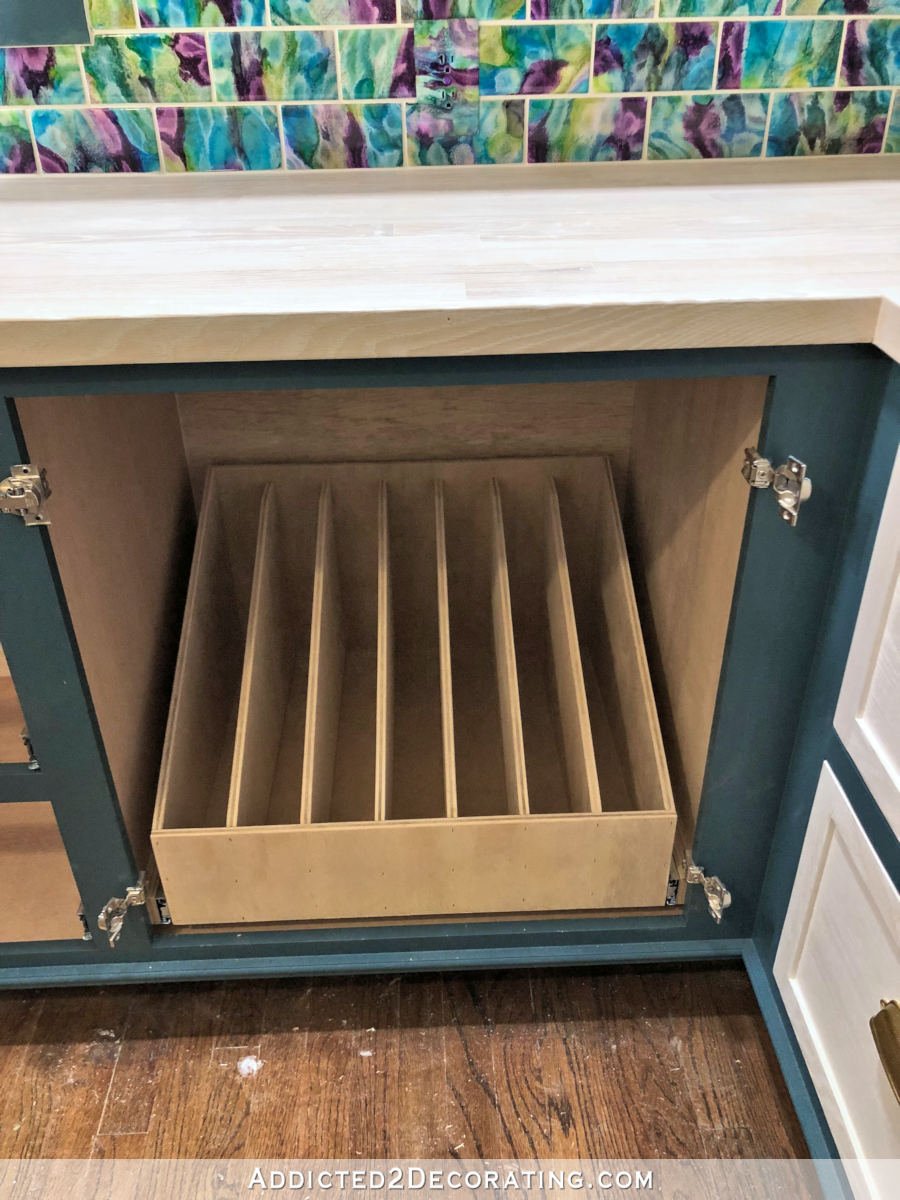 I am ridiculously excited about this drawer.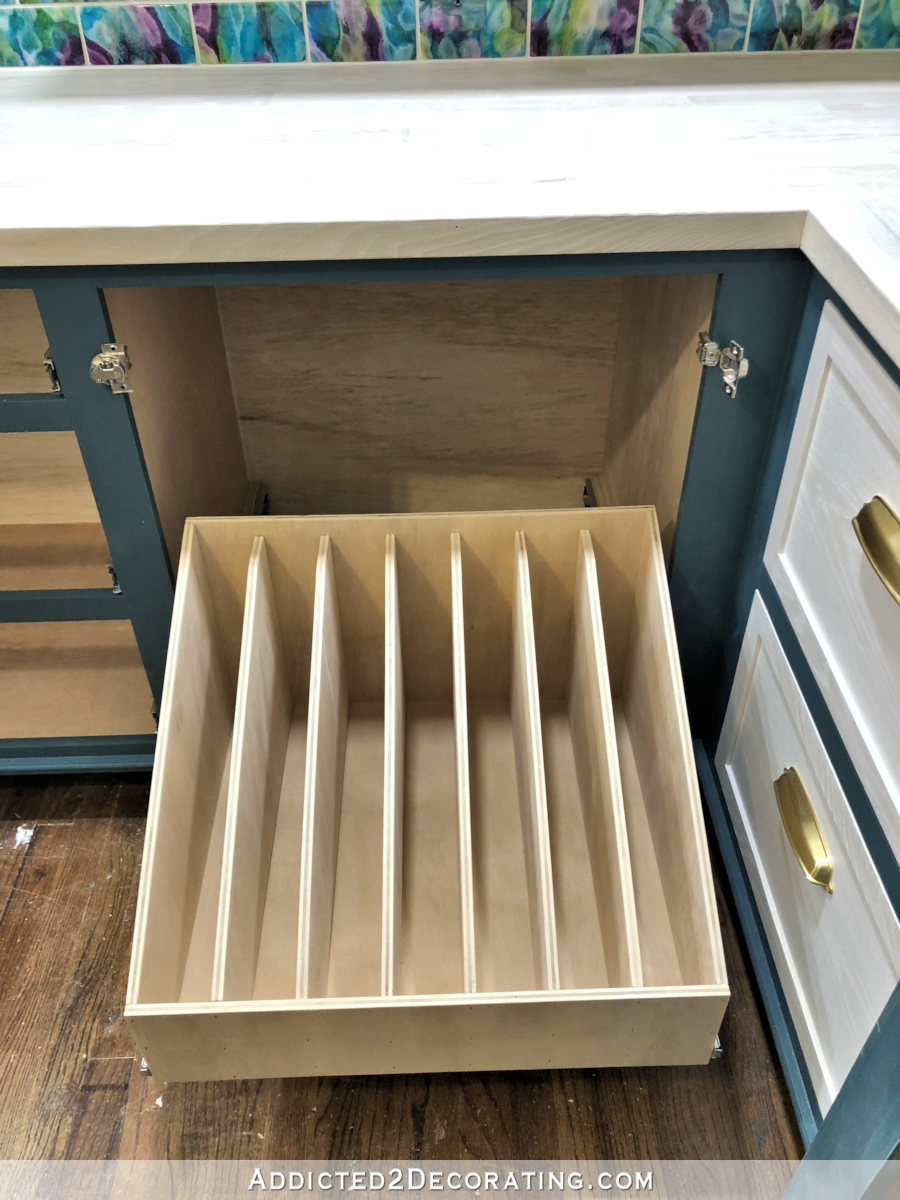 I do about 95% of my cooking on the stove top, so I don't really need all of my baking sheets and pans taking up space in my kitchen. But I also hate digging through stacks of things trying to find what I need on those occasions when I do want to make something in the oven.
So this is the perfect solution for me. It's out of the way, and yet allows quick and easy access when I need them.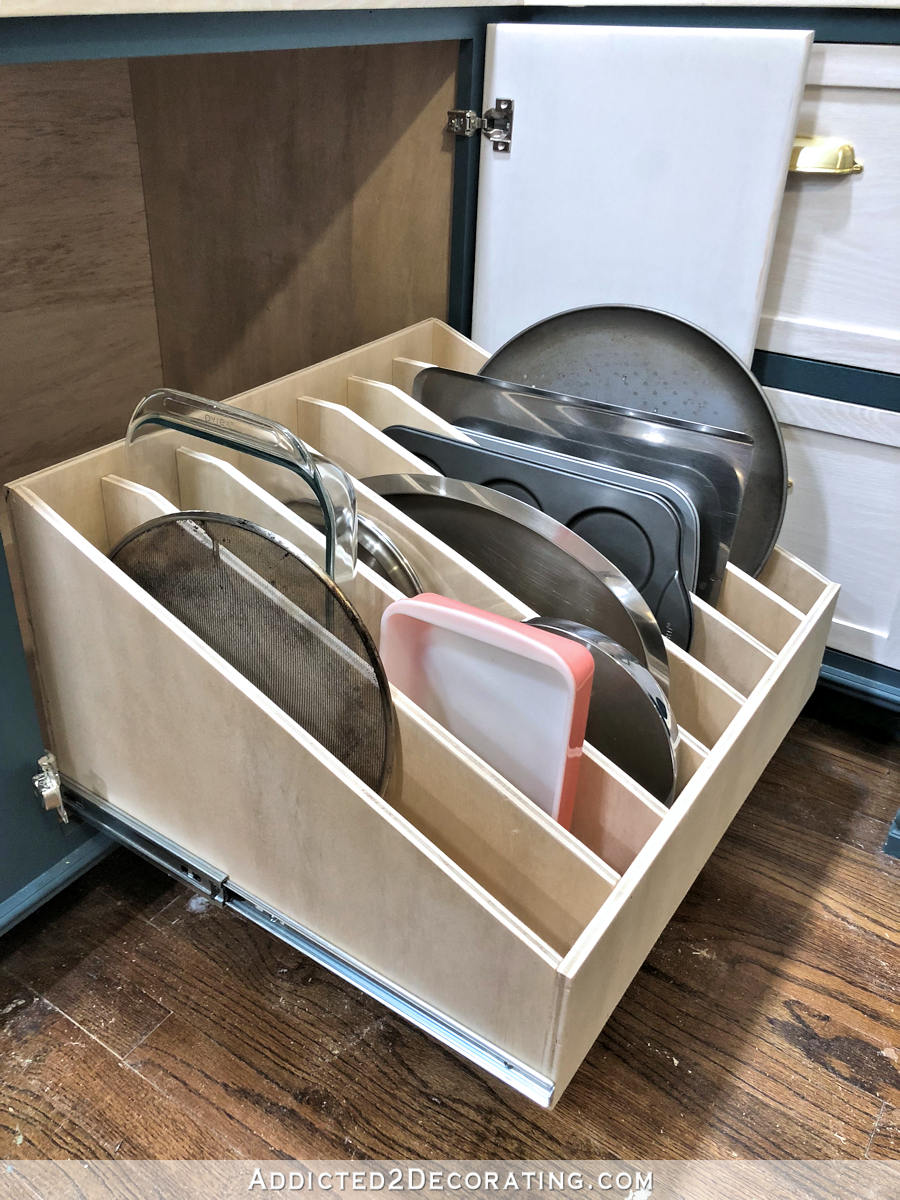 And the best thing is that any cabinet can be converted into a pull-out slotted drawer for this type of storage. If you currently have a cabinet with stacks of baking sheet, remove those stacks, add some drawer slides, build a slotted drawer, and make your life a bit easier!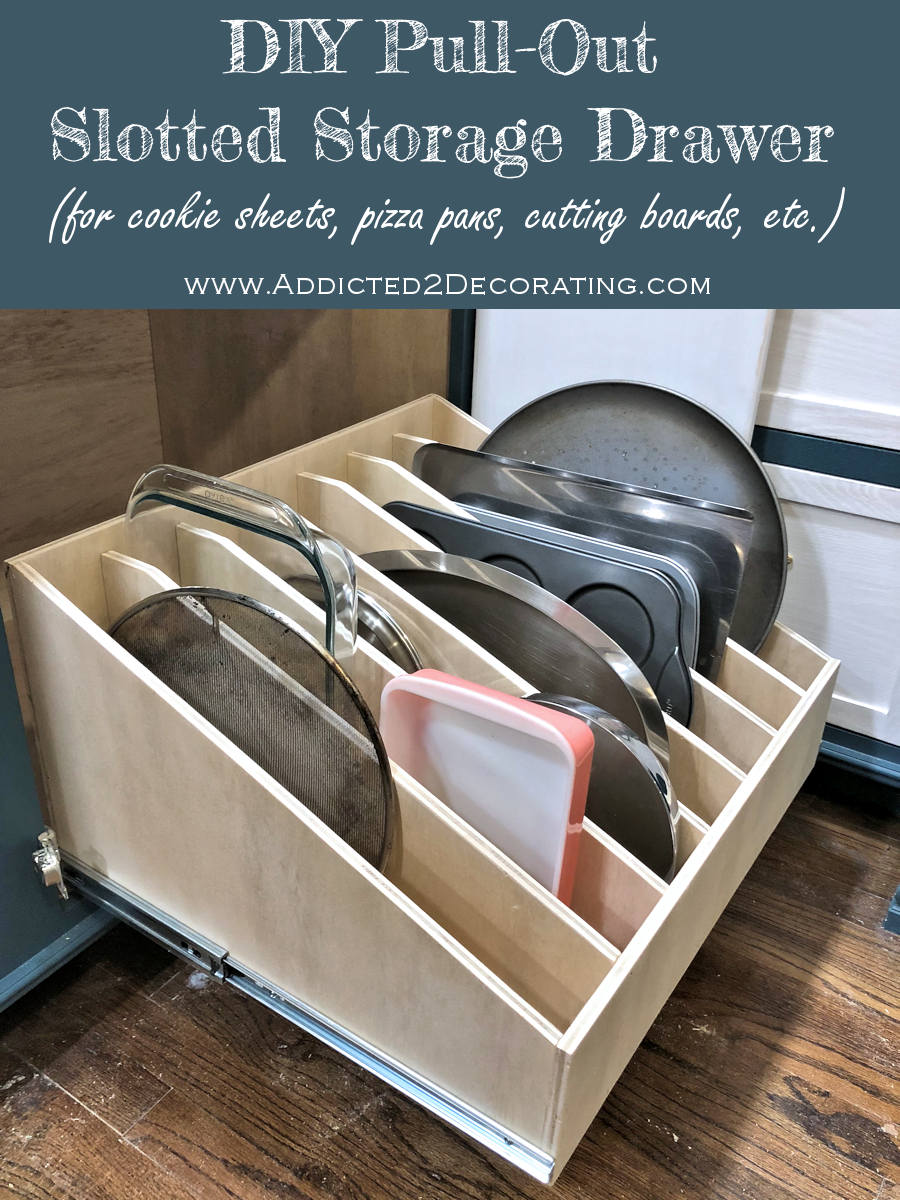 ---
---
Update:
My pantry is finished! Want to see the entire project from start to finish? You can find every single post about the pantry build right here…
Or you can skip to the end and see how it turned out. Here's a peek of the finished pantry…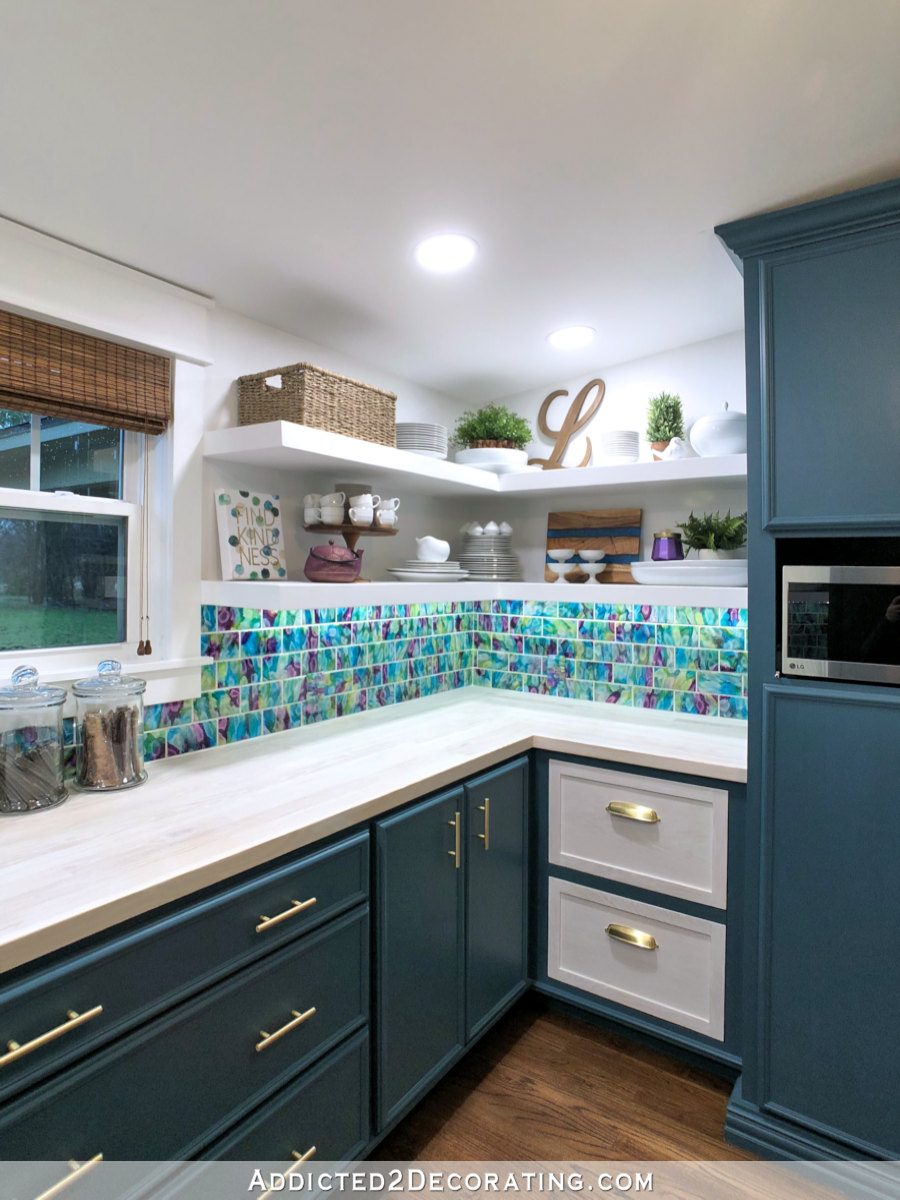 You can see more pictures on the before and after post right here…
Addicted 2 Decorating is where I share my DIY and decorating journey as I remodel and decorate the 1948 fixer upper that my husband, Matt, and I bought in 2013. Matt has M.S. and is unable to do physical work, so I do the majority of the work on the house by myself. You can learn more about me here.