Trying My Hand At Faux Grasscloth Painted Walls
It's no secret that I have a slight obsession with grasscloth.  I've been talking about using grasscloth in my living room for the past year.  Unfortunately, I just don't know if the real thing is going to be in the budget.  I always seem to be drawn to the really pricey ones, and as much as I love it, I just don't know if grasscloth is something that I want to splurge on.
When several of you mentioned that I could achieve a similar look with paint, that caught my attention.  So a few days ago, I took a break from working at the condo, and decided to give the faux grasscloth paint technique a try in the music room before attempting to go "live" with it on the living room walls.
I don't think I chose the right paint colors, so I'll need more work on that.  But I'm pretty excited about how the actual technique worked out!  Here's how it turned out…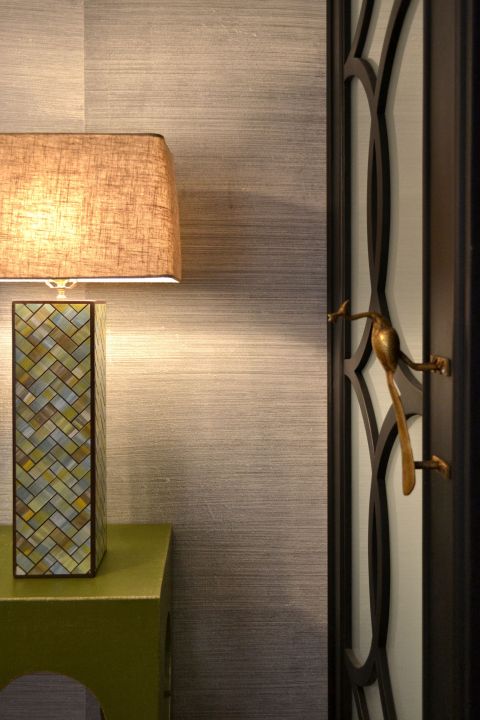 I think it definitely has potential!  It certainly has that "grassclothy" look to it, right?
So let me show you how I did it!  First, I gathered my supplies…
Tools & Supplies:
Base coat paint color.  I used a gallon of Behr® Premium Plus Ultra® Paint in Butternut Wood #710D-6.
Top coat paint color.  I used a quart of Behr® Premium Plus Ultra® Paint in Oyster #W-B-720.
Behr® Premium Plus With Style® Faux Glaze
Wooster® Pro 9″ x 1/2″ High Density Woven Rollers with 9″ Sherlock Roller Frame
Wooster® Pro 2.5″ Nylon/Polyester Angle Sash Brush
ScotchBlue™ Painter's Tape Multi-Surface with Advanced Edge-Lock™ Paint Line Protector
ScotchBlue™ Painter's Tape Delicate Surfaces with Advanced Edge-Lock™ Paint Line Protector
Paint pan with liners
Various brushes to create the striae effect (I ended up preferring the little broom)
Level
Pencil
Container and stir stick for mixing the glaze
The Process:
Here's the music room wall before I got started.  As you can see, I started painting it in the Oyster color (probably about two months ago) and that's a far as I got. Then I used it to test a couple of other paint colors.  So it was looking a bit sad and neglected.
I started off by using the ScotchBlue™ Painter's Tape Multi-Surface with Advanced Edge-Lock™ Paint Line Protector to tape off the trim around the rolling doors, as well as the floor. I didn't have baseboards to work around, but I decided to tape off the floor just because I wasn't sure how messy the brush/broom would be when I started the striae design.
Note: I used the Multi-Surface painters tape on my floors, but I learned later that the Delicate Surface painters tape is actually designed to work best on hardwood floors, and it's best to test it in an inconspicuous place first.  Oops!  🙂
Then I gave the walls a coat of the base color.  I painted just like I would any other wall, cutting in around the edges with a brush and then rolling on the rest of the paint.
I let the base coat dry overnight [about 24 hours], and then the next day I marked off the design. I started by using a level and pencil to make vertical lines every 26 inches, about the width of wallpaper. Then I used the ScotchBlue™ Painter's Tape Delicate Surfaces with Advanced Edge-Lock™ Paint Line Protector (since the wall was freshly painted) to tape off every other section.
After mixing my topcoat color with the glaze in a 1:4 ratio, I rolled it onto the wall in about the top third of the first section.  I used a brush to cut in around the edges and around the door trim.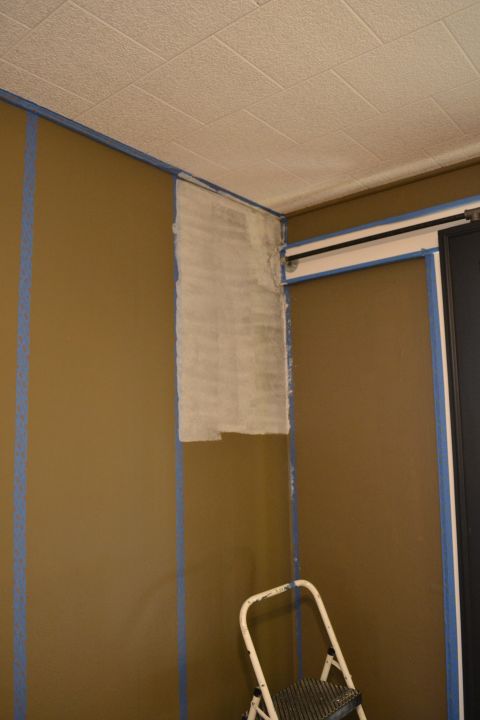 Then I created the striae pattern in the wet glaze using a small stiff bristle broom.  I found this at The Home Depot in the section with the brooms and cleaning supplies, and it cost somewhere around $5.
There are brushes made specifically for similar types of wall treatments, but I find that they leave such a fine striae pattern, almost more like linen than grasscloth.  I also tried a mason brush (the gray and yellow brush shown with my supplies in the third pic), but I found that it was also too soft and fine to create a grasscloth pattern.
Starting at the top and working my way down, I dragged the broom through the wet glaze, trying to keep the lines as straight and horizontal as possible.
I continued working down the wall about 1/3  of the area at a time, rolling on more glaze (cutting in with a brush in the corners), and dragging the broom through the wet glaze.
With the first section done, I skipped the second one, and moved on to the third one.  I continued working on every other section until I had them all finished.
Here's a close up view of what the wall looked like with this initial striae design.
After allowing the first sections to dry thoroughly, I went back and taped off and completed the rest of the sections.  At this point, the walls looked like this…
It was a good start, but the walls looked a bit dark for my taste.  Plus, at this point, the wall treatment just looked like a striae design rather than grasscloth.  So I repeated the exact same process on every section, adding a second coat of glaze, and using the broom to drag through the glaze.  Here you can see the difference between the section on the left with two coats, and the section on the right with just one coat.  The one with two coats not only has a more subtle look, which I prefer, but it also no longer has definite lines going all the way from one side to the other.  It looks more random, like actual grasscloth.
I really love how this looks, both up close and from a distance.  Even standing pretty close to the wall, it looks like it has a great deal of texture to it, rather than just being paint.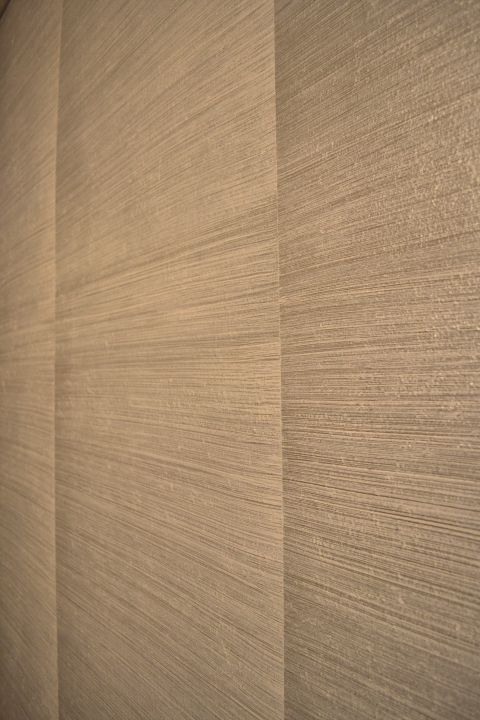 I'm very excited about the possibilities for using this wall treatment in my living room…and potentially saving the hundreds of dollars that real grasscloth would cost me.  I don't yet have my piano out of storage for the music room, so I went ahead and moved the console table and lamps from the entryway so that I could get an idea of what this wall treatment looks like as a backdrop rather than the main feature.
I really like it!  I'm not sold on the colors that I chose for this practice wall, so if I do end up painting faux grasscloth in my living room, I'll need to do quite a bit more testing and trying out other color combos to find just the right combination for my living room.  I'd like a more natural color, and the top coat on this one is too white for my taste.
I think I'll also do wider strips.  If I remember correctly, I think I've seen grasscloth wallpaper up to 36 inches wide.  I definitely want my living room walls to look like they're covered with grasscloth wallpaper, but I think I'd be happier with fewer "pieces of wallpaper" so that I have fewer vertical  lines.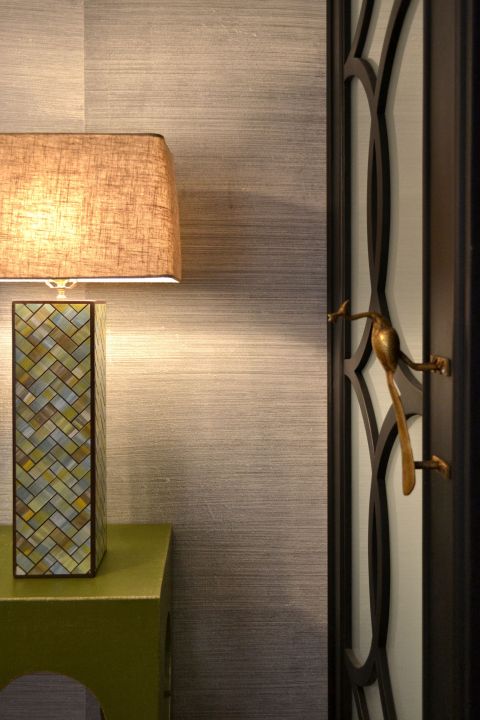 What do you think?  If I can find just the right color combo, does this treatment have potential in my living room?  I think it could look great with my teal sofa and white wainscoting.
And the best part of it is that this faux grasscloth treatment is actually very easy to do.  The hardest part about it is just making sure to drag the broom very straight and level through the glaze.  But that's really the only tricky part.  The rest of it is very easy.
I am proud to be a 3M, Behr®, and Wooster® – sponsored blogger, and, as part of my responsibilities, I get the opportunity to evaluate products. Opinions are my own and additional product used in the project were selected by me.
Learn more about ScotchBlue™ on Facebook, Twitter, and Pinterest. And don't forget to also follow The Home Depot on Facebook, Twitter, and Pinterest.
Pssttt…New personal post here.  If you're interested, read.  If not, don't.  Simple as that.  🙂
.
Addicted 2 Decorating is where I share my DIY and decorating journey as I remodel and decorate the 1948 fixer upper that my husband, Matt, and I bought in 2013. Matt has M.S. and is unable to do physical work, so I do the majority of the work on the house by myself. You can learn more about me here.