Three Ways To Elevate The Look Of Crown Molding (That I've Used In My Home)
I'm still about a week away from being ready to jump back into our master bathroom remodel (you can see the progress on that room here, if you've missed it), but I'm always thinking about next steps and details that I want to incorporate into that room. And I just have one more unfinished project that is standing in the way of me installing the crown molding. When I do install it, I think I'm going to add some trim to it to elevate the look of the crown molding just a bit. I want that room to look special and luxurious, so taking the crown molding up just a notch will help towards that goal. So in thinking about it, I've used the three ways I've already elevated the look of crown molding in my home as a jumping off point for ideas. I may use one of those ideas again, or I may tweak one of those ideas for something a little different. But here's what I've done so far…
1. Add 1″ x 6″ boards around perimeter of ceiling before installing crown molding.
This is the idea I used in our living room, and I still love how this looks. It's just one of those small details that really adds a special touch.
This really isn't a difficult process, and it is especially quick and easy if you have two people working on this together (which I didn't have, so it was a little more difficult, but a very doable one-person job). Before installing the crown molding, simply nail 1″ x 6″ lumber around the perimeter of the ceiling. You can even move it out an inch or so to make it wider. Just keep in mind how far out from the wall the crown molding will extend. Once those boards are nailed in, install the crown molding in the standard way.
I especially love how this looks around my fireplace, where I switched from white to dark teal on the crown molding to match the fireplace, but kept the extra detail of the 1″ x 6″ board white for continuity around the room.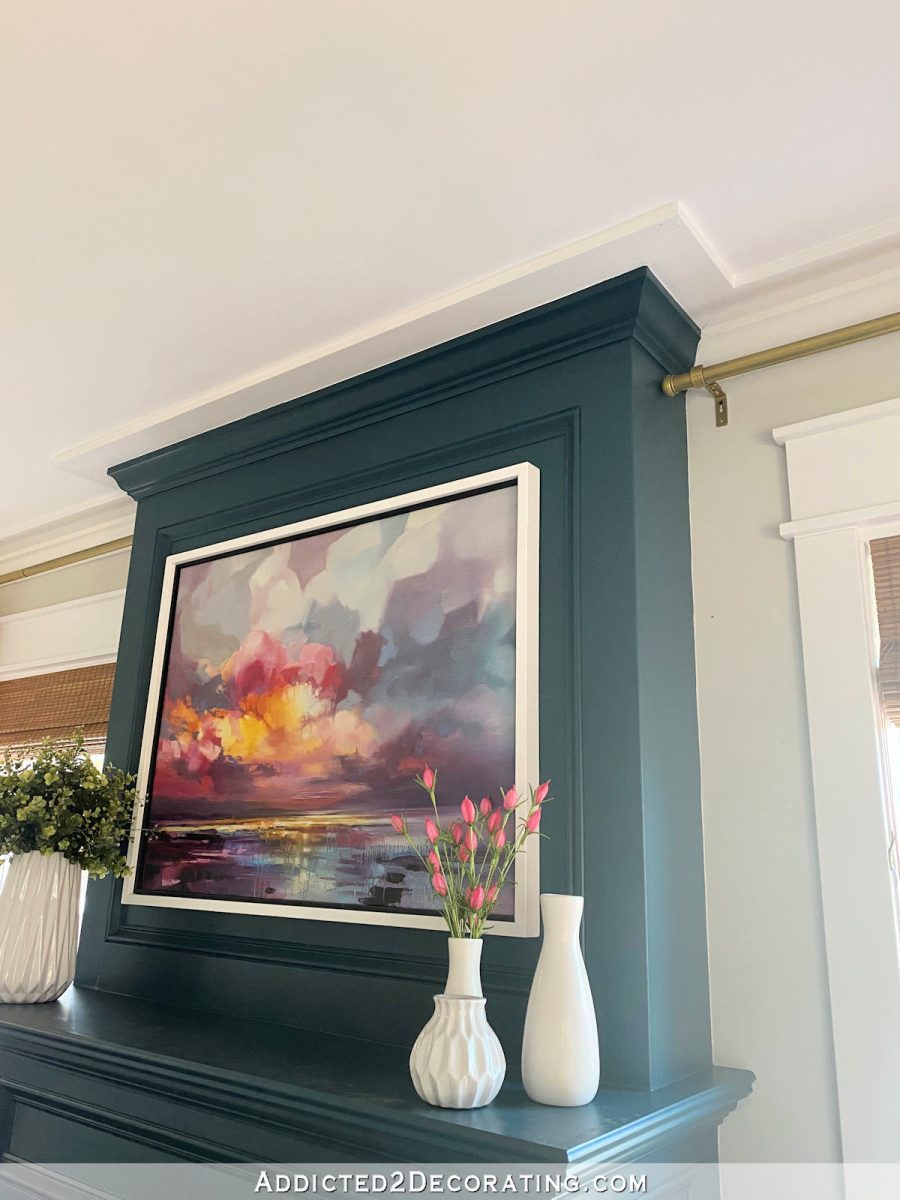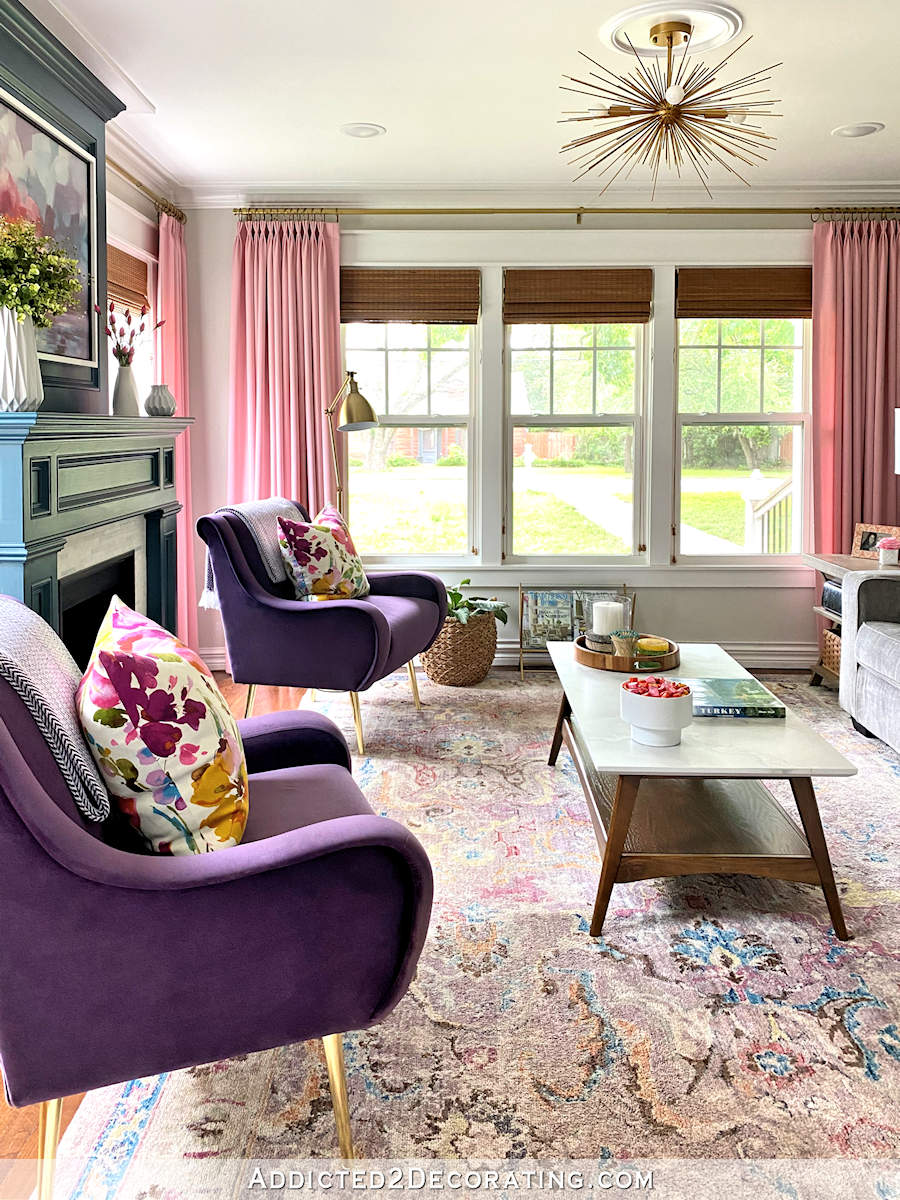 2. Use MDF and base cap for a wider and more detailed perimeter.
This is what I did for the music room, and when guests enter my home, this is one of the features that seems to catch people's eye the most.
To create this look, I used MDF cut into 12-inch-wide pieces (this was cheaper than buying 1″ x 12″ boards) and attached them in the same way that I did the boards on the living room ceiling around the perimeter of the ceiling. Then I installed the crown molding in the same way. But as an added detail in here, I also included base cap molding on the inside edge of the 12-inch-wide MDF piece. Of course, my music room ceiling also has the added detail of the 1/4″ plywood strips attached to the entire ceiling. If you want to do something like that on your ceiling, those plywood strips need to be done first. But those are completely optional. Even if you leave those off, it would still be very pretty to just use the 12-inch-wide MDF, the crown molding, and the base cap molding. This idea (sans the plywood strips on the ceiling) is actually the direction I'm considering for our master bathroom right now, but we'll see.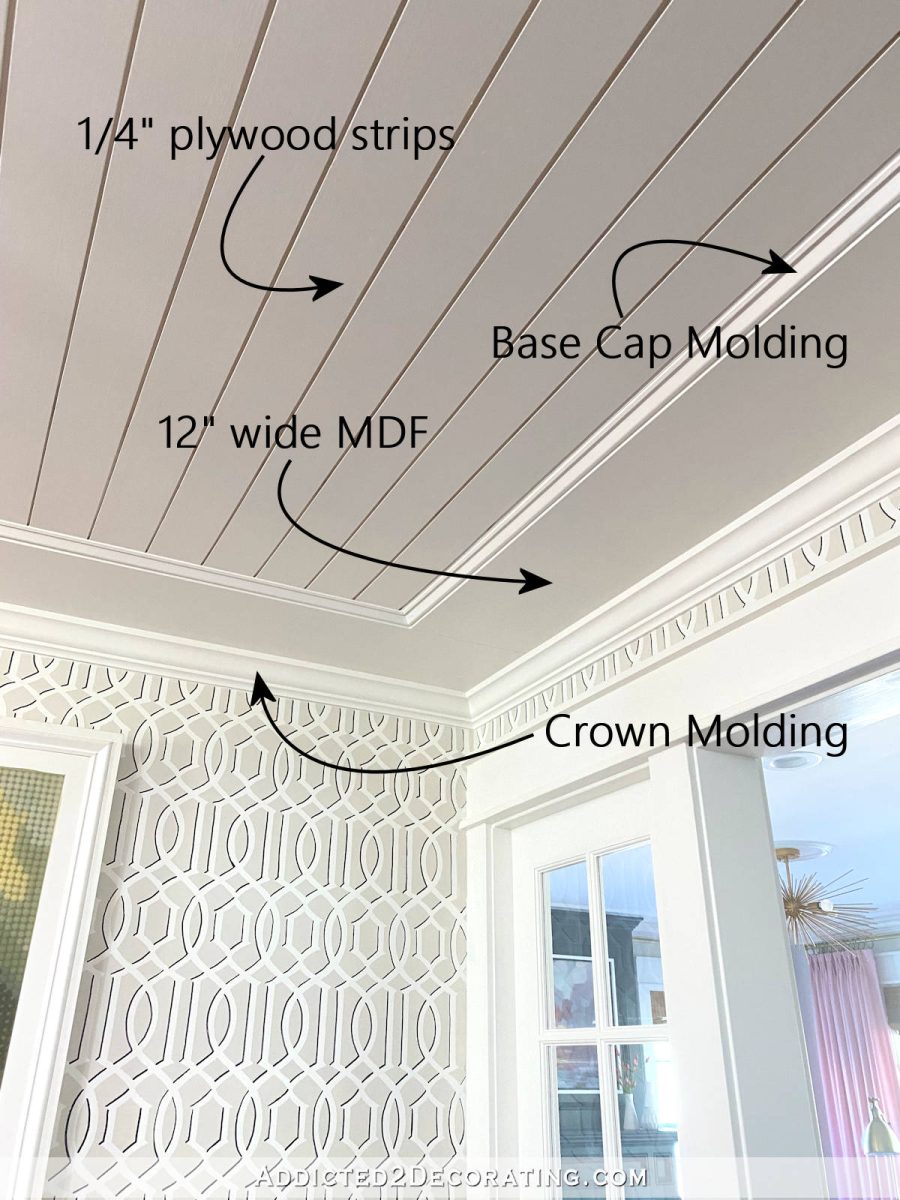 3. Add 1″ x 4″ boards before installing crown molding.
This is what I used in our hallway bathroom, which is pretty much the same idea that I used in the living room.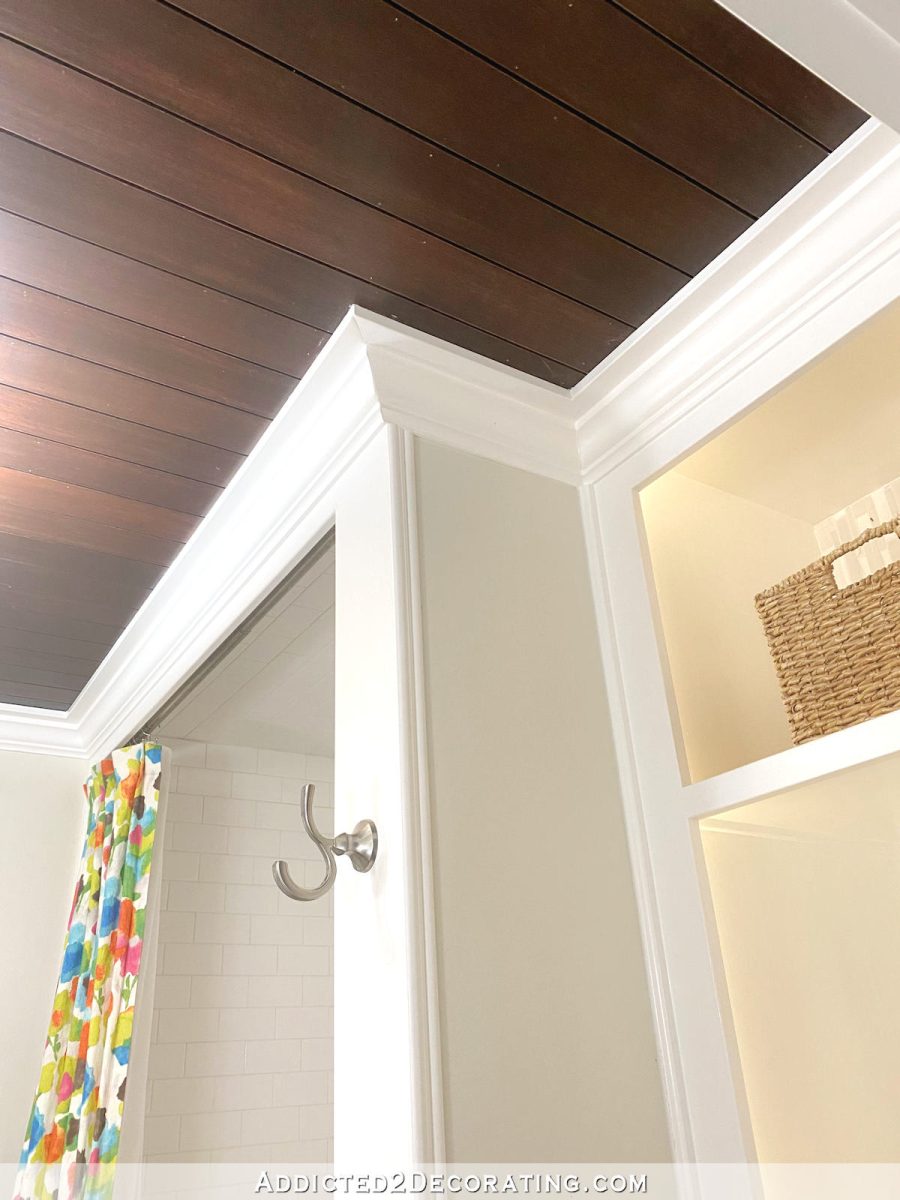 But since this is a small bathroom (about 7.5 feet square), I wanted a slightly smaller look, so I used a smaller 1″ x 4″ board to line the perimeter of the ceiling before attaching the crown molding. And as you can see, I also used a similar 1/4″ plywood strip design that I used in the music room, except that I stained these a dark brown before attaching them to the ceiling. And again, because I didn't want too much going on in this small bathroom, I left off the base cap molding that I had used on the music room ceiling.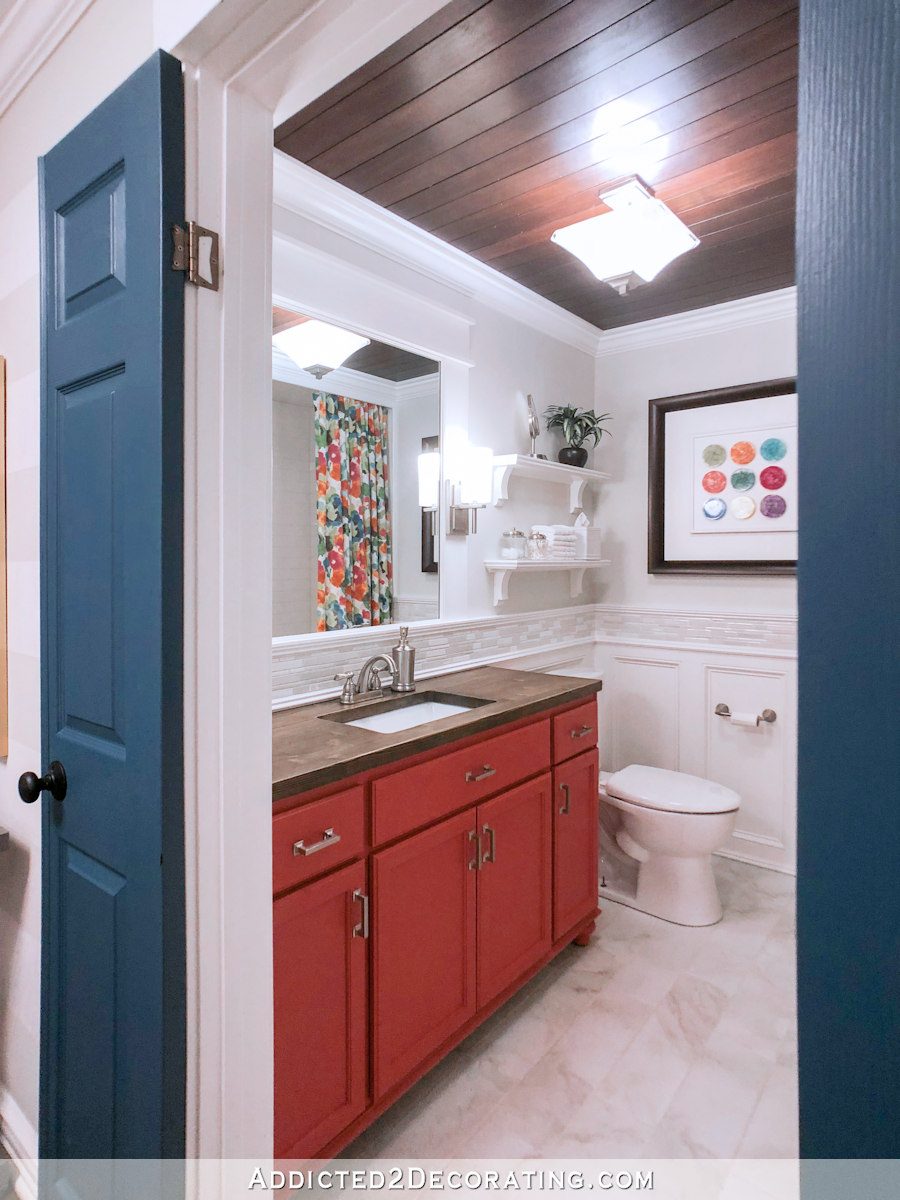 There are so many other ways to elevate the look of crown molding, and I'm sure I'll use a variation of these three ideas in our master bathroom. And you don't need tall ceilings to do this, either. I have 8-foot ceilings in every room of my house except my studio, and I love to add these details even on my low ceilings. I've never felt like these details make my ceilings feel lower, not even my dark wood bathroom ceiling. And these are great ways to dress up a formal room (like a dining room) or a special room (like your master bathroom or bedroom) just a little more than the rest of the rooms to give it that feel of being a little extra special.
Addicted 2 Decorating is where I share my DIY and decorating journey as I remodel and decorate the 1948 fixer upper that my husband, Matt, and I bought in 2013. Matt has M.S. and is unable to do physical work, so I do the majority of the work on the house by myself. You can learn more about me here.