10 Budget-Friendly Bathroom Updates
Bathrooms are one of the most costly rooms to remodel–generally second only to kitchens.  These costs are often incurred in labor charges on items that go beyond the typical do-it-yourselfer's skills.  If you find yourself in the position of needing a bathroom update, but without the funds for a full remodel, here's some quick, budget-friendly updates that will give your bathroom a brand new look.
]]>
1.  Paint your walls.
Painting is absolutely the cheapest way to transform any room.  For around $25, you can have a brand new look.  And because they're smaller than other rooms, bathrooms are often a great place to experiment with interesting new wall treatments.  Do you like stripes?  Try them in your bathroom!
2.  Replace your outdated lighting.
Replace this:
With this:
I'm not sure why this is, but I find that most people overlook the importance of lighting in almost every room of their home.  If you're still living with an outdated bath bar (often called Hollywood lighting), then you can have a fresh, new update for as little as $30.
3.  Paint your cabinets.
Turn this:
Into this:
Again, paint is the cheapest way to update.  Are your wood cabinets looking tired from years and years of use?  Give them a fresh coat of paint, and they'll look new!  I recommend a good cleaning, followed by a light sanding, then priming.  Top with a coat or two of an oil-based paint, and you've got a brand new look.  And the cost?  About $70.
4.  Replace outdated cabinet hardware.
Replace this:
With this: 
Hardware is the "jewelry" of your cabinets.  Not having hardware on your cabinets is like putting on a great outfit, but forgetting to accessorize.  Hardware is also a great place to be creative and unique.  You can expect to pay anywhere from $3 to $15 (or more) for each knob or pull.  But it's well worth it!
5.  Replace worn-out towels.
Sometimes a new, fresh look is as easy as replacing your worn-out, faded towels with some soft, fluffy new towels.  And as popular as spa-inspired interiors are these days, it's difficult to go wrong with white!  White also gives your space a fresh, clean look.  You can expect to pay from $5 to $30 per towel, depending on the quality.
6.  Replace your rug.
Replace this:
With this:
When most of us think of purchasing a rug for our bathroom, we generally head to the bathroom department of the local home store.  But why not try something with a little more style?  Instead of a regular bath mat, try introducing a small area rug into your bathroom.  Instant color and style!  And because the rug is generally smaller than one you'd need for a living room, it's possible to find one for $50 to $100.
7.  Remove that toilet seat cover!!!
Banish this!
I'm really surprised at how many people still use toilet seat covers in their bathrooms.  Toilet seat covers are not only outdated, but they're incredibly unsanitary.  Remove it and reveal your sparkly clean toilet.  And the cost?  Free!  Simply remove…..AND TOSS!
8.  Remove that toilet-hugging rug!!!
Banish this also!
These are just as bad as the toilet seat covers.  Actually, they're worse, considering that these catch more….ummmm…stuff, since it's on the floor.  Eewwww!  Again, just lift, and TOSS!  And again….it's FREE!!
9.  Frame your plain builder's mirror.
Turn this:
Into this:
If you have a plain, plate-glass, builder's basic mirror, give it a frame!  Simply purchase some moulding from your local home improvement store, cut to fit, paint, and adhere it to your mirror.  Fill in the corners with a bit of wood filler, sand, and touch-up the paint.  If you don't want to go to the trouble of making a frame yourself, you can always remove the mirror completely, and replace it with a purchased, framed mirror.  Either way, the impact will be tremendous.  This can easily be achieved for $50 to $100.
10.  Replace your shower curtain.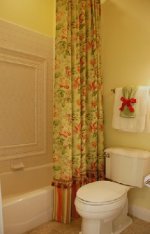 If you have a bathroom that requires a shower curtain, this is NOT the place to make a simply utilitarian choice.  Visually, shower curtains consume a large area of the bathroom, and this is the perfect place to add color and style to your bathroom.  So now's the time to get rid of your plain, plastic shower curtain, and find one that defines your style!!