Last Updated on February 26, 2013 by Kristi Linauer
I've been thinking about Murano glass chandeliers ever since I saw this Murano-style chandelier ($2,278) last night on the Zinc Door website.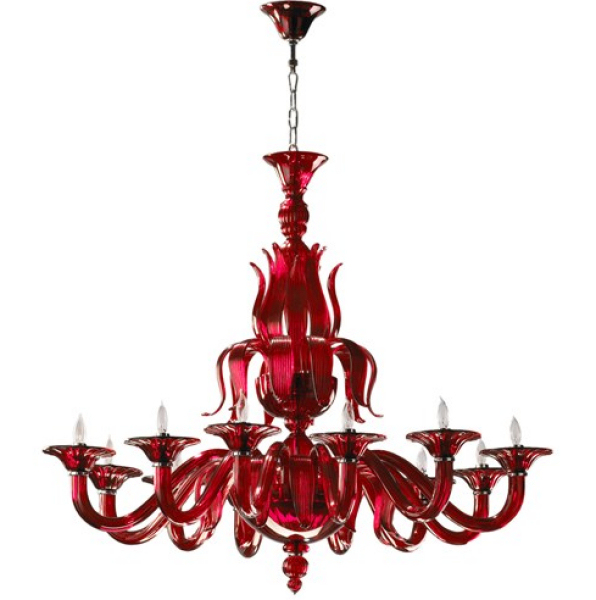 Isn't that gorgeous? Here's an actual red Murano glass chandelier ($3,556) that I've had a bit of a design crush on for well over four years now. (I even blogged about it way back here.)
Just take a look at that depth of color! Just amazing!
Now if you've been around A2D long enough, you know that I am admittedly cheap. I'm actually kind of proud of my penny-pinching ways. But I will freely admit that if I ever had the opportunity to build a really nice home, and I had the money in the bank, a Murano glass chandelier is something that I would actually consider splurging on. To me, it's like saving up to splurge on a really nice piece of artwork from a favorite artist. Murano glass chandeliers are nothing if not pieces of artwork!
Murano glass chandelier used in a kitchen, from Novogratz
Actual Murano glass comes from the island of Murano off the coast of Venice. The island has been known for its glassmaking for centuries.
Blue Murano chandelier used in a bedroom, from Apartment Therapy
Murano became the center of glassmaking in 1291 when the Venetian Republic decreed that all of the foundaries had to be moved to the island of Murano. They feared that if the foundaries were allowed to stay in the city, they risked a fire that could totally destroy the city.
Modern dining room with Murano glass chandelier by Lisa Ferguson Interior Design
According to Wikipedia…
Murano's glassmakers were soon the island's most prominent citizens. By the 14th century, glassmakers were allowed to wear swords, enjoyed immunity from prosecution by the Venetian state, and found their daughters married into Venice's most affluent families. However glassmakers were not allowed to leave the Republic.
Ha! Isn't that interesting? Their craft allowed them to live like royalty (okay, that may be a bit of an overstatement) as long as they stayed, but made them a criminal if they left.
Dark and cozy bedroom with white Murano glass chandelier, by Pulp Design Studios
Dining room with Murano glass chandelier ($2,940), via Design Within Reach
Turquoise Murano glass chandelier ($2,940), via Design Within Reach
So do you share my love of Murano glass chandeliers? If not, what is that one item that you would consider splurging on for your own home?
Addicted 2 Decorating is where I share my DIY and decorating journey as I remodel and decorate the 1948 fixer upper that my husband, Matt, and I bought in 2013. Matt has M.S. and is unable to do physical work, so I do the majority of the work on the house by myself. You can learn more about me here.
I hope you'll join me on my DIY and decorating journey! If you want to follow my projects and progress, you can subscribe below and have each new post delivered to your email inbox. That way you'll never miss a thing!