Yes, This Really Is A Post About A Cat Litter Box
If you have a cat (or two, or three), then you know what an irritation the litter box can be, especially when it comes to finding a place to store it. It needs to be out of the way so that guests in your home aren't greeted with a litter box front-and-center, but it can't be so far out of the way that it becomes a chore to clean it out every day.
I know that lots of cat owners absolutely hate having to clean out the litter box each day, and have opted for the automatic litter boxes. I've tried that, and frankly, I hated it. I learned that it's not the cleaning out the litter box that I hate. What I hate more is the fact that my cats get in there to do their business, scratch around for a minute or so, and fling cat litter outside of the box.
The situation is irritating for anyone with a cat, but consider that my little condo is only 834 square feet. I don't really have any unused space or out-of-the-way place like a utility room. No matter where I put it, after one use there was always cat litter around the box from my cats' enthusiastic scratching.
The situation became such a frustration for me that I came incredibly close to plunking down $180 for a ModKat top-entry litter box, and for me to consider paying that kind of money for a litter box, you know I was desperate!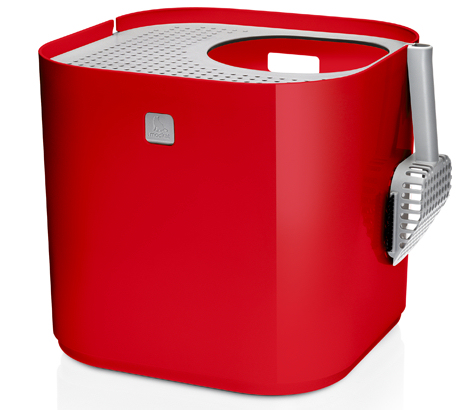 As it turns out, spending that money on that litter box would have been a huge waste for my cats. I ended up purchasing this one at a fraction of the cost from Petsmart…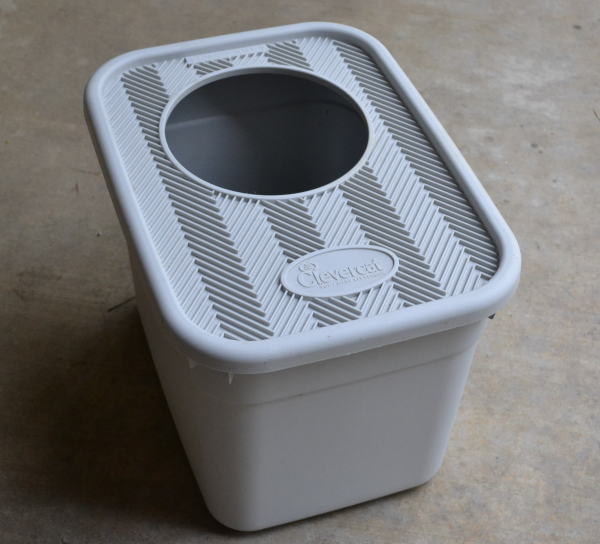 My plan was to build some sort of decorative, highly lacquered box (similar to the ModKat box in appearance) around it once my cats got used to their new top-entry box. The problem? They never got used to their top-entry box. As long as the lid was off, they were just fine with it. But as soon as I put the lid on, they would find somewhere else to do their business. Talk about frustrating!!!
So my idea of having a high-sided, contained litter box with a decorative box around it tucked away in the corner somewhere quickly died, and I was left with what amounted to an ugly plastic storage box with no lid, filled with cat litter sitting in my office. Not exactly what I had envisioned.
So when I started working on my utility closet in my hallway, I was determined to find some way to incorporate the litter box into that closet. I had originally intended to use one of the smaller cabinets to tuck away a regular sized litter box and cut a hole in the door for access. Of course, that meant a return to the litter-flinging days, and I would be constantly cleaning up cat litter that they had flung out of the box into the cabinet. I just couldn't stand the thought.
Then one day, it occurred to me that their current high-sided litter box would fit perfectly into lower section of the large cabinet. So before I painted that cabinet door, I did a little surgery on it by cutting a hole and trimming it out with small decorative moulding. You may have noticed it in this picture…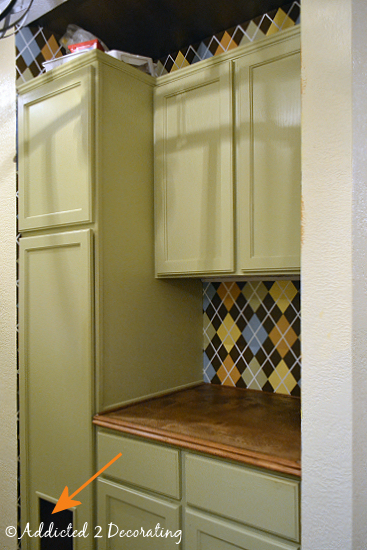 After the door was re-installed, I gave them a couple of weeks to explore the cabinet, and get used to going in and out of the hole. One of my cats was particularly fond of the cabinet. I think she may have even slept in there at night.
When they were used to it, it was time to move the litter box in. Of course, they wouldn't be able to jump over the high side anymore, so I first had to do a little surgery on the litter box. After cleaning the box really well with soap and water (I promise, it's clean!!), I started by marking off an entry into the box.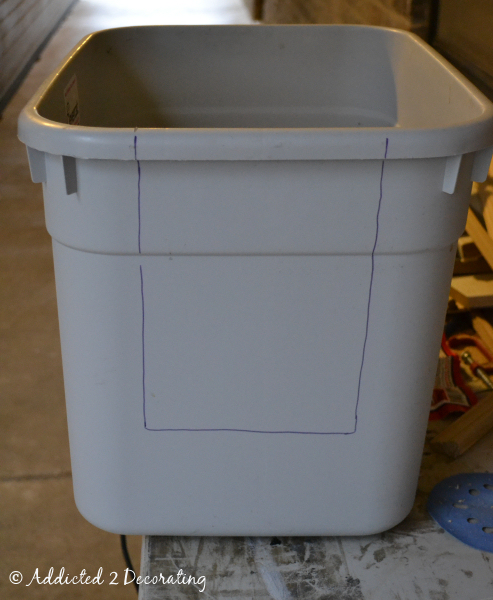 Then I used my jigsaw to cut away the plastic. I had never cut plastic with a jigsaw before, and really had no idea what to expect. I was pleased to find that it cut really easily.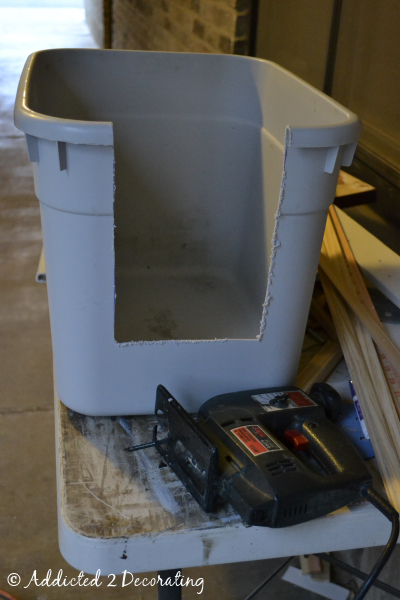 It did leave some pretty jagged edges…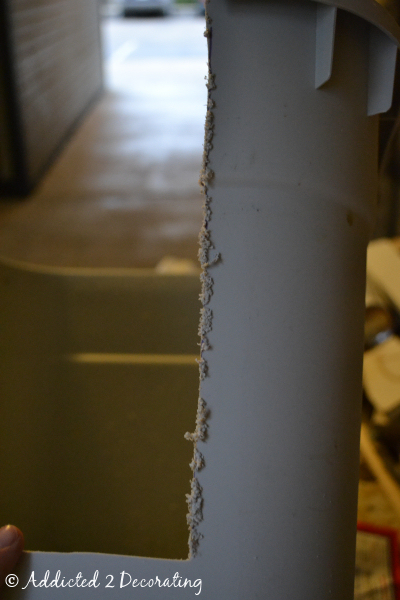 …but those came off really easily with some sandpaper.
With the new entry opened up, it was time to test it out. I was thrilled because as soon as I placed the box into the cabinet, my cat Peeve came over and started exploring.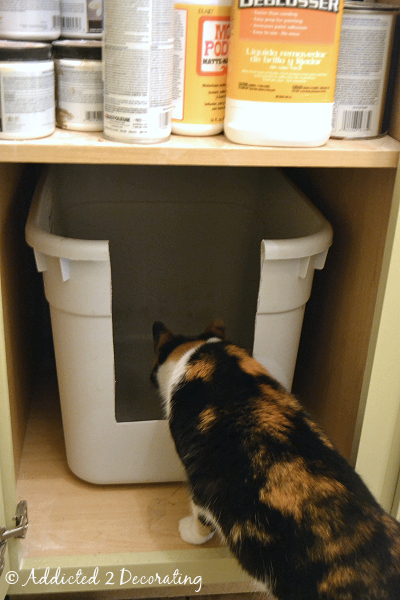 It didn't take her long at all to feel comfortable with her new loo, so I filled it with cat litter and she immediately got in there and started digging around.
(Don't worry…I didn't catch her "in action". She was just exploring and digging.) 😀
So it looks like this idea might actually be a success. She even stayed in there when I closed the cabinet door.
From the outside, it still looks like this…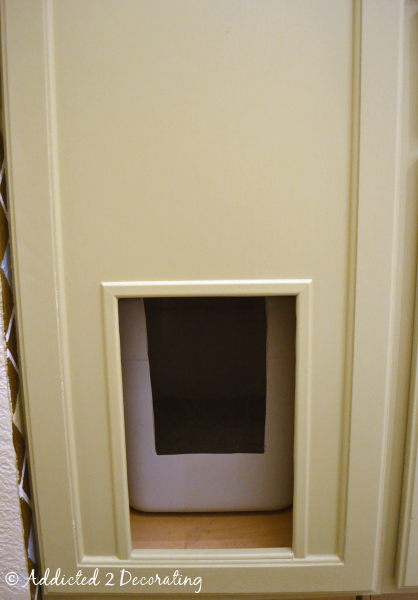 I know…not exactly a pretty look. But I'll give them a couple of weeks to get used to the new location, and then I'll cover the hole with a little curtain so that the litter box can't be seen so easily.
At least that's the plan. I'm hoping that I won't have another lid situation, where they're fine using it as long as the hole is wide open, but as soon as a curtain is on, they move to more open areas. Here's hoping that they enjoy their new kitty loo, and that they'll appreciate me classing up the joint with a little curtain in a week or so.
Oh, another great thing about this plan…it keeps the dog out! I know that's gross, but if you have a dog and a cat, then I'm sure you've experienced at least once your dog emerging from the litter box area with a snout covered in cat litter. Talk about disgusting!!! Hopefully those days are in the past now.
So are you a cat owner? Is the litter box a frustration for you as well? Or have you found a solution in your home that brings peace to both kitty and to you? I'd love to know!
Addicted 2 Decorating is where I share my DIY and decorating journey as I remodel and decorate the 1948 fixer upper that my husband, Matt, and I bought in 2013. Matt has M.S. and is unable to do physical work, so I do the majority of the work on the house by myself. You can learn more about me here.