On Friday, I shared with y'all about how I was driving myself crazy with indecision, but I thought if I just made myself get started on the master bathroom, a clear plan would probably make itself obvious to me.
Well, that exact thing happened. When I woke up on Saturday morning, I was determined not to let myself get overwhelmed and bogged down by the bathroom design decisions once again. But instead, I just set my sight on a couple of very clear tasks that didn't require any decision making at all.
The drywall was all still unprimed and unpainted.
Obviously, that was a task that needed to be done, but didn't require any decision making beyond what kind of primer I wanted to use. So I got busy, and after a few hours, I had the ceiling and walls primed, and the ceiling painted with two coats of paint.
Remember, the walls are just primer, so they're still looking kind of rough. 😀
I used Behr flat white ceiling paint, which is my favorite paint to use on ceilings because it's a slight warm white, and super flat so it does a great job at hiding imperfections. The only rooms in my house where I didn't use that on the ceilings are the music room, which has a slatted wood ceiling and is painted Behr Polar Bear like the trim…
And then the hallway bathroom, which has the stained slatted wood ceiling…
Actually, the ceiling in the studio isn't white, either, but that will probably change. Other than those three, every other ceiling is painted with the Behr bright white ceiling paint used straight out of the can.
So it definitely felt great to get in there and actually get some work done and see some progress.
But the best part is that just being in the room so long while kind of keeping my mind busy with painting, and also keeping my mind busy with listening to a podcast, I was also able to consider different options without obsessing over them, and things seemed to fall into place in my mind. I was hoping that would happen, and I'm so glad it did. Even this morning, after having the weekend to think about my decisions, and sleeping on them last night, I woke up this morning just as excited as I was yesterday.
So I've scrapped the idea of striped tile in the shower, and I'm just going to keep things very simple — the small 2″ gray tiles on the shower floor, and the white rectangle tiles on the walls. I want the part of the shower that is seen from the main part of the bathroom to be very calm, peaceful, and bright, with nothing too eye-catching, so it'll just be a clean and classic running bond pattern.
The first little hint of anything different will be on the niche, and you have to be closer to the shower before that comes into view.
I didn't want to totally give up my wish for an accent tile, so I went back to a tile that I saw the other day at a local design store. It's a glass penny tile, and it comes in several neutral colors (if I remember correctly). But I was particularly interested in the white and light gray.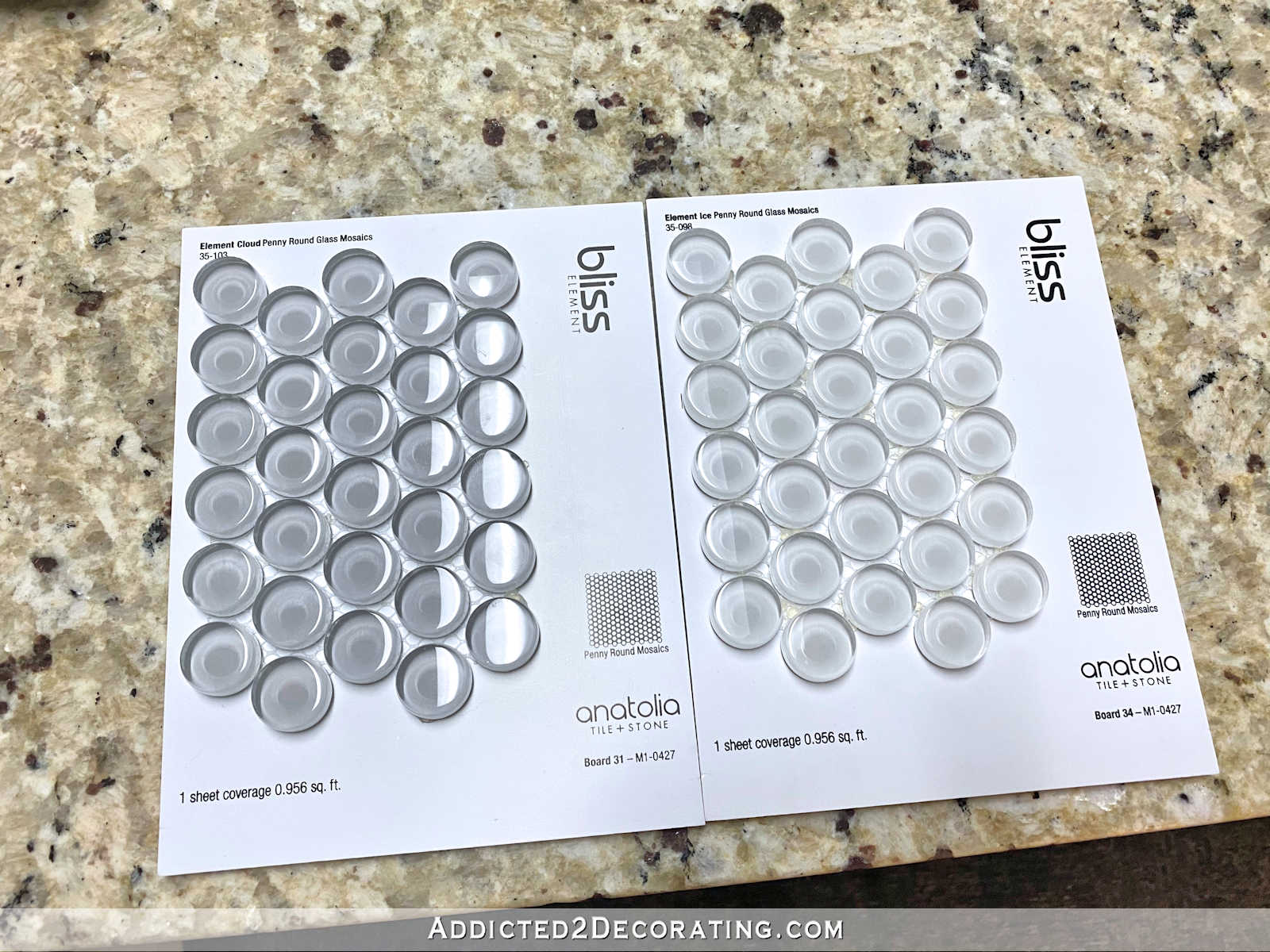 But after the guy at the store gave me the price, I put this tile out of my mind and started looking for other, cheaper options. The price he gave me was $37.99 a square foot. That's when I was still considering stripes in the shower and toilet area (because I must have symmetry), and that tile would have cost thousands of dollars, which seemed like a ridiculous expense. So even though I loved the tile (particularly the white one) so much, I put it out of my mind because of the cost.
While I was priming and painting this weekend, I remembered that tile and decided to look online, and found it for $15 a square foot. That's a 60% lower price! I don't mind paying a bit more for a product to support a local store, but that's not just a little price different. That's a price gouge! I couldn't believe the difference!
So that made me excited. I had already decided against the stripes, so instead, I'm going to use the glass inside the niche, and then as an accent on the shower head wall.
But I'll keep the particulars to myself for now. You'll have to wait and see exactly what I have in mind. I can tell you that it won't be anything modern or edgy. I'm sticking with simple and classic.
And then that same glass penny tile will be used as an accent in the wainscoting that is going in the main part of the bathroom. It'll be used in a similar way that I used the accent tile in the hallway bathroom wainscoting where it continues as a backsplash around the vanity.
Another decision that I found very easy to make once I spent time working in the bathroom was the floor. I'm keeping that simple as well. The only place where the 2″ tile will be used is inside the shower, and that's just for added grip to protect against slips. The rest of the bathroom, including the toilet area, will have the large 12 x 24 tiles.
So not only have I made some progress this weekend, which has lit a fire under me, but I also have a clear plan in my head that I'm finally very excited about. I can just forge ahead now, and hopefully there won't be too many hiccups along the way.
Addicted 2 Decorating is where I share my DIY and decorating journey as I remodel and decorate the 1948 fixer upper that my husband, Matt, and I bought in 2013. Matt has M.S. and is unable to do physical work, so I do the majority of the work on the house by myself. You can learn more about me here.
I hope you'll join me on my DIY and decorating journey! If you want to follow my projects and progress, you can subscribe below and have each new post delivered to your email inbox. That way you'll never miss a thing!