Master Bathroom – How Much Will This Remodel Cost? Here's The Estimate…
Y'all! The time has finally arrived. After a couple of months of changes and delays, the remodel is finally getting started on Monday.
I don't know that this can actually be called a remodel since the room isn't currently a bathroom. This is the room that was presumably the original master bedroom. I'm just guessing at that because it's the only room that had a tiny bathroom attached to it, although that wasn't original to the house, and was probably added at least 20 years after the house was built. Those rooms looked like this originally…
To take the photo above, I was standing in the hallway just outside the doorway to the master bedroom. Now that doorway from the hallway to this room has been closed up and drywalled over, and the only access into this room is currently through a door on the left wall above that leads to our home gym. When we finally do our addition, there will be a doorway on the right wall in the photo above that leads to our new master bedroom.
And here's the original tiny master bathroom that is not original to the house.
About three winters ago, the pipes in this room froze and burst, and as they thawed, water sprayed all over the place and the little vanity (made of particle board) disintegrated into a pile on the floor. I cleaned up the mess as best as I could, called the plumber over to cut off the water to this room completely (I think he literally cut the pipes to this room and capped them off completely), shut the door, and haven't opened it since. I literally haven't seen inside this room in about three years, and I cannot wait until the day the thing is completely torn down and removed from our house.
For now, they're just going to drywall right over the doorway to this little bathroom. Since there's no longer any electricity or water going to that room, we're just going to pretend like it doesn't exist. And then when we get ready to build our addition, they can tear this room down from the outside.
Anyway, that's really a whole different story. The point was to show what we started out with for those who may be new around here, or for those who may have forgotten.
And as a reminder, this is the goal…
The doorway at the bottom of the floor plan above leads to our home gym, and the doorway opposite that at the top of the floor plan will eventually lead to our master bedroom. For now, it is an exterior door that leads to Cooper's fenced-in yard in our back yard.
So, let's talk money! How much is all of this going to cost? I was just looking over the estimate from our contractor last night, and adding to that the items that I'm going to tackle myself (e.g., tiling, painting, installing trim, building the vanity, etc.), and here's how it all breaks down:
Master Bathroom Remodel Estimated Cost Breakdown and Total:
Framing – $1650 – This is for framing two new walls, making repairs to existing framing, reframing the exterior door that will eventually be an interior door, blocking for grab bars in shower and toilet area, etc.
Plumbing – $3650 – This includes both repair/replacement of existing plumbing (swapping out some remaining cast iron for PVC) as well as all of the new rough-in plumbing we'll need for shower, tub, and sinks.
Subfloor and concrete board – $3200 – I'm having them do the floor and shower walls up to the point that they're tile-ready. I'll be installing all of the tile myself.
Electrical – $1430 – This is pretty straightforward. The whole room needs to be redone so that I can have lights and outlets where they need to be. They'll get all of that in place for me, and then I'll install the lights when I'm ready for them.
Insulation – $1055 – Thankfully, we already have our entire attic insulated with spray foam insulation, but we still have two exterior walls that need insulation, and the subfloor has to be insulated. The floor insulation is a code requirement, but I'm happy to have it so the tile floor won't get too cold in the winter. I won't do heated floors, though, because it seems like such a waste of money in central Texas where we rarely have harsh winters. (I'd say never, except that this past winter would have proved me wrong.)
Drywall – $3730 – This is one of those costs that I'll gladly pay, because I will never, ever again in my life do drywall. 😀 I've done enough of it in the past to pay my dues as a DIYer, but I'm done with drywall.
Shower pan – $1600 – Our shower is going to be much bigger than a standard shower so that Matt can have plenty of room to move around and not feel cramped or bump into walls.
Contractor – $3300 – This is a standard markup for overhead and contractor fees.
TOTAL for contractor's part of the project – $19,615
So the cost for everything our contractor will take care of on this project comes to just under $20,000. Of course, that number could change if we make changes or additions along the way. But that's a pretty close number. But of course, that's far from everything, because I'm going to take care of all of the finishing. Here are the additional costs I can think of:
Trim: $1200 – I'm estimating this based on what I just paid for trim for our home gym. Maybe the cost of lumber will come down by the time I'm ready to trim out this room, but I won't hold my breath.
Floor Tile – $650 – I still haven't made my final decision on the floor tile, but I found one at Home Depot that I really like, and it's $1.69/square foot. So as long as I don't add anything fancy, like an inset mosaic tile "rug" by the vanity (which I'm am considering), this price is close. But it could be more if I add the fancy stuff.
Shower Tile – $1000 – I also haven't made a final decision on the shower tile. I don't want anything really fancy, because my teal/turquoise walls in the main areas of the bathroom will be the feature. I don't want fancy shower tile stealing the limelight. So I figure the wall tile may be around $3.50/square foot, and I'll find a subtle mosaic for the floor. While I don't want that to be attention-grabbing either, mosaics are generally quite a bit more.
Bathroom walls – $500 – This number is an estimate, so we'll so how that works out. On the walls, I'll be using a wallpaper mural behind the tub, and venetian plaster on the rest of the walls. The wall mural was $200, and I already have that in hand. The venetian plaster that I'll be using is $62.95/gallon, and I estimate I'll need two gallons, plus topcoat (maybe also two gallons), plus tools. I'll have to research more and see exactly what tools are needed. It may just be the one trowel, or I might need two. It's been so long since I've done Venetian plaster (well over 10 years), so I'll have to refresh my memory on the process.
Bathtub – $889 – I'll be using a freestanding bathtub from Home Depot that I shared in this post a couple of weeks ago.
Plumbing fixtures – $2510 – After reading your feedback on the black fixtures I had chosen for the sinks, tub, and shower, I decided to find another option. So now I'll be using the Delta Trinsic fixtures in the Champagne Bronze color. This price is for two sink faucets, a wall-mounted tub faucet (I decided against the floor mounted style), and a the standard shower fixtures plus a separate adjustable handheld shower head with a diverter.
Lighting – $850 – Thankfully, I selected wall sconces for the vanity area that are pretty inexpensive. They're less than $70 each! This this price includes four of those, plus recessed lighting for the main bathroom area, shower, and toilet area, plus a chandelier. I'm still undecided on the chandelier issue, but whatever my final decision, this room will definitely have a pretty ceiling light in it somewhere.
Mirrors – $700 – I'll be using two Moroccan-inspired gold frame mirrors for the vanity area, which you can see in this post.
Vanity/Cabinets – $1200 – I'll be building these myself using white oak. With the price of plywood and lumber right now, this might actually end up being more.
Countertop – $1300 – I want to use a white quartz countertop. That's what I have in the studio bathroom, and I love it.
Toilet/Sinks – $600 – I haven't picked these out yet, so this is just an estimate for one toilet and two sinks.
TOTAL for my part of the project: $11,399
GRAND TOTAL – $31,014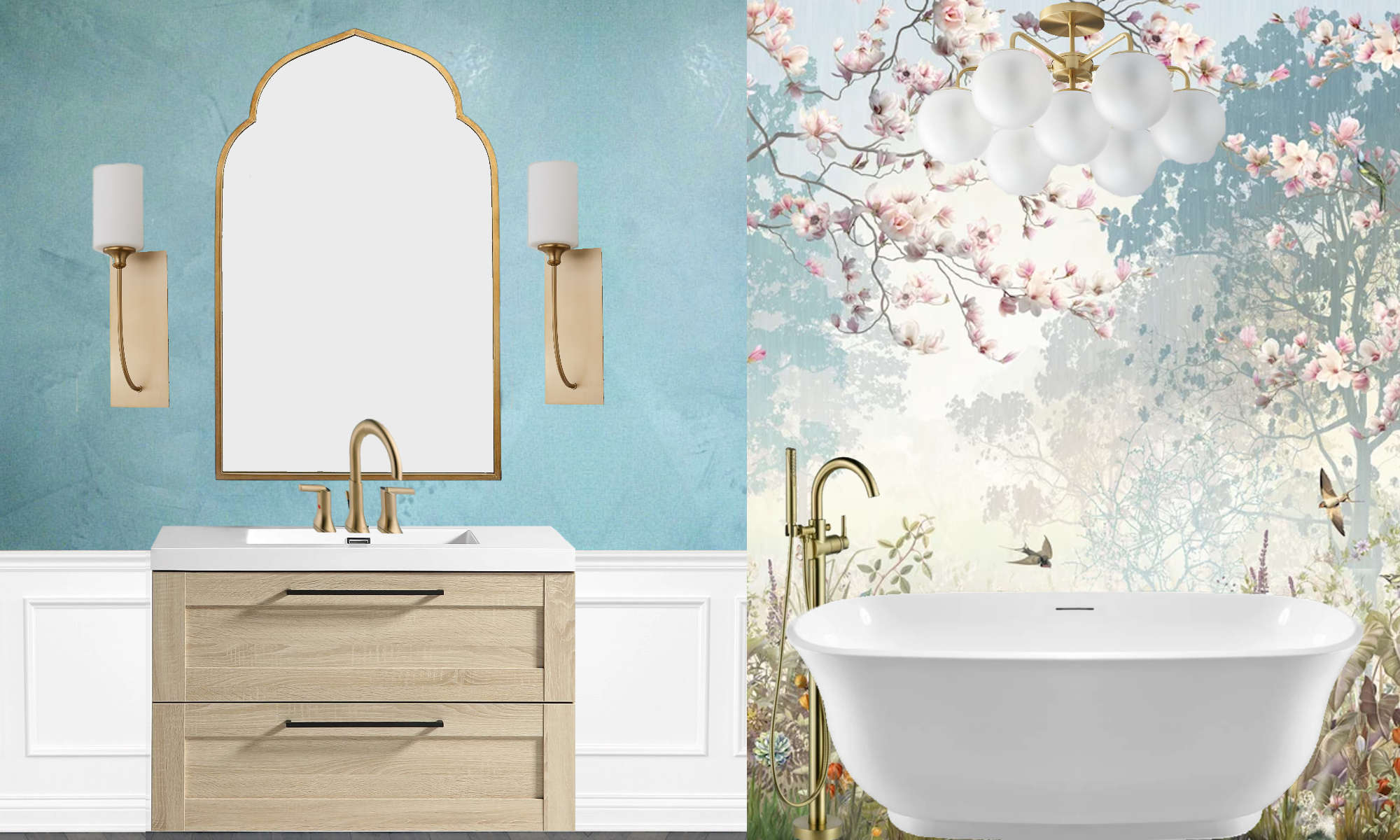 So there it is. I'll probably need to set aside another $1000 or so for anything I forgot, finishing touches (like towel holders, toilet paper holder, etc.), but that's going to be pretty close to the cost of this entire project.
It's still not the most expensive room remodel in our house. That honor goes to my studio that used to be a garage. That room cost well over $40,000, and it's still not finished. But this will easily be the second most expensive room in our house. Even the kitchen remodel came in at $10,000, but I DIYed that entire thing, and we have a pretty small kitchen. Our kitchen is about half the size of this bathroom.
So the fun gets started on Monday!
Addicted 2 Decorating is where I share my DIY and decorating journey as I remodel and decorate the 1948 fixer upper that my husband, Matt, and I bought in 2013. Matt has M.S. and is unable to do physical work, so I do the majority of the work on the house by myself. You can learn more about me here.