Any Suggestions For "My" Outdoor Space?
In the almost seven years that Matt and I have lived in our condo, we have never really utilized the patio space that's just outside our front door.  And really, nobody else has either.  In those years, I could count on one hand the number of times that I've seen someone out there.  One person would sit there to play his guitar, but he's been gone for at least three years.  Another person would sit out there and smoke his cigarettes, but he's gone also.  And that leaves me.  I use the patio quite frequently.  It's where I do my spray painting, staining, occasional building, etc.  But I've never actually used it as a patio–a space where we can relax and enjoy the outdoors.
So this year, Matt and I have decided that we're taking over.  As condo owners, we don't actually "own" any specific outdoor space.  But since this is so close to our front door, and since I'm the only one who ever uses it, we're going for it.  Of course, any other resident is free to enjoy the space as well, but I'm taking it upon myself to make it comfortable and pretty.
Here's what we have so far…
Of course, there are the two elevated garden beds that I built (that still have nothing planted in them…hopefully I'll get that done today).  And then the chairs, table, and plants came from our neighbors who were  moving stuff out of a house that they're selling, and they happened to have this comfy patio furniture.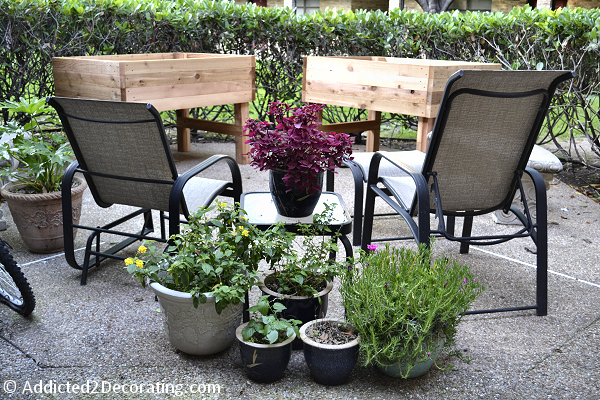 The last time the mowers were here, I had them cut back the overgrowth on the hedges about a foot, so we gained even more space in the patio area.  The hedges still don't look great.  I think they're still way overgrown, but I hesitate to get them to cut the height down any because I kind of like how they keep our little gardens hidden away from most everyone else in the building.
There are currently two concrete benches on the patio (one on either side of the gardens…only one can be seen in the photo below) that are just taking up valuable space.  I want to move those out to make room for other prettier things, but I tried moving them myself the other day, and they weigh approximately a thousand pounds.  🙂  Okay, that's probably a slight exaggeration, but suffice it to say it's way more weight than I can move on my own.
So while this space is definitely more comfortable than it's ever been, and we've already spent much more time out there this year than we ever have in the past, it's still looking a little blah to me.  I really want it to look beautiful.  And of course, I don't want to spent a lot of money to make it so, especially since I don't actually own it, and it's very possible that once I get it looking beautiful, others will want to start using it.
What do you suggest for "my" little outdoor area?  I feel so out of my element trying to decorate an outdoor space when I haven't really had any outdoor space of my own in seven years!
And please, if you have a beautiful outdoor space of your own that you think might serve as inspiration for me, leave a link in the comments!  I'd love to see it!
Addicted 2 Decorating is where I share my DIY and decorating journey as I remodel and decorate the 1948 fixer upper that my husband, Matt, and I bought in 2013. Matt has M.S. and is unable to do physical work, so I do the majority of the work on the house by myself. You can learn more about me here.