15 Outdoor Projects For Your Back Yard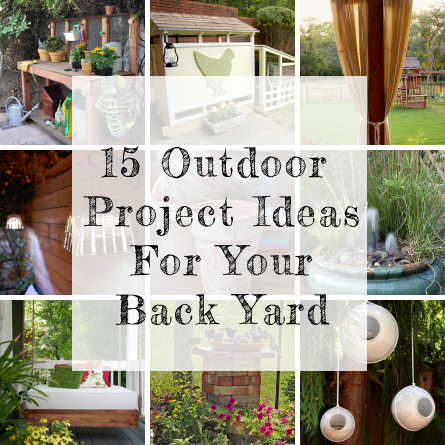 I love interior decorating, but I have to admit that lately, my mind wanders towards outdoor projects more than indoor projects. Of course, the reason is because if everything goes as planned, I'll soon have my very own back yard for the first time in almost eight years. Oh, I dream about that back yard, and I can't wait to get there and start working on some projects. Here are just a handful of the things I have planned for my own back yard, and I thought I'd share the inspiration with you as well.
I am absolutely in love with this idea from Cuckoo 4 Designs, and it's on the top of my list for the new house. We have two indoor cats, and since one of them has no claws, she's not allowed to roam around outside (since she can't defend herself if she runs away). But my cats love the warm sun, and I just know they'd enjoy going outside during the spring, summer, and fall. So this seems like the perfect solution.
---
This is also at the top of my backyard projects list for the house. I shared some pretty amazing chicken coops a few weeks ago, and I found this one from Living and Learning With Luisa just a few days later. I like all of them! It's going to be hard to decide what design I want to use.
---
John and Sherry at Young House Love are serious DIYers, so while this might not be a "beginner" project, they show the necessary steps and tools to make a gorgeous paver stone patio that you'll enjoy for many years.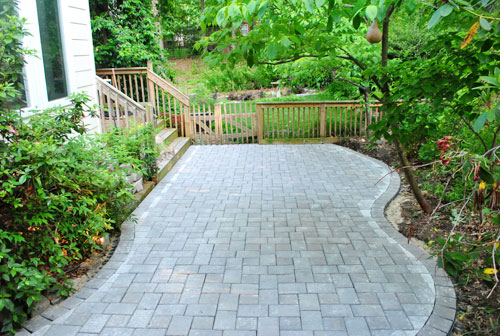 ---
I've had this project in my "to do" stash for quite some time now, ever since seeing it on Design Sponge a couple of years ago. I've even gathered a few old light globes to make these birdfeeders. Now all I need are my very own trees!
---
There are a thousand different versions of DIY birdbaths, but my favorites tend to be the ones that are more natural-looking and not too fussy, like this brick birdbath from Robin's Nesting Place.
---
It's always so nice to have fresh herbs on hand, but if you don't want your herb garden taking up lots of patio space, consider this unique vertical herb garden made from a shipping pallet from DIY Showoff.
---
Light and breezy curtains can add some much needed softness to a covered patio. Plus, they just look so pretty, don't they? These no-sew drop cloth curtains from Scattered Thoughts Of A Crafty Mom make for an easy project for those who don't know how to sew (or simply don't want to).
---
Planter boxes can be so pretty sitting on a patio or deck, and you don't have to spend a fortune for them. DIY Design Fanatic has instructions for building these pretty little planter boxes for a very reasonable price.
---
This is one of the two elevated garden beds that I built last spring, and we've loved having them! They're perfect for those who live in apartments or condos, and don't have much outdoor space. They're also great for people who simply don't want a large garden, but would like to get their hands in the dirt and plant a few veggies. We haven't decided if we're going to have our current ones moved, or if we're going to leave them here. So it's possible that I'll be building new ones in the future.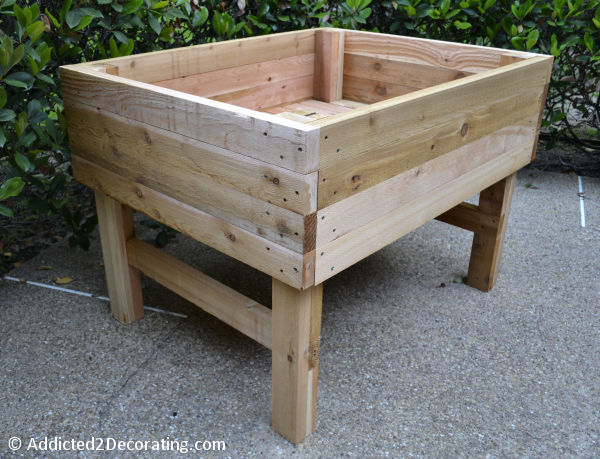 ---
Last summer, I painted a cheap (as in, less than $20) outdoor rug for our courtyard area using leftover latex paint. It's been out there for almost a year now, through the fall, winter, and spring, and it still looks good! This is a very cheap and easy way to add color to your outdoor seating area.
---
Unfortunately there are no instructions included with this hanging daybed idea from HGTV Remodels, but I wanted to include it because I know many of you could certainly figure out how to make it. And I'd love to try my hand at it when I have a back yard of my own.
---
There's just something beautiful about an aged terra cotta pot with the natural patina that age brings to it. But if you don't happen to have any on hand, you can create your own, and All Things Heart And Home will show you an easy way to do it.
---
Outdoor lanterns can add such great ambiance to your back yard, whether you're enjoying a quiet evening with family, or entertaining friends. The Art Of Doing Stuff shows you how to make these beautiful lanterns from items found at the Dollar Store.
---
I actually dream of having a big pond with a waterfall one day, but something tells me that that day is in the very distant future. So in the meantime, I'd love to create a beautiful container water garden fountain like this one from Aquascape (found via Hometalk). There's just something about the sound of a fountain that's so relaxing.
---
If you love getting your hands in the soil outside, then you'll obviously need a convenient place to work. Potting benches can be quite pricey if you purchase them ready made (and then you generally have to put them together). But Centsational Girl made her own using a tutorial from Better Homes & Garden, making some improvements along the way.
---

Looking at all of these projects makes me so excited about having a backyard of my own!! And if our plans work out, I'll have a HUGE backyard, so I'll have lots of fun projects ahead of me. I can't wait!!
Do you have any outdoor projects you're working on or planning for this summer?
Addicted 2 Decorating is where I share my DIY and decorating journey as I remodel and decorate the 1948 fixer upper that my husband, Matt, and I bought in 2013. Matt has M.S. and is unable to do physical work, so I do the majority of the work on the house by myself. You can learn more about me here.