Last Updated on October 11, 2012 by Kristi Linauer
Good morning, and happy Monday to you! I hope you had a fantastic weekend!
I spent my weekend working on some things for "my" patio. Now for those of you who are new around here, let me explain that I live in a condo. And as the owner of a condo, that means that I don't actually own any outside space. However, just outside our front door is a patio area that hasn't been used in the almost-six years that we've lived here. So this year, Matt and I decided that we would fix up the area and get some use out of it.
The last time I showed it to you, it looked like this…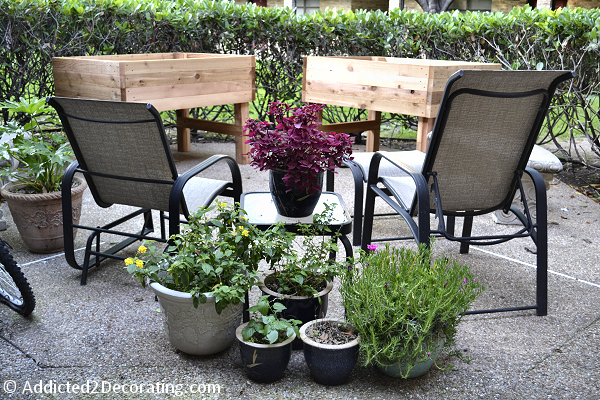 Since then, our neighbors moved away and took their chairs, table, and plants.  So basically we had a patio with two elevated garden beds and two concrete benches.
I've been on the lookout for some inexpensive chairs, and was pretty excited when I spotted these Adirondack chairs at Home Depot for $36 each.
They came in nine pieces, and were really quite simple to assemble.
Then it was on to deciding how to finish them.  Of course, I had endless choices.  I could have painted them in any color imaginable, stained them in any number of colors, but in the end, I decided to go with a standard brown stain…
I know…it's a little predictable and unexciting for me, right?  But don't worry.  I have plans for lots of fun color for this patio, and I think the dark brown Adirondack chairs will keep it from looking too much like a kids space.
These chairs took stain really well, but there were a few places on each one that evidently had some sort of glue that kept the stain from sinking in.
Unfortunately, I didn't catch that one in time, but on the other areas, I just gave them a good sanding before staining, and they turned out much better.
These chairs do take FOREVER to stain, but I love how they turned out.  I certainly don't think they look like cheap $36 chairs!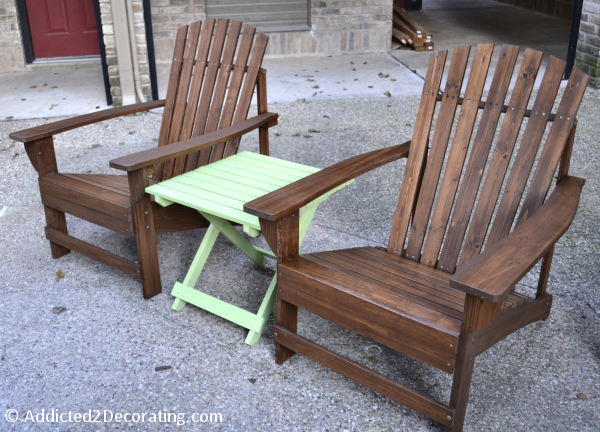 As you can see, I also got the matching side table, which was $14.  I decided to give it a dash of color with some apple green spray paint.
I still need to seal the chairs, but I've had a hard time finding just the right thing to use.  I picked up some spray spar varnish yesterday, but after using one can on one of the chairs, I decided that wasn't really the route I wanted to go.  With chairs that are going to be out in the elements, I'd feel much better using a brush-on product so that I know I'm getting a really good coating on there, and so I can also be sure that it gets down into the nooks and crannies.  So I'm on the hunt again for the perfect sealer.  I need to find something today, though!  Rain is on the way tomorrow!
So that's my progress so far.  It's not much, I know.  But it's a start!  I have lots more plans for this patio, and I'll definitely be adding color.  I purchased some bright outdoor canvas to make pillows for my chairs, and I also want to add a rug of some sort.  I'll keep you posted!
Addicted 2 Decorating is where I share my DIY and decorating journey as I remodel and decorate the 1948 fixer upper that my husband, Matt, and I bought in 2013. Matt has M.S. and is unable to do physical work, so I do the majority of the work on the house by myself. You can learn more about me here.
I hope you'll join me on my DIY and decorating journey! If you want to follow my projects and progress, you can subscribe below and have each new post delivered to your email inbox. That way you'll never miss a thing!