Yesterday, I headed over to the condo.  I didn't go to do any work.  I simply went to take inventory — to make a list — of all of the unfinished projects that I still need to finish before we get the condo on the market.
Oh my.  My list is much longer than I had anticipated.  Several of the things are just small things, like paint touch ups and such.  But there are also a couple of big projects.  One in particular is building the closets on either side of the bed in one of the bedrooms.
I had started this project a VERY long time ago (2010 to be exact), and then never finished them.

And now that I look at them, I'm very dissatisfied with the work I did on them anyway.  I'm planning on just starting over.  Let's just say that I've learned quite a bit about building since then, and this is one project that I never, ever should have used MDF and MDF boards on.  I'll be starting over with plywood and real wood lumber.
This room needs the hanging storage because I converted the closet into shelves and drawers.
And I'd rather add more storage rather than convert the original closet back to its original configuration with a hanging clothes bar.  More storage is always a bonus when trying to sell a tiny condo!
And as much as I love the grasscloth, I'll be removing it, as well as the chair rail, and painting the walls all one solid color.  Yes, probably neutral.  I just know that grasscloth is one of those things that people either love or hate.  And people with severe allergies generally see it as a dust magnet.  So it needs to go.
That's really all of the "neutralizing" I'm going to do in this condo.  The rest of it — my turquoise cabinets, yellow walls, green chandelier, and everything else — will stay, and I'll just hope and pray that a buyer comes along who loves what I've done. Considering that most of the condos in the building still look like this…
…and ours looks like this…
…and most of them have eating areas that look like this…
…while ours looks like this…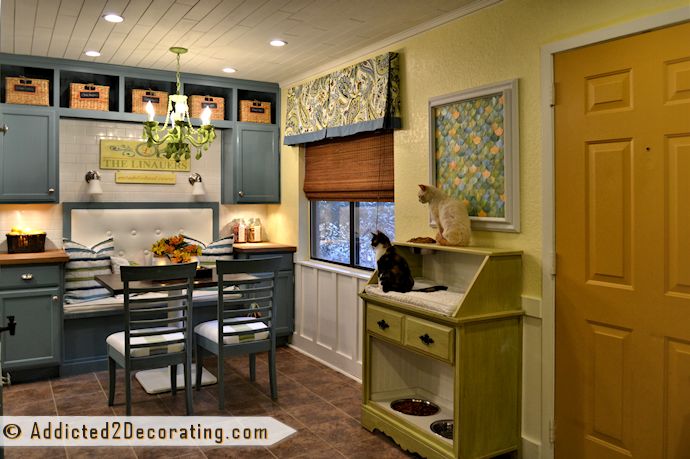 …I'm hoping it will really catch someone's eye!
Plus, there's all of the extra storage that I added in the living room…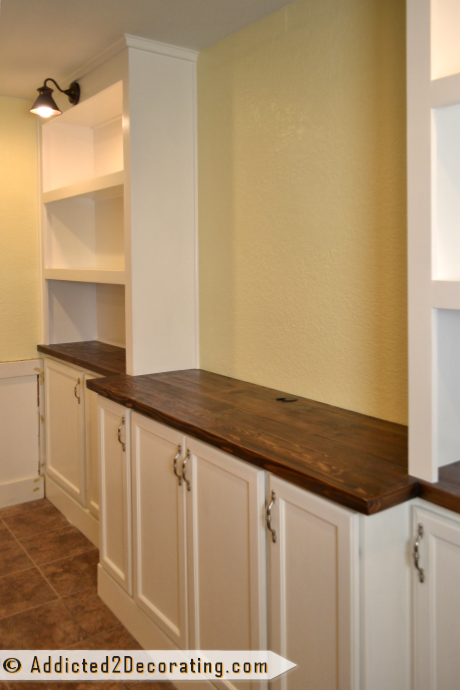 I can say with absolute assurance that no other condo in this condo complex has anything like that.  🙂
But you can see that I never finished the trim along the bottom, and I never repaired the wainscoting on the side walls.  Those things are on my very long list of things to finish.
There's a lot to be done — lots of little finishing projects, and one or two bigger ones — but I'm hoping for a good outcome once it's all finished.  It'll definitely take a special buyer to come along and see this place for the jewel it is.  I can't imagine an investor looking for a rental property being interested at all.  He or she would only see all of the colors, and everything that needs to be "neutralized" to make it appealing to the masses.
But I can certainly see a Baylor girl whose parents have offered to buy her a condo coming along and falling in love with it.
And even though it's taken a year for me to get my stuff together and finally get started on this, I can't help but think that it might turn out for the better that I took so long.  Now that the new Baylor stadium is finished and in use, and Baylor is growing so fast that they can't seem to build housing fast enough, it seems like property values and interest in Baylor properties are soaring.  And our condo is located within walking distance to Baylor campus.
So I'm hoping and praying that it all works out, and that I can get this finished quickly and we can sell it quickly.  But none of that will happen if I don't actually get started.  🙂
---
---