Last Updated on December 24, 2015 by Kristi Linauer
Since stating that I was pretty much starting over on my living room, I've gotten quite a few interesting comments about redoing a room that's "already finished."  Most of the comments have been pretty benign, but a few have been pretty presumptuous and snarky.  My favorite was the one who told me, "Obviously too much time and money to throw around, responsible adults with a budget make plans…not waste time, money, and resources! I'll stick to watching a professional do this stuff, I'm done with you…"  And then the one last night who told me, "I'm sorry, but if you had a real plan from the beginning, you wouldn't have to keep returning to what was "finished" and keep re-doing it."
I haven't really responded to many of the kind/benign comments on the topic, and I'll admit that my initial response to snarky comments is generally…you know…snark.  (What can I say?  I'm a firecracker.)  🙂
My general thought to these snarky comments has been, "What I choose to spend my money on is none of your business, so you can just stick it.  Mmmmkay, Pumpkin?"  (LOL.  See?  Firecracker!) 😀
But last night, I had a bit of a change of heart.  (Let me clarify…I still think presumptuous, snarky commenters can stick it.  I'd rather someone ask me questions and have me clarify things for them than make assumptions and judgments based on false assumptions.)   For the ones who have left kind, benign comments about me starting over on a room that's "already finished," I thought that perhaps I do owe more of an explanation.  After all, I can't very well claim to be a low cost decorating and DIY blogger, and then be perceived as just carelessly throwing around money on a whim, right?
So let's talk about my living room, money, and wastefulness, shall we?  🙂
Several main pieces in my living room were actually given to me free of charge.  Almost immediately after we moved into our house last fall, I received a $1000 gift card from Overstock.com to buy items for one room of my house.  With that gift card, I got the two chairs, the rug, and the two metal and glass end tables (not shown in this picture).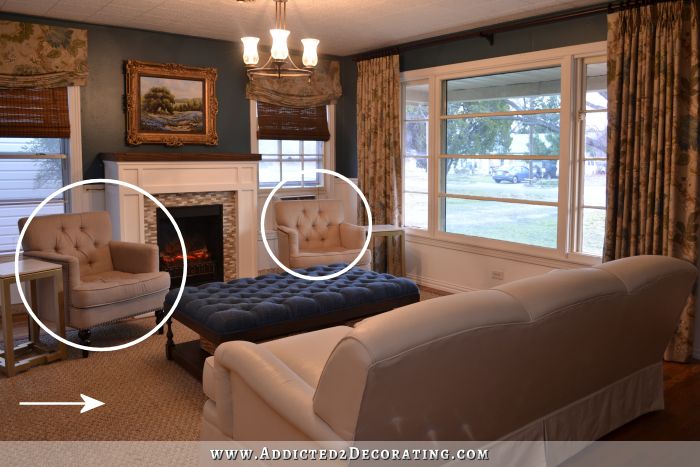 So again, these things were free to me.  I paid nothing for them.
The rug is nice, but I've kind of had it in the back of my mind since the day I opened the package that it would probably eventually wind up in our bedroom.  Plus, now that my furniture is rearranged, the rug is actually too small, so it really needs to be used in another room anyway.  But do understand, I'm reusing it somewhere else — not chucking it into a landfill.
Same with the chairs.  The chairs are fine, but when an upholstered chair costs around $250 retail, it's not like you're going to get a Henredon-quality chair.  And what they don't show you on the Overstock website for this product is how these chairs assemble.  They come in two pieces, and the back literally slides down into a groove in the base.  That means that from the back, it's obvious that the chair is in two pieces.  This is not how upholstered chairs generally look on the back.
Again, they're fine.  And again…not heading for a landfill.  They'll be reused, so there's no wastefulness here.  But they're more appropriate for my bedroom, where I generally won't have guests coming in and sitting and chatting with me.  The other chairs that I showed you the other day, and that desperately need to be reupholstered but have amazingly sturdy, strong, well-built frames with perfect springs, are way more appropriate for a formal living room.  I paid $30 each for those chairs at a consignment store, and I've held onto them for over five years now, just waiting for the perfect opportunity to reupholster them and use them in a way that will really show them off.  The time is now.
And then there's the metal and glass end tables.
I painted them.  I marbleized them.  I love them now.  I'm using them in the room.  No waste there.
But what about the other Greek key end tables I made?
Well, I'm not really sure where they'll end up.  I'll probably use them somewhere, but even if they end up out in my garage and never used in my house, I just can't see that that's a huge deal.  To make them, I used a few pieces of 2 x 2 lumber, some scrap MDF, and some spray paint.  I can assure you, they didn't break the bank.  But most of all, they were fun to make!  You see…sometimes we DIYers just like to make things just to make them — to challenge ourselves, to test our creative abilities, to improve our skills, etc.  These tables did all of those things.  I don't consider that a waste at all.
Next is my sofa.  It's a Thomasville sofa that I paid $100 for at a consignment store.  It looked like this.
I bought it because it's well-built, has perfectly tied springs, and pretty English rolled arms that I like.  But that fabric…my gosh.  The plan was always to reupholster it, but for a long time, I didn't know how I wanted it reupholstered.  And then I thought that I might even want to save up and buy a nice, new sofa.  So in the meantime, I painted it.
It took a weekend of my time, which I don't consider wasted time at all because it allowed several extra months of not having to look at that floral eyesore, while giving me plenty of time to decide if and how I want to reupholster it.  And now I know!  Plus, I learned something along the way — upholstery can be painted.  Learning new things is always a huge bonus for me, even if I don't keep the project once it's finished.  So, it was a fun project, I learned something new, it bought me time, and it got rid of the eyesore.  None of that seems wasted to me.  Plus, it was paint and fabric medium.  This was another project that didn't break the bank.
But on another note, I'm pretty sure I made it abundantly clear that my plan was never to live forever and ever amen with a painted sofa in my formal living room, right?  This was always meant to be a cheap and easy "interim" until I decided exactly what I wanted to do with this sofa in this room, or if I just wanted to save up for a nice, new sofa.
I've decided to keep this sofa and reupholster it.  It won't be wasted.
The fireplace was one of the items that I did actually spend a nice chunk of change on.  And yes, I revisited that project and made some changes recently.  I started with what was basic, and lived with that since last February.  Then I decided to dress it up with some trim and paint.
But it's the same fireplace.  I didn't chuck the old fireplace into the landfill and built a new one.  I simply added some extra trim, paint, and a piece of leftover MDF that I had in the garage.  An additional $80 to turn a fireplace from "nice" to "BEAUTIFUL!" (at least to me) seems like money well spent.  Nothing was wasted.
My diamond tufted ottoman was another project that I spent some money on.  I don't remember exactly how much, and it came in at a fraction of the $1200+ inspiration piece from Layla Grayce that I copied, but it wasn't cheap.
I love this ottoman.  It's one of my favorite things I've ever made.  BUT…I'm open to change, and right now my goal is to make room for a dark teal or dark blue velvet sofa.  The teal ottoman won't work with that.
So I'm keeping the base and adding a new solid coffee table top to it.  But that doesn't mean I'm throwing away the top.  I'll be reusing it, and I'm pretty excited about my plans for it.  Remember that "mud room" type area that I wanted to build in the hallway with a bench seat and coat hooks and such?  Well, meet my new bench seat.  It will need to be resized a bit, but I think it'll look spectacular in my hallway!  So one project will be divided and used in two separate projects.  Nothing wasted.
But even if I weren't reusing the top (which I am!  I promise!), this is actually one of those projects that I still wouldn't consider a waste because it gave me a great opportunity to demonstrate a new tufting technique (using screws and washers through the face of the fabric to keep the tufts in place) that many of you weren't familiar with, and I get emails constantly from people who used that tutorial to make ottomans, or headboards, or other things.  Any time I can help people learn things like that — skills that they never thought they'd actually be able to do, but that they've now conquered to make spectacular items for their homes — it's never time wasted on my part.  That's one of the biggest thrills I get as a DIY blogger.
Now let's talk about my walls, ceiling, etc.  This part of the room was never finished, and it was always my plan to come back and finish them.  Wainscoting was always my long term goal, but in the interim, I just painted the wall two colors, added the cheapest chair rail I could find, and called it good…for now.
But even at that, I still never finished the baseboards, or the chair rail around the fireplace.  And the entryway is an absolute mess.  This is a very old picture, but the walls in my entryway still look like this today — teal on top, the original yellowish antique white (the color that was here when we moved in) on the bottom, no chair rail, no baseboards.  And it was only within the last two months that I finally did something about the trim around the door and painted the front door.  The entryway has never been even close to being finished.
And again, the plan was always to come back and work on the living room, and actually take care of the ceiling (the polystyrene tiles need to come down, the 1 x 4's that they're attached to need to be removed, and the ceiling needs to be re-drywalled), and then add my permanent, long term design to the walls.  And almost from the beginning, that long term plan included wainscoting on the bottom, and grasscloth on the top.  I've been talking about grasscloth in this room for a year now, so the paint was always intended as a temporary "place holder" until I could afford what I really wanted.
But the time and money spent painting this room teal certainly wasn't a waste.  I had it in my mind for a very long time that I wanted teal grasscloth on these walls.  How lucky I am that I went with paint first, costing me about $26, and lived with it a while to test the color, rather than splurging and spending the $800+ from the beginning that the teal grasscloth would have cost me!  Now THAT would have been a hard pill to swallow once I learned that I really don't want teal walls after all.  Talk about waste!  Testing the color with paint first was the smartest thing I could have done, because it was cheap, and now I've learned that I actually don't want teal walls.  I can now proceed confidently and spend my decorating money on things that actually will make me happy long term.
And finally, that brings me to the window treatments — my draperies and Roman shades.
These cost me quite a bit.  What can I say?  You win some, you lose some.  But with the interest expressed in my draperies the other day, I have no doubt that if I decide not to reuse this fabric in the room (or elsewhere), I'll easily be able to sell them and recoup some, if not all, of the money I spent on them.  So the net loss will be very little, if any.  As far as the time I put into them…again, not wasted, in my mind.  I've had sooooo many people use those tutorials to make their own window treatments, and I personally get a little better at it each time I make them.  So my next ones will be even better!
Anyway, I think that's all I've got to say on the matter.  🙂
I know a lot of you will say that I didn't owe this explanation to anyone.  That might be true, but for the kind people who are so encouraging to me each day, cheering me along as I get my projects done and realize my vision for my home, but who might have been wondering about and side-eyeing some of my financial decisions as I claim to be a budget DIY/decorating blogger, I did want to offer this info so that you can be assured that I do still keep budget in mind when making decorating decisions.  I've always said that I would allow myself more splurges in this house since this is our forever home, but I do still live on a very real and limited budget, and I have to make those dollars stretch and choose my splurges very carefully.  🙂
But for you snarky ones, you can still stick it.  This wasn't for you.
EDIT:  I've had quite a few people wonder why I'm working on the living room now, and not the breakfast room.  The bottom line is that the breakfast room overwhelms the heck out of me right now.  It needs soooo much more work than the living room, including leveling the floor, adding a new subfloor, installing hardwood flooring, closing in a door, some window repairs, and all new drywall.  I just don't have it in me right now to tackle such a huge project so soon after finishing a long kitchen remodel.  It'll get done, but I'd like to finish my living room first, and then turn my attention back to the breakfast room.  🙂
Addicted 2 Decorating is where I share my DIY and decorating journey as I remodel and decorate the 1948 fixer upper that my husband, Matt, and I bought in 2013. Matt has M.S. and is unable to do physical work, so I do the majority of the work on the house by myself. You can learn more about me here.
I hope you'll join me on my DIY and decorating journey! If you want to follow my projects and progress, you can subscribe below and have each new post delivered to your email inbox. That way you'll never miss a thing!