Last Updated on December 24, 2015 by Kristi Linauer
I headed to the condo as early as I could yesterday so that I could have a full work day and get as much done as possible. While I was there, I saw one of my neighbors who lives across the courtyard from our condo. His mom was over visiting him, and they wanted to come see the condo. They both were very impressed, and went on and on about all of the extra storage that I had added, so I was very encouraged about that. They also both thought that the bedroom closet transformation to shelving, as well as the additional bedside storage that I added, were big bonuses, so I'll definitely be keeping and finishing the closets. (I had been questioning my decision to put closets there after a few of you said that's the first thing that would go if you bought the place. But my neighbor has lived there for a few years, and has lived with the miniscule amount of storage that these condos provide in their original state. Since he loved the idea, his mom loved the idea, and I love the idea after living there for seven years, I'm going for it.)
But I am starting over on them. After looking at them again, I'm just not satisfied with my work. And the last thing I want to do is hand off something that's less than quality, and that has my name attached to it. So I hope to get started on them this weekend.
My main issue right now is deciding what kind of closets I want to build. When I initially started the project, my plan was to do something similar to the bedroom closets in Young House Love's first house.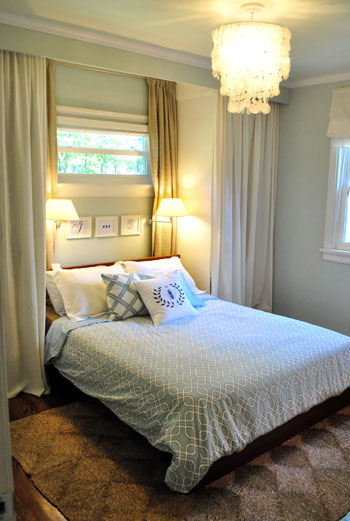 via Young House Love
But now that I'm doing this specifically to sell, I don't really think that's the best option.
I could look at this as building practice for the closets I want to build in our bedroom at the house, and do something nice like these that have more cabinet-style doors on them…
In our house, I want to do a drawer and door combo, but if I go with this style in the condo, I'd just do long doors like the one on the left of the door in this room…
Craftsman Bedroom by Portland General Contractors The Works
But as much as I like the idea of "practicing" in the condo for what I plan to build in the house, I also really like the idea of doing the easiest and simplest thing that will go well in the room.  I think that would be a design that uses prehung doors like this room.
via Frederick + Frederick Residential Architects
Layla did something very similar in their guest bedroom/office in their previous house.
via The Lettered Cottage
Right now I'm leaning towards the prehung door idea just because it seems easier to build.  Although, I've never built…and finished…closets before in my life, so I really have no idea if the actual process would be easier or not.
I hope to make a decision today, get all of the supplies I'll need, and get started this weekend.  I hope to have some good progress to share with you on Monday!
Addicted 2 Decorating is where I share my DIY and decorating journey as I remodel and decorate the 1948 fixer upper that my husband, Matt, and I bought in 2013. Matt has M.S. and is unable to do physical work, so I do the majority of the work on the house by myself. You can learn more about me here.
I hope you'll join me on my DIY and decorating journey! If you want to follow my projects and progress, you can subscribe below and have each new post delivered to your email inbox. That way you'll never miss a thing!