Last Updated on December 24, 2015 by Kristi Linauer
When we first bought our house last August and I was dreaming about the changes I wanted to make, one of the first rooms I started dreaming about and planning was the kitchen.  The original kitchen was just so inefficiently arranged that I knew I wanted to make changes as soon as possible.
One of my first plans was to expand the kitchen into the breakfast room area and into the original dining room (what I now call the music room) to create one really large kitchen, and I wanted the cabinets with the kitchen sink to be located under the wall of windows.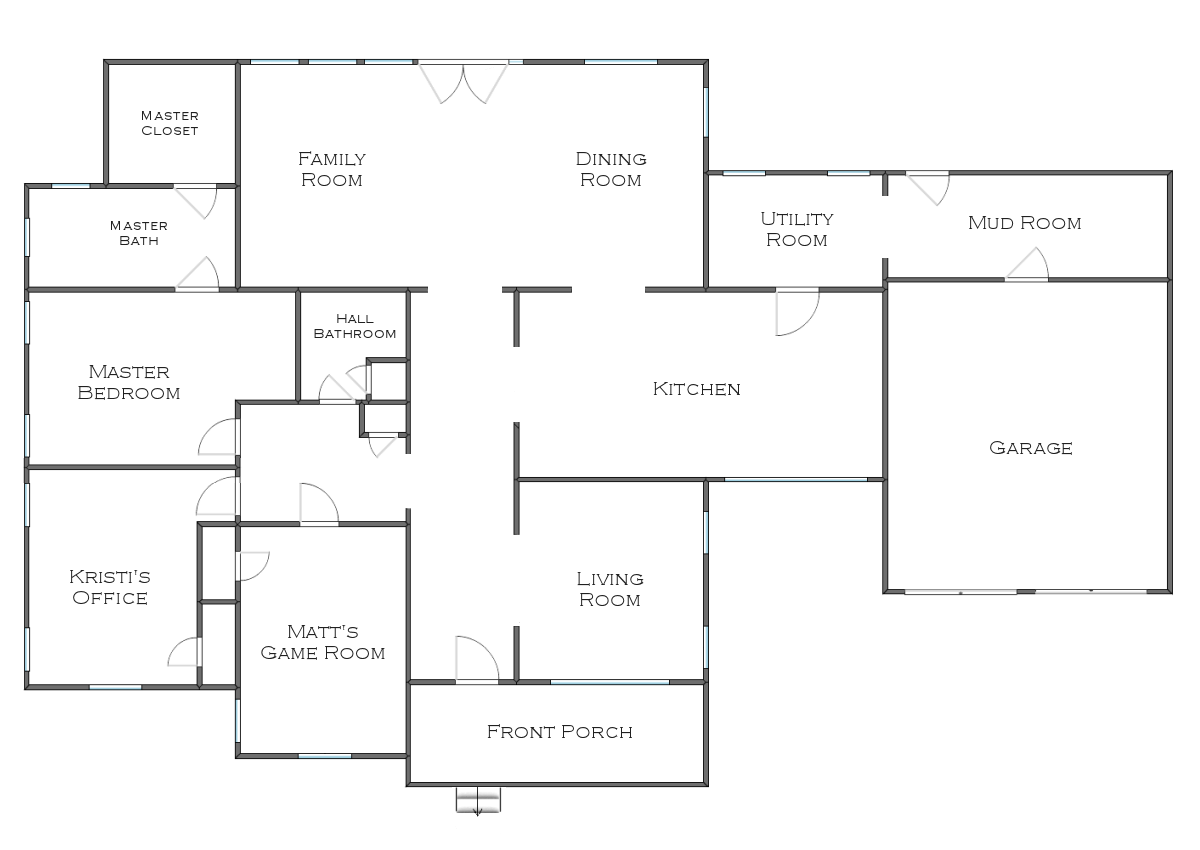 That plan would have required moving walls, adding walls, opening up walls to create doorways, jackhammering up a slab foundation to move plumbing and gas lines, re-pouring the slab foundation, re-building the trusses in the breakfast room to bring the ceiling height to the same height as the original kitchen, and so much more.  I don't think there's any way that a plan like that — even if I were to do a great deal of the work myself — would have cost less than $30,000.  And I'm thinking that would even be a conservative estimate.
Over time, that initial plan was revised, and then revised again, and again, and again, until I finally landed on the idea of keeping the original footprint of the kitchen and just rearranging everything inside that footprint to create a more efficient layout.
I'm so glad I decided to go this route.  Not only am I not much of a cook (as y'all know by now), but I've come to realize that I just much prefer kitchens on the smaller side.  They generally seem to be arranged in a way that seems much more efficient to me, with clearly defined work triangles.  Our condo kitchen was tiny (a bit too tiny for my taste), but I did love the arrangement with the clearly defined work triangle.  (And you'll also notice the fridge in the corner.  I lived with that for seven years and never had an issue with it.)
My new kitchen will be arranged almost identically to the condo kitchen (sink on one side, fridge and stove on the other), but there will be a bit more floor space between the two sides of the room, and I'll have much more usable countertop space in the new kitchen, which is perfect since limited countertop space was my one constant complaint about the small condo kitchen.  Plus with the wall removed in the current kitchen, it'll feel much more open and spacious.
There's just something very charming to me about a small, efficiently arranged kitchen.
Traditional Kitchen by Charlestown Interior Designers & Decorators Jeanne Finnerty Interior Design
I like to be cooking at the stove, and then be able to turn around and take just a few steps to get to the sink.  Or walk just a couple of steps to get something out of the fridge.
Traditional Kitchen by West Palm Beach Interior Designers & Decorators Lorna Saunders Interiors
I don't like the idea of having to walk around an island to get to the fridge.
Traditional Kitchen by Dc Metro Architects & Designers AHMANN LLC
In a small kitchen, everything you need is within reach, and you can pack quite a bit of style and stuff into a small space, like this 100 square foot kitchen. (My kitchen is just a little bigger than this one, coming in at 140 square feet.)
Craftsman Kitchen by Minneapolis Architects & Designers David Heide Design Studio
Traditional Kitchen by Phoenix Architects & Designers Candelaria Design Associates
Traditional Kitchen by San Francisco Architects & Designers Boor Bridges Architecture
Of course, one obvious difference between me and seemingly most small kitchen designer on Houzz is that I could never live with white cabinets. Life is too short to be surrounded by so much white. 😉
What's your preference? Are you satisfied with a kitchen on the smaller side like I am? Or do you prefer a big, sprawling kitchen?
Traditional Kitchen by Miami Architects & Designers Village Architects AIA, Inc.
When I see big kitchens like that (many of which are absolutely gorgeous, no doubt about that) I always think about how all of that space…and money…would be so completely wasted on me. I love to look at pictures of big gorgeous kitchens because I can be inspired by them, but I just don't think I have what it takes to really appreciate and use a kitchen like that. And I still can't quite grasp the idea of having to walk around an island to get from the sink to the fridge. Do any of you have a big kitchen with a similar layout? And does the island not seem like it's in the way?  Or is that something you just get used to over time?
So what say you? A kitchen on the small side with a well-defined work triangle? Or a big sprawling kitchen?
Things are moving along on my own kitchen.  I'm hoping to get the drywall done today, and possibly even get some cabinets installed!!  If everything goes as planned, I'm really hoping that I'll be pouring concrete countertops this weekend.  Eeek!  I'm a bit nervous!  🙂
Addicted 2 Decorating is where I share my DIY and decorating journey as I remodel and decorate the 1948 fixer upper that my husband, Matt, and I bought in 2013. Matt has M.S. and is unable to do physical work, so I do the majority of the work on the house by myself. You can learn more about me here.
I hope you'll join me on my DIY and decorating journey! If you want to follow my projects and progress, you can subscribe below and have each new post delivered to your email inbox. That way you'll never miss a thing!