Last Updated on December 24, 2015 by Kristi Linauer
Well, progress has been slow (perhaps nonexistent) on my kitchen for the last two or three weeks. I got a bit overwhelmed, and then hurt my elbow and needed to work on something a little less physically demanding, so I played around with my hallway doors. Then I decided I needed to do something fun that would actually end with a pretty result, so I refinished my dining table and chairs. Then I got food poisoning that hit me like a ton of bricks early Thursday morning of last week and took me down like a darted elephant for about three days.
And now, here I am…five days away from my brother-in-law Bill coming here to do my electrical stuff for the kitchen, and until last night, I was still really uncertain about many of the design decisions for the kitchen.  So I decided to sit down and put pencil to graph paper, and finally make some decisions.
The wall that was giving me the most trouble was the one wall of storage where the kitchen sink used to be.  It used to look like this.
I mean, I have one solid wall of cabinets that won't be interrupted with a sink or appliances (and that window will be covered over — it's not an exterior window, and looks into the sunroom that will eventually be the family room), and this was my opportunity to really make a statement.  But until last night, I was just uncertain what statement I wanted to make.  So I've finally got it.  Here's the drawing I did.
Now of course, the main challenge is the fact that I'm using stock unfinished oak cabinets from Home Depot.  And those only come in certain specific sizes, so I had to make those work.  I ended up with a plan that uses all upper wall cabinets, and I'll be using eight of the 15-inch cabinets, four of the 12-inch cabinets, and two of the 24-inch cabinets.
As I've already told you, I plan to add feet to the bottom of the cabinets.  I've looked at photo after photo of kitchen cabinet feet with slightly varying styles, but I just want something simple like this…
Traditional Kitchen by Seattle Cabinets & Cabinetry Warmington & North
I won't purchase those feet.  Instead, I'll just cut them myself using a jigsaw.  Once I have a template drawn, cutting them myself should be simple and will save me quite a bit of money.
And then I decided that I do want to bump out the middle section about 4 1/2 inches, and then add some wood columns to either side.  It'll look very similar to the sink cabinet in this kitchen…
Kitchen via GardenWeb
 And of course, I'll turn those wood columns myself out of chunks of wood using my lathe.
😀
Okay, just kidding.  I don't own a lathe, and even if I did, I wouldn't know the first thing about turning wood columns.  I'm actually looking at these columns from TableLegs.com.
All of their legs come unfinished, and from my experience, they're fantastic quality.  That's where I got the legs for the tufted ottoman I built for the living room.
So that's it for the bottom cabinet details.  Now let's move on to the upper cabinet details.
First of all, remember when I was trying to force the whole sconce thing on the new sink "wall" by considering the addition of a column?  You might notice that I ruled that out, and now that wall is just wide open with no column.  That's because somewhere along the way, I decided that I wanted to use my sconces on this cabinet wall.  That way they won't be near the stove, or near the sink, but they'll still be in the kitchen and will be a part of the design.
These are the sconces I have…
I bought them from Shades of Light, but right after I bought mine, they disappeared from the site.  I'm not sure if they're discontinued or what.
The center section of the upper cabinets will be bumped out just like the lower cabinets, and on the center section, I want to add glass to the cabinet doors.  This might be the trickiest part of this plan, seeing that I'm using stock cabinets and those doors are probably pretty well glued together.  I'll have to figure out a way to get them apart so that I can swap out the wood panel for a piece of glass.
If that just won't work, I have two options.  (1) Have doors custom made just for those four cabinets, or (2) forgo the glass front cabinets and do open shelves instead.  The open shelves could look something like this cabinet on the left side of this kitchen…
Transitional Kitchen by Charlotte General Contractors Andrew Roby General Contractors
But I really do hope I can make the glass front cabinets work.  I would love to add that bit of sparkle.
And then above the cabinets, I've added cubbies.  The cubbies I built in the breakfast room at the condo were one of my favorite things about that condo…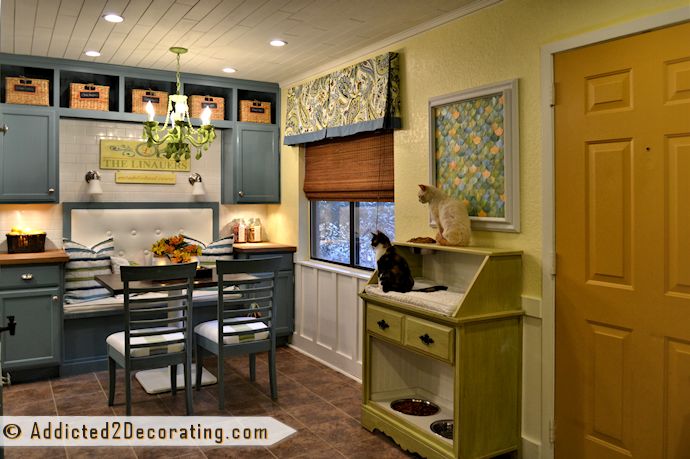 So I'd like to do something similar here.  I had originally planned on just adding really tall trim, moulding, and crown to the top of the cabinets to go all the way to the ceiling, kind of like the Kelly Wearstler kitchen that inspired the color of my kitchen…
Cameron Diaz's Manhattan apartment kitchen as featured in Elle Decor
And I still may end up doing that, but for now, I'm entertaining the idea of cubbies with baskets.  I just love the texture that baskets add.
And then the final detail…corbels.  I want them very simple like this…
Traditional Kitchen by Dc Metro Design-Build Firms Glickman Design Build, LLC
And to save money on those, I'll probably end up cutting those out myself with my jigsaw rather than purchasing corbels that could cost $20+ each if I buy them ready made.
So that's the whole plan for the wall 'o cabinets.  I know I've shown y'all bits and pieces of this plan, but I finally have it all together as one (pretty much) finalized, cohesive plan not only in my mind, but on paper.
I have so much to do before Bill gets here next weekend to do my wiring!!  But I'm excited to get going on this kitchen again.
UPDATE:  I just modified my drawing to exclude the cubbies and make the top of the cabinets more like the green Kelly Wearstler kitchen.  I think I might like this one better.  Sometimes less is more, and I may have been trying to force too many ideas onto one wall in the original drawing.  You can let me know what you think.
Addicted 2 Decorating is where I share my DIY and decorating journey as I remodel and decorate the 1948 fixer upper that my husband, Matt, and I bought in 2013. Matt has M.S. and is unable to do physical work, so I do the majority of the work on the house by myself. You can learn more about me here.
I hope you'll join me on my DIY and decorating journey! If you want to follow my projects and progress, you can subscribe below and have each new post delivered to your email inbox. That way you'll never miss a thing!