Last Updated on December 24, 2015 by Kristi Linauer
Happy 2013!!!  Are you the type of person who wakes up on January 1st with a sense of excitement and anticipation for the new year?  I am!!
There's just something so invigorating to me about the first day of the first month of a brand new year.  A time of new beginnings and fresh starts.  A time of reflection, goals, and plans.  A brand new calendar filled with empty squares that are full of possibilities.
2012 was an amazing year for us.  After the horrible year we had in 2011, we were determined to have a good 2012, and by sheer will and determination, we made it so.  And it was a HUGE learning and "growing up" year for us.  Here's what 2012 taught me:
1.  Self-control isn't something you have or you don't have.  It's something you do.
For so many years, I was on a path towards self-destruction with my eating.  I was gaining weight year after  year after year, making horrible decisions on what I put into my body, and things were spinning out of control.
I tried one diet after another, and failed each time.  I tried to stop drinking Dr. Pepper (which was literally the only liquid I was putting into my body the last half of 2011), but it just seemed too hard.
I convinced myself that I just simply didn't have the self-control that other people seem to have.
HOGWASH!
At the end of December 2011, I decided enough was enough, and on January 1st, Matt and I made some huge changes in our lives.  And as of yesterday, I can proudly say that we went an entire year without eating one single bit of fast food or drinking a drop of Dr. Pepper (or any other soda).  And we went nine months straight without eating out at a restaurant at all!  Only in the last three months did we allow ourselves to enjoy some non-fast-food restaurant food, like our favorite local Mediterranean restaurant.
We've both lost weight, feel much better, and realize that we prefer eating smaller, home cooked meals and not having that stuffed pig feeling after meals.
I lost a total of 50 pounds during the year, which I'm very pleased with (even though I do still have quite a ways to go).
Before last year, it was as if I was waiting around for something to "kick in" inside my mind that would make me start losing weight.  I finally learned that any task that requires self-control is a decision.  And when I finally decided to have self-control, I found that I had a pretty large reserve of it buried deep inside of me.
2.  Being overwhelmed wastes precious time and energy
When I look back on 2012, I realize that even though it was a fantastic year, I spent a good deal of time just being overwhelmed.  Overwhelmed that my condo was a mess.  Overwhelmed at all the projects I still need to do in the condo.  Overwhelmed at the pressure of blogging every day now that blogging was my full-time job.  Overwhelmed at the number of people who were entrusting me with their blogs.  Overwhelmed that all of the cooking, cleaning, projects, shopping, taking care of our pets, and everything else is completely my responsibility because my husband can't help me with hardly any of it.
Just…overwhelmed.
And when I'm overwhelmed, I spin my wheels.  I escape by wasting time online.  Or by watching shows on Netflix.  Or by busying myself with things that aren't important at all.
All of that is time and energy that I could put towards actually doing the things that need to be done…the things that would decrease that feeling of being overwhelmed.
I'm going to take that lesson and make some serious changes in 2013.  I'm going to turn that overwhelmed feeling into positive energy and action.
3.  Being disorganized also wastes precious time and energy
I wish I could say that I ended 2012 being completely organized and ready to start 2013 off on the right foot.
I can't say that.  But I have learned more than ever the value and importance of being organized.
I've never been an organized person.  In fact, I'm quite messy.  I have really no organization for my tools, and when I work on a project, I feel like I spend half my time looking for stuff.  Where can I find a Philips screwdriver?  I have no idea.  Perhaps it's in the bucket by the front door.  Or maybe I stuck it in a drawer somewhere.  Or maybe I shoved it in a basket in my office.
Part of the problem is that I live in such a tiny place with very little storage, so stuff just kind of piles up, and then gets pushed around.  I've always got tools stacked by my front door.  Since the only place I can use my tools is just outside my front door on the sidewalk area, they always seem to land right here just inside the door when I'm done.
Isn't that lovely?  When someone comes to my front door, that's the first thing they see.  What a great first impression!  🙂
So in 2013, I'm going to use some of that newly discovered self-control, and I'm going to put it towards getting organized.
4.  You  never know what you're capable of if you don't take risks.
2012 was a year of transition for me, and I absolutely love where I ended up!  I started the year as a full-time blogger, and I ended the year as a blogger who also designs blogs and websites, and helps bloggers move from Blogger to WordPress.
Doing the WordPress business was something that I talked about and planned for a few months before I actually did it.  I'm definitely a planner and a dreamer, but sometimes actually starting the very thing I'm planning is a tough step for me.  I think it's a fear of failure that holds me back.  But last year, I decided to put that fear aside and just do it.
Can I tell you a secret?
When that very first person came to me and said, "Can you move my blog from Blogger to WordPress?" I said, "Oh, of course!"  But inside, I was terrified.  In theory, I knew the process that needed to be done.  But I had never actually DONE it before.
I actually considered backing out, but in the end, I made myself go forward with it.  It was definitely a learning process along the way, but now the process has become very simple for me.  And taking that initial leap…that risk…and challenging myself to do something that scared me a bit has now turned into a thriving side business.
5.  Saving money isn't impossible like I had convinced myself.
Matt and I have been living on cash only for about six years now.  But even though we haven't been racking up huge amounts of debt, we've never really been good with our money.  In fact, having a savings account was really a foreign concept to us.  Sure, we wanted to save money, but we had convinced ourselves that we simply didn't make enough money to save.
So we continued on, month after month, living paycheck to paycheck, and spending money on things we really didn't need (like eating out three times a day in 2011!!!!).
But in June of 2012, things changed for us.  We had started off the year so good, eating every meal at home.  So we should have been saving money, right?  But where the heck was it going?!!
So at the end of June, after I saw the house that we're hoping to buy for the first time, we decided to reevaluate our finances because obviously our bank account had sprung a leak, and we needed to find that leak and plug it up if we ever hoped to buy a house.
In July, we decided to get serious about saving money, cutting out extras where we could.  We didn't cut out ALL of the extras, and I still got my $500/month allowance for doing projects around the house for my blog.  But we definitely cut out a majority of the extras.
And lo and behold, our bank account started filling up like it has NEVER BEFORE in our ten-year marriage.  I never thought that we were capable of it, but I look at that ending balance in our account for 2012, and I'm just amazed.  I honestly did not think we had it in us, but it's amazing what you can do when you set your mind to it, and when you have a goal.
And our goal?  A (potentially) cute little house full of possibilities.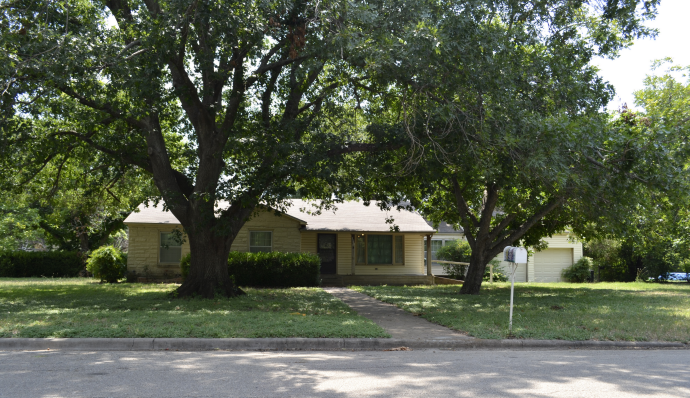 Motivation is a powerful thing.  🙂
So what lessons did you learn in 2012?  And what goals do you have for 2013?  I'd love to hear about them!!
Gosh, I love a new year, don't you?!
Addicted 2 Decorating is where I share my DIY and decorating journey as I remodel and decorate the 1948 fixer upper that my husband, Matt, and I bought in 2013. Matt has M.S. and is unable to do physical work, so I do the majority of the work on the house by myself. You can learn more about me here.
I hope you'll join me on my DIY and decorating journey! If you want to follow my projects and progress, you can subscribe below and have each new post delivered to your email inbox. That way you'll never miss a thing!