Last Updated on December 24, 2015 by Kristi Linauer
Have you heard?  The Pantone color of the year for 2013 is Emerald, and I'm very anxious to hear what you think about this color. Could you decorate with it? Wear it?
I'll admit, I never really paid attention to the Pantone Color of the Year until 2010, and that's because it was Turquoise! One of my favorites! And then in 2011, it was some strange pinkish purple color called Honeysuckle. I was not a fan of that one. And then last year was a wonderful orange with a fancy name…Tangerine Tango.
So ever since 2010, I've looked forward to hearing what the next "color of the year" will be. But this year when I saw the swatch, let's just say I was less than enthused.  In fact, I posted my initial reaction to the color on the A2D Facebook page, and many people seemed to agree with me.
The color that they call Emerald just falls a bit flat for me. What is it about it that I don't like? I'm a green kind of person. I like just about every shade of green there is. But this one? Nope. There's just something a little "off" about it. Here's Pantone's Emerald next to a photo of The Catherine The Great Emerald Brooch via Christie's.
I think there are two things that make me not like Pantone's Emerald.  First, that slight touch of blue in it just doesn't do anything for me.  Second, it's just not quite deep enough to be a jewel tone, but it's not light enough to be a pastel. It's hovering somewhere in between, and it needs to be pushed in one direction or the other.
Here's a flat comparison of the two.  On the left is the green that I took directly from the emerald pictured above.  On the right is Pantone's Emerald.
See how blue the one on the right is?  I think that's what makes me not like it.  It's a color I'd use to decorate a little girl's room (mixed with a few other happy candy colors like deep pinks and yellows), but that's about it.
And yes, I know that emeralds can come in several slightly different shades of green, and lighting makes a huge difference as well.  I'm just trying to pinpoint what it is exactly about that color that makes me involuntarily make a squished-face disgusted look every time I see it.  🙂
But while I don't like that exact hue of green that Pantone calls Emerald, I do really love these greens that are quite similar.  (And the green of the actual emerald pictured above is amazing, in my opinion!  I could certainly decorate with that one!)
Take a look at this beautiful kitchen with a green island from Country Living.
Now that green just seems right to me! It doesn't have that touch of blue. It's more of a "pure" green to my eyes. And it's a touch more saturated. Doesn't it look amazing in that kitchen?! I could certainly see myself decorating with that color!
I also really love the use of green in this dining room by Kay Douglass, via Veranda.
Those draperies look so dramatic against the dark gray walls. And again, the green seems to be a bit more saturated…and no hint of blue. I think it's beautiful!
Now when it comes to adding just one touch of green to a room, Kristin from The Hunted Interior did a beautiful job with her green painted chest of drawers.
Isn't that beautifully styled?  The green and black is just as dramatic as the green and dark gray in the dining room above.  I'm really drawn to those dramatic combinations.
This green is also beautiful on a front door.  Take a look at this amazing green front door, which looks perfect paired with the black and white striped awning.  This is the front entry to Sibella Court's shop called The Society Inc., via Design Sponge.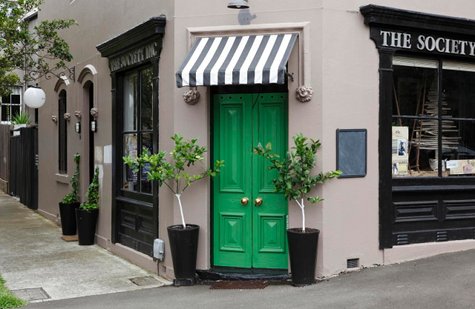 So what do you think about Pantone's pick for the color of the year?  Are you ready to see an onslaught of Emerald green in decorating this year?  Will you try to incorporate it into your home?
And most importantly, what do you think about Pantone's particular Emerald color?  Do you agree with me that there's just something "off" about it?
Addicted 2 Decorating is where I share my DIY and decorating journey as I remodel and decorate the 1948 fixer upper that my husband, Matt, and I bought in 2013. Matt has M.S. and is unable to do physical work, so I do the majority of the work on the house by myself. You can learn more about me here.
I hope you'll join me on my DIY and decorating journey! If you want to follow my projects and progress, you can subscribe below and have each new post delivered to your email inbox. That way you'll never miss a thing!