Last Updated on December 24, 2015 by Kristi Linauer
Well, I've decided to forgo the usual "best of…" or "highlights of the year" posts that generally fill the blogosphere during the last days of the year, and go ahead and sign off for the rest of this year. (I'll be back on January 2nd!!)  I have a ton of stuff that I want and need to do before the end of this year, so a few days away from the blog are definitely needed.
But I didn't want to go without saying a huge, Texas-sized…
…to each and every one of you who stop by Addicted 2 Decorating regularly, who show so much support, who leave such inspiring and encouraging comments, and who have helped 2012 be the best year yet for A2D. I look back at the growth of my blog over the last year, and I'm truly astounded…and thankful. And of course, it would be nothing without YOU.
So thank you. From the bottom of my heart, thank you.
It is because of each and every one of you, as well as those of you who have allowed me to help you with your WordPress blogs over the last few months, that I feel very confident that 2013 will be the year that Matt and I move from our condo and into a house. And that never would have been possible without you.
So I want to leave you with a little sneak peek of the house that we hope to purchase in 2013, and turn into our home.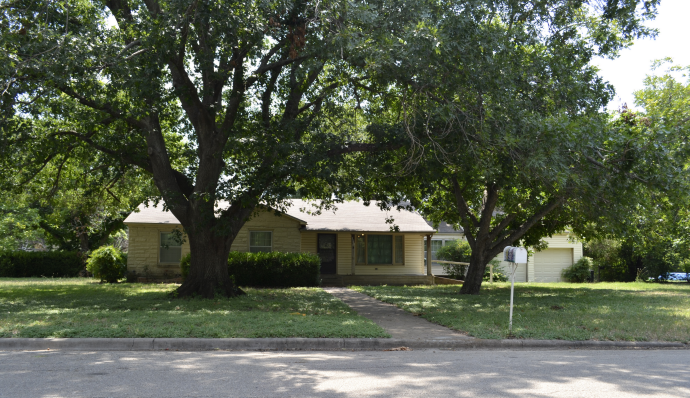 Isn't it (potentially) cute? Can you see the potential like I can? The picture is a little deceptive, because it makes the house look quite small (perhaps because it's dwarfed by that MASSIVE tree in the front!!).  It's actually not a small house.  It's not huge by any means, but it's certainly not small.  It has 3 bedrooms, 2 bathrooms, a dining room, living room, small den, kitchen, huge sunroom, large hallways, and a two car garage.
So why this particular house? There are many reasons, really.
I know the owners, and this house has been in the same family for 40+ years,
It's a fixer-upper.  That's actually a huge plus for me, since I'm not really a fan of new construction,
It's tucked away on a pretty quiet street,
I think the house has tons of potential.  It just needs someone (i.e., ME) to help its character shine through,
The price is great, which would allow us to pay it off in about 2 years, and then be free from a mortgage (and after living cash-only for six years, a huge mortgage is something that we would absolutely never even consider), and
Most importantly, this house sits on a 1-acre lot!!!  The lot is huge, especially for a house located in the city.  ONE WHOLE ACRE!!  The back yard just goes on, and on, and on.  With a lot like that, we would have plenty of room to do just about anything we want in the future.  A detached workshop for me?  There's room for that!  A swimming pool?  There's room!  A massive garden that could feed the entire neighborhood plus some?  Yep, there's room!  Additional rooms added on to the house?  Of course, there's room!
So there it is.  Our main goal for 2013.  And even if things don't work out with this particular house (and I'm really trying to hold it loosely so that I don't get my heart broken if it doesn't work out), then there will be another house for us.  Perhaps it won't be on a 1-acre lot, since those are quite rare in the city, but we'll make do.  🙂
Again, thank you.  You have blessed me tremendously.  🙂
By the way, as you may already know, at the beginning of this year, Matt and I decided to take drastic steps to get healthy and lose weight.  I shared a weight loss photo over on the Addicted 2 Decorating Facebook page.
Also, I just want to give fair warning that my prices for Blogger to WordPress transfers, custom WordPress blog designs, and other WordPress-related services, are going up on January 1st.  In order to lock in the current lower prices, you need to contact me before December 31st, get on my schedule for January, and pay a deposit.  If you'd like to do that, you can contact me here.  🙂
Goodbye for now!  I hope you all have a very blessed week filled with family, fun, laughter, relaxation, and much more!  I'll see you back here on January 1st….2013 (wow, that just seems strange, doesn't it?  2013!!).
Addicted 2 Decorating is where I share my DIY and decorating journey as I remodel and decorate the 1948 fixer upper that my husband, Matt, and I bought in 2013. Matt has M.S. and is unable to do physical work, so I do the majority of the work on the house by myself. You can learn more about me here.
I hope you'll join me on my DIY and decorating journey! If you want to follow my projects and progress, you can subscribe below and have each new post delivered to your email inbox. That way you'll never miss a thing!