Garage-To-Studio Conversion Update
I have been procrastinating in a big way when it comes to the garage-to-studio conversion plans. It's not that I don't want it to happen. I do. And I'm very excited about having that space as my studio.
The issue is that completely cleaning out and emptying the garage and storage room is such a huge, daunting task that I've gotten myself stuck in the "planning and dreaming" stage (mostly dreaming with very little planning, actually), and I've failed to make any real progress. In fact, I had even put off signing the contract with the general contractor.
But that changed yesterday. After putting it off for far too long, I finally went to the office yesterday afternoon, signed the contract, and got our project on their schedule. The start day will be on or around July 5th. And this time, while there may be a tiny bit of flexibility, there's no more room for procrastination. Once a contract has been signed and a project has been added to their schedule, it's pretty much set in stone.
So now it's crunch time. I've been thinking through the list of things that I need to do. That list includes things like (1) order a dumpster and have it delivered to the house in about a week, (2) separate out all of the furniture I'm never going to use and get it listed on the McLennan County Buy/Sell/Trade Facebook page and/or Craigslist, (3) get the sunroom cleared out so that I can store and organize everything I'm keeping (including my tools) in there.
But the main thing, obviously, is that I need to make some major design decisions. Where do I want doors? Windows? Cabinets? Desk(s)? And the one thing that keeps tripping me up is the question of adding additional doors to the front of my house.
The area is currently a two-car garage, so we've got two garage doors on the front of the house. We had originally planned to keep it a garage, so our original front elevation makeover plan looked something like this…
Our house won't have a Craftsman look to it, by the way. It will be much more traditional in style. These are mock-ups that a very generous reader (a retired architect) did for me a couple of years ago. She was going for overall look and not specific details. But you can see that there are still two garage doors over there on the right side of the house.
Ever since I first had the idea of converting the garage into my studio, I immediately envisioned French doors in place of the garage doors. But since I want to maximize storage space in there, I just want one set of French doors. That might look something like this…
Of course, the doors won't just be floating there a foot off the ground. 🙂 I'd either build steps down, or perhaps incorporate that door into an extended front porch somehow. I would also add some lights to either side of the doors, and then do something decorative on either side like build some trellises for climbing vines. The point is that while I'm not sure about those details yet, I do know there will be no floating doors with big expanses of blank wall on either side.
From an interior perspective, this is my favorite placement of the French doors. I love the idea of them being directly opposite the French doors that will lead outside to the future carport from the mud room (which is currently a storage room at the back of the garage) at the back of the studio.
But while I'm convinced that this placement is exactly what I want from an interior perspective, I'm less convinced that it's what I want from an exterior perspective. One of my main concerns is that when this is finished, I do not want this to actually look like a garage conversion. I don't want any evidence that it was ever a garage. I want the completed remodel to look totally integrated, especially from the exterior view, so that it looks like it was always part of the living area of the house.
And I keep having this nagging feeling that windows on the front will accomplish that goal a little better than French doors will.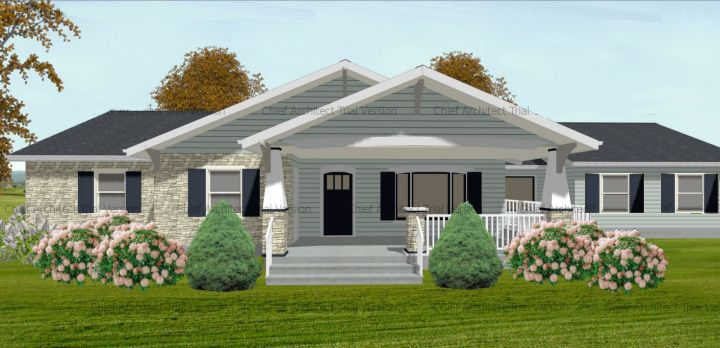 And the crazy thing is that, for the life of me, I can't figure out why it is that I even think that. I've seen loads of houses that have more than one door on the front of the house. Some of them were originally built that way, others were remodeled to add more French doors on the front of house in addition to the actual front door. But most of them look completely intentional an not like and afterthought or a conversion in any way.
In fact, Chip and Joanna are doing a Fixer Upper house just across the street from my mom's house right now. It's a narrow house from the front, and yet they've added two sets of French doors on the front in addition to the front door. And if you promise to keep this just between us, I'll share a pic with you.
And of course, there are a thousand examples of this same thing on Houzz.com as well.
So I'd love your honest opinion. Do you think it would be strange for me to have French doors on the front of the house where the garage doors currently are? Is there something about adding French door there that will make it more obvious that it's a garage conversion?
I wish I could figure out what's stopping me from jumping in with both feet on the front-of-house French door placement. Perhaps I'm making something out of nothing. Maybe it's just nerves from the fact that this will be the first major change we're making to the front exterior of the house, and I don't want to screw it up.
I have about two weeks to make these decisions before my meeting with the project manager. If I can get the window and door placement settled in my mind, I feel like the rest of the studio design will come easily. So what say you? If this were your remodel, what would you do? French doors on the front? Or windows on the front and French doors on the side out of sight from the street view of the house?
Addicted 2 Decorating is where I share my DIY and decorating journey as I remodel and decorate the 1948 fixer upper that my husband, Matt, and I bought in 2013. Matt has M.S. and is unable to do physical work, so I do the majority of the work on the house by myself. You can learn more about me here.