DIY Range Hood Cover – Finished!
I've done quite a few 2- and even 3-part DIY projects on this blog, but I think this project sets the record for the amount of time between the Part 1 post and the finished project. But that's because the project was about 90% DIY and 10% custom made for me by a company I found online back in 2014 during the my kitchen remodel. And let's just say that they took their sweet time with my order this go 'round. 🙂 But anyway, it's finished. Finally.
In my last post about how to build this range hood cover, I left off with it looking like this…
If you missed the beginning of this project, you can click here to check out Part 1…
And click here for Part 2 of this project…
A couple of weeks after building the range hood cover , I painted the the cabinets, and it looked like this…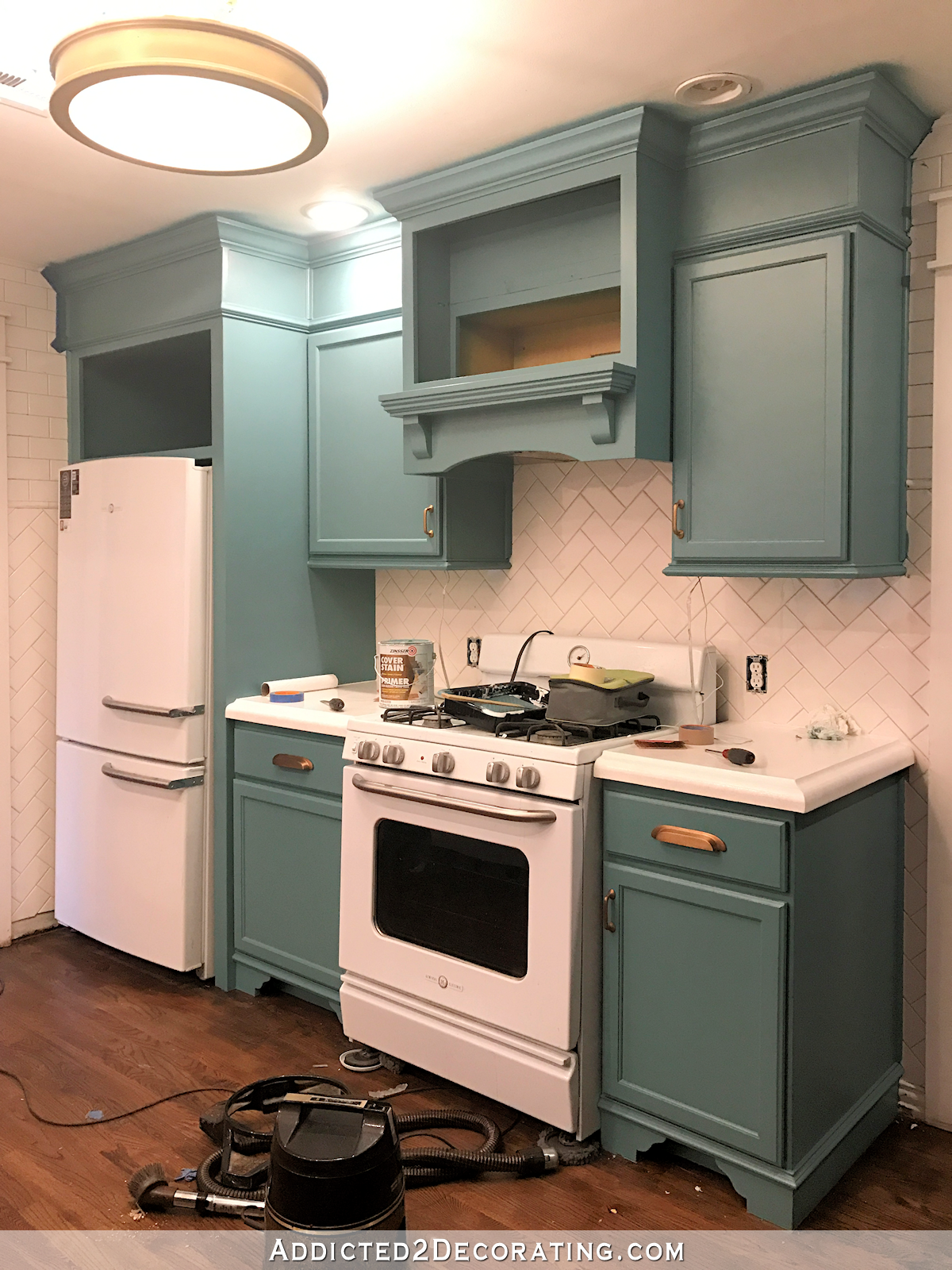 And I've been living with that doorless range hood cover since April 5th. But my custom doors finally arrived, and now it looks like this…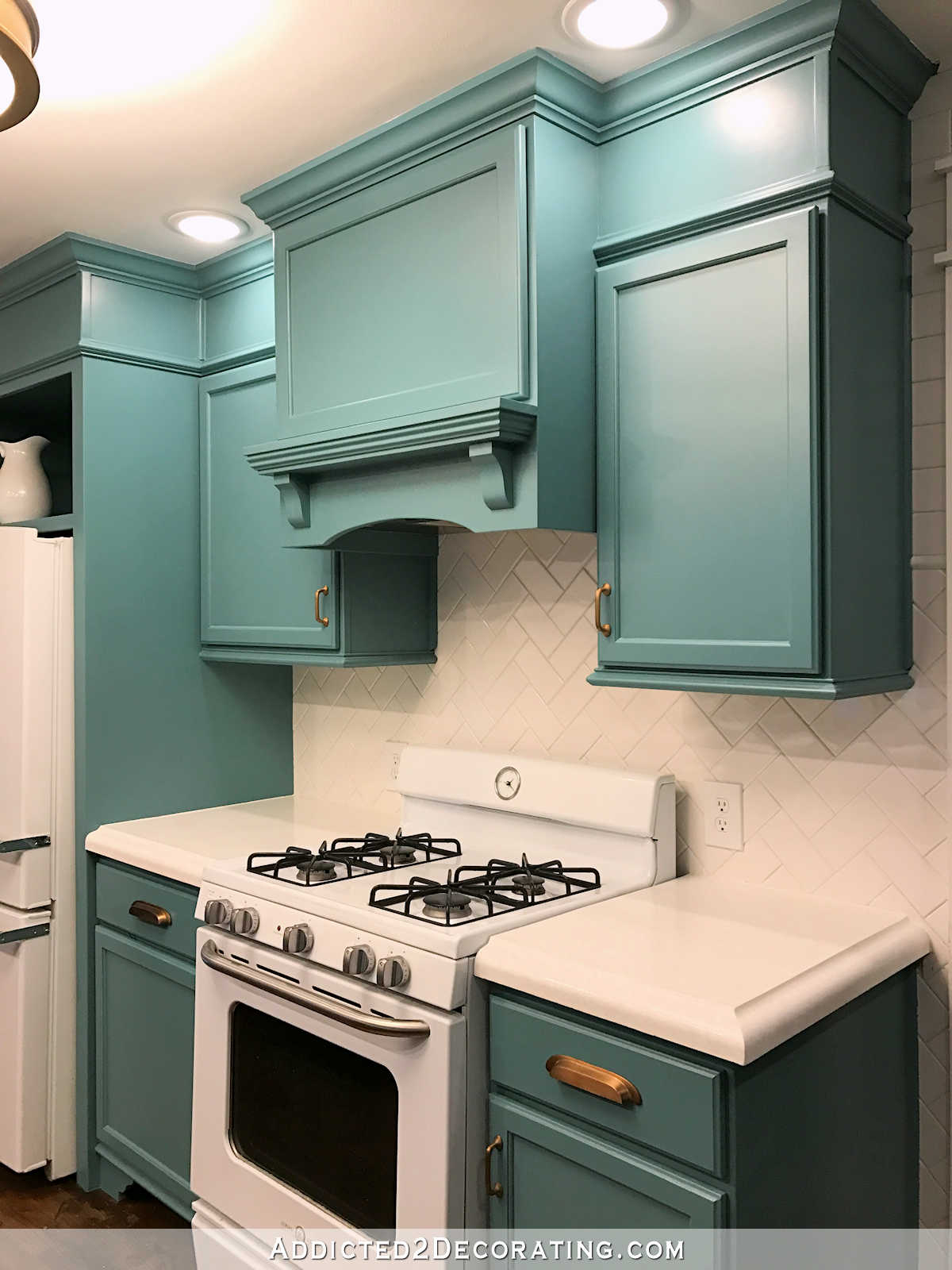 I ordered this door, as well as the other four for the wall of cabinets (which I'll show you next week) from Cabinet Door World. This is my second time to order from them, and I've been very impressed with the quality of their doors both times. This time I ordered the doors in maple because it was the cheapest option, and I'm so glad I did because the maple has a very smooth finish with almost no grain texture in the wood. So it required zero grain filling before priming and painting like the oak doors did. That saved me quite a bit of time.
I ordered this door with the holes pre-drilled for the hinges, but rather than having them do the hinges on one of the side stiles of the door so that it would open like a regular cabinet door, I had them drill the holes in the top rail of the door so that it would open like a garage door. I don't really anticipate needing to get in there very much since I don't plan on using that space as storage, but I do like that I have access to it.
I like this so much better than the original design I had with the two small (useless) cabinets and the visible stainless steel range hood underneath…
Actually, everything about this new look is so much more "me" — the cabinet color, the brighter white countertops, the range hood cover. All of it.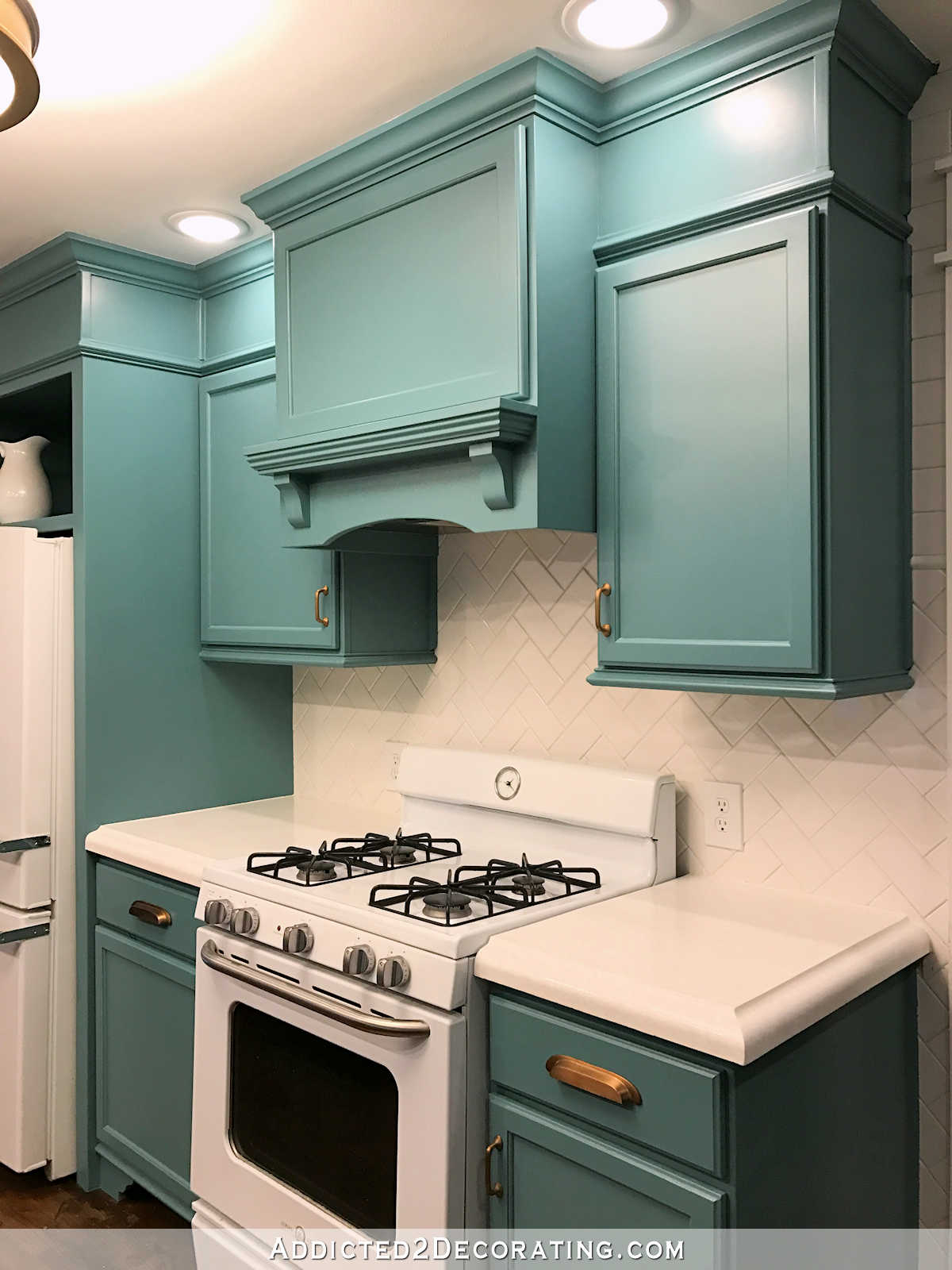 Now I just need my new stove and refrigerator to complete the look. 🙂
Addicted 2 Decorating is where I share my DIY and decorating journey as I remodel and decorate the 1948 fixer upper that my husband, Matt, and I bought in 2013. Matt has M.S. and is unable to do physical work, so I do the majority of the work on the house by myself. You can learn more about me here.