Original Artwork (by me!) + Super Easy DIY Modern Framing
I spent the weekend doing something very fun, relaxing, and creative. I painted my own original artwork for the breakfast room! As I set out to do these paintings, I knew that I wanted super colorful landscapes. I basically wanted an explosion of color on canvas. I painted them on 24″ x 36″ gallery wrapped canvases from Michael's (purchased at 50% off, of course) using acrylic paints. And after a day-and-a-half of painting, here's what I had…
I wanted to do some very simple yet substantial framing on these. I knew I wanted large white frames, but I thought it needed a little something extra added to the white frame. So I came up with the absolute easiest way ever to frame these canvases.
First, I cut pieces of pine stop moulding (from Home Depot, it looks like this), mitered the pieces on the corners, and then nailed them into the canvas stretcher around the edges. I painted the pine stop pieces black and let them dry completely before attaching them. Not much of this would show, so I didn't bother painting the whole thing.
And then I cut pieces of 1″ x 3″ lumber to go around that, mitered on the ends, and painted white. I nailed these directly to the pine stop and canvas stretcher as well. I did have to do some wood filling, sanding, and painting after it was assembled, but I made sure that at least the inside of the white frame (i.e., the part that's right against the black part) was completely painted before I attached the pieces.
And because I wanted my frames to lie flush against the wall, I needed to cut holes in the top and bottom 1 x 2 pieces on each frame to go around the cord cover hiding the cord from the sconces. I did this by using a 1/2″ drill bit to drill a hole about 1/16″ from the edge of the wood piece. Then I used my jigsaw to turn that hole into a half oval that would fit perfectly around the cord cover.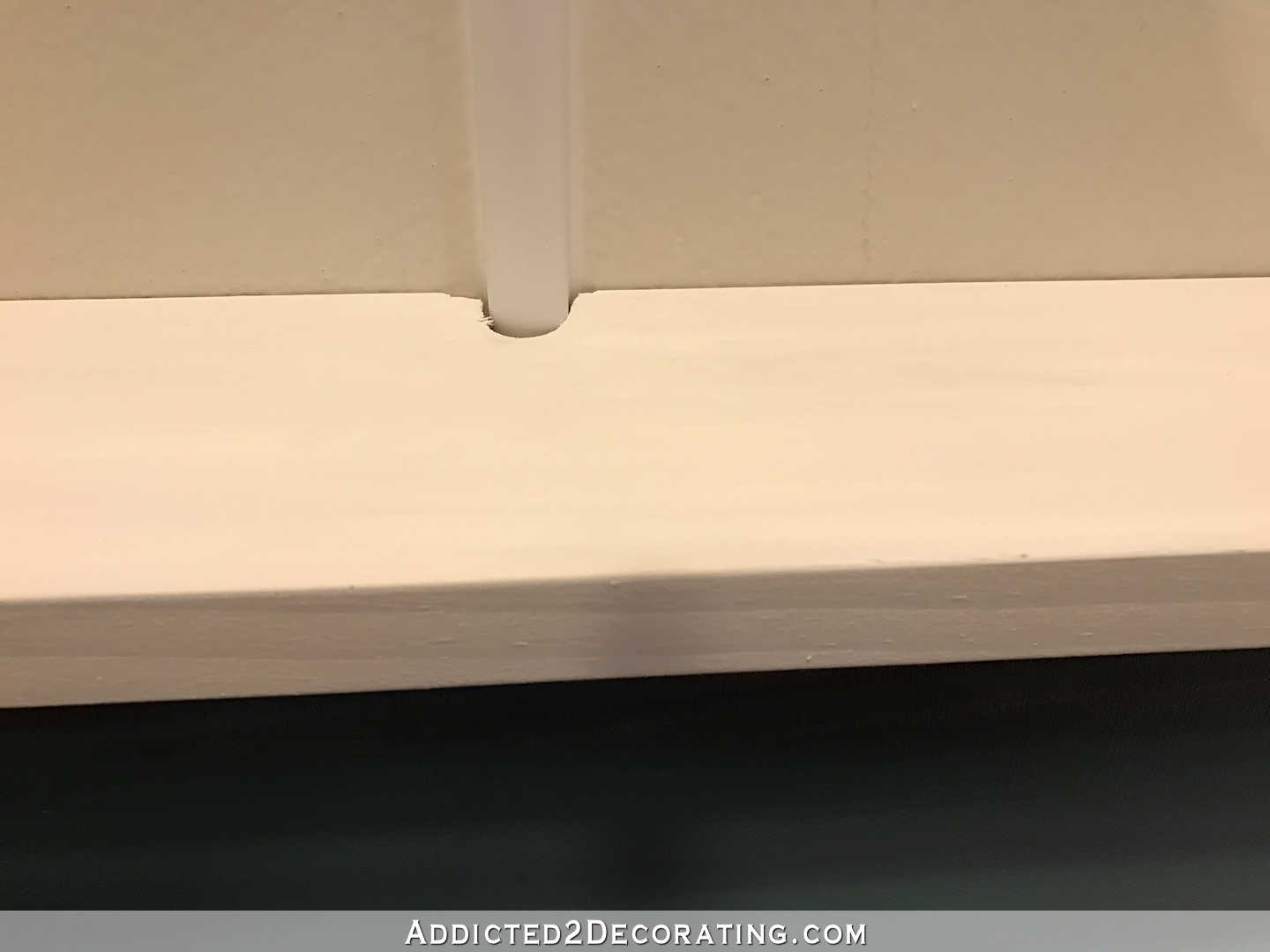 And here they are all framed and hung on the wall. This is the left side…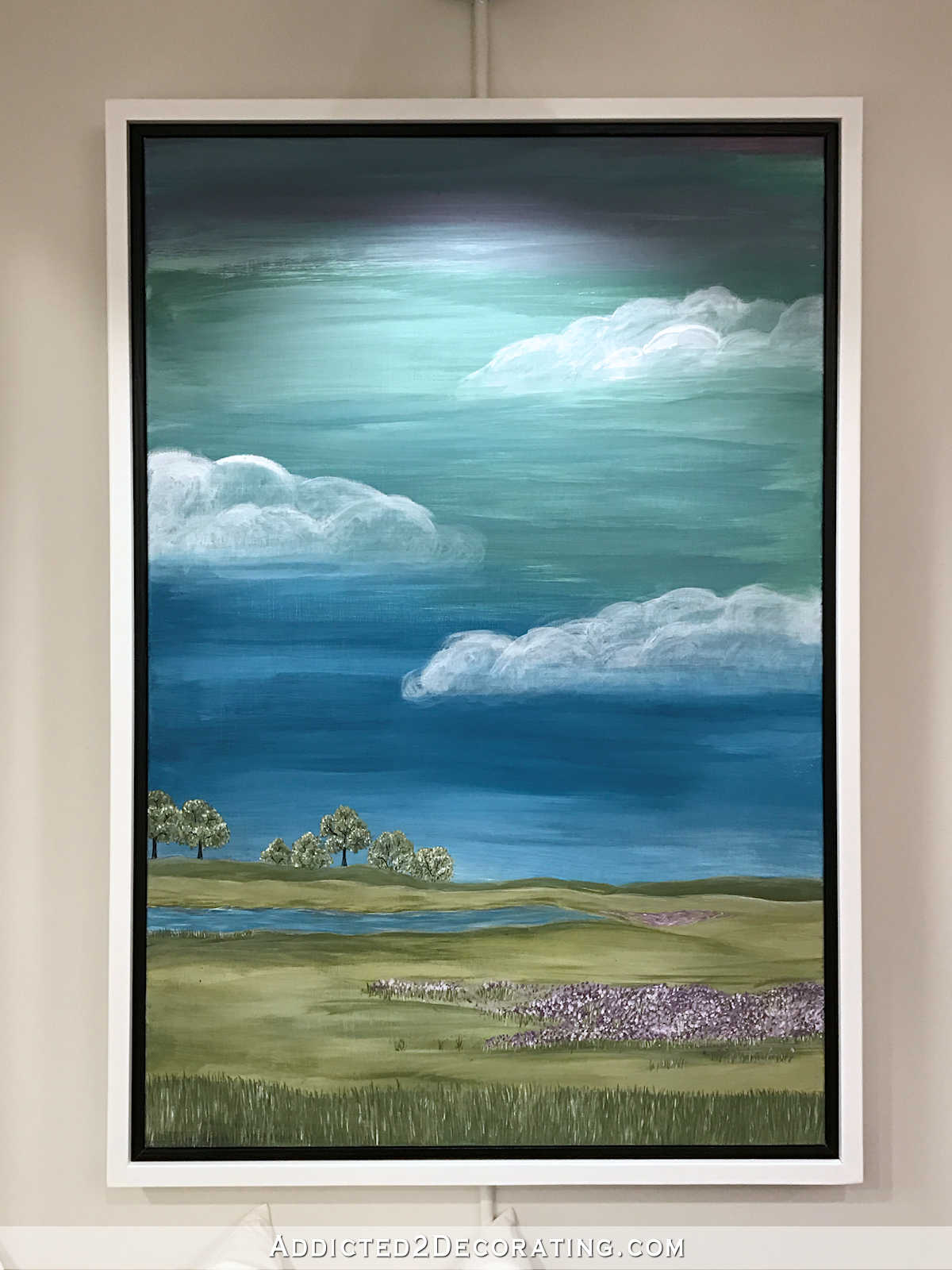 And the right side…
So here's how the whole left side, with the bench and sconce, looks as of last night. I still need to find or make pillow covers for my pillows. And I keep forgetting to get a switch plate for my light switches. Those are the finishing details I'll work on today.
And here's the right side…
I know I'm not an accomplished artist, but I have to say that walking into the breakfast room and seeing that colorful artwork on my walls just makes me happy. It really helped to liven up that wall in the breakfast room.
So this week is an exciting week for me! Other than pillow covers and a light switch cover, my breakfast room is finished. And I just need to do a few more things (like paint the five new cabinet doors) and my kitchen will be finished as well! I'll be sharing a full before and after post with loads of breakfast room pictures at some point this week, and if work goes well in the kitchen, I'll have a before and after kitchen post very soon as well!
Addicted 2 Decorating is where I share my DIY and decorating journey as I remodel and decorate the 1948 fixer upper that my husband, Matt, and I bought in 2013. Matt has M.S. and is unable to do physical work, so I do the majority of the work on the house by myself. You can learn more about me here.