How To Start A New Self-Hosted WordPress Blog
Today's Blogging Help post is for those of you who aren't yet bloggers, but have been toying with the idea of starting a blog. In the last couple of weeks, I've had several people contact me saying that they've been inspired to start a blog, and they want to do it right from the start, i.e., bypass Blogger and go right to a self-hosted WordPress blog (a decision I sooooo wish I had made five years ago when I first started blogging). If you're considering starting your own blog, and would like to bypass the whole Blogger thing and go right to WordPress, I'll show you step-by-step exactly what you need to do to set up your own self-hosted WordPress blog.
First, let me answer the question that I know many of you already have.
What exactly is a self-hosted WordPress blog?
Self-hosted simply means that you pay a website hosting company to store all of your website files on their servers. You have your own domain name (e.g., addicted2decorating.com), you own all of your content, and you have complete control over your own site. You simply rent space on their servers to store the content and to make that content available for people who visit your site.
How is that different from Blogger?
A self-hosted WordPress blog is completely different from a Blogger blog or even a WordPress.com blog. Both Blogger and WordPress.com allow you to set up a blog for free. Both of those act as the host for your blog. Blogger uses their own proprietary blogging software that is unique to Blogger.com, and WordPress.com uses the WordPress software for blogging (although with major limitations regarding customization).
However (and this is key), when you blog on one of those free blogging services, you don't truly own your own content, and you don't have absolute control over your own content. Your content is essentially owned by Google (on Blogger) or Automattic (on WordPress.com). You must abide by their terms of service, and if they feel like you haven't done so, they can take down your blog without warning. I know it sounds like a stretch, but I've read stories from several bloggers who put countless hours into their blogs, only to wake up one morning and not be able to find their blog. It was gone. Vanished.
WordPress.com also has very strict rules regarding advertising…as in, they don't allow most advertising, making the most basic money-making options (e.g., Google Adsense) unavailable to people who blog using their free blogging service.
The bottom line is that if you want to start a blog, you want to own your own content and have absolute control over that content, and you want to have absolute control over how you eventually monetize your blog, a self-hosted blog is the only way to go. And WordPress simply offers more flexibility than any other blogging software available (in my humble opinion). 🙂
How much does a self-hosted WordPress blog cost?
The good news is that while a self-hosted WordPress blog does cost money, it's not expensive at all. The costs include the purchase of a domain name ($10 to $15 per year), and a hosting account (under $10 per month for a new blog).
How to start your own self-hosted WordPress blog.
Before you can have a self-hosted WordPress blog, you must first find a host. I personally use and recommend HostGator*. They have fantastic customer service that is available 24/7/365, and their customer service reps are very knowledgeable. They host all four of my own websites.
So because I use and recommend HostGator, I will use their website for the screenshots in this tutorial. However, if you go with another host, the steps should be very similar. (Note: You can click on most most of the screenshots below if you need to see a larger version of the picture.)
First, click this link to get to the HostGator home page. In the middle of the home page, you'll see a big orange button that says "View Web Hosting Plans". Click that button.

On the next page, you'll see three different plans.  Since you're starting a brand new blog, the Hatchling Plan is all you need.  Click the dropdown menu to choose how you want to pay (month-to-month, six months at a time, one year at a time, etc.), and then click the Order Now button.

On the next page, you'll enter the domain name that you want to use for your blog.  Choose carefully!!  If the name you choose has already been taken, you'll receive a message stating that it's not available.  Just try another one until you find one that you like, and that is still available.  I personally suggest using the .com if it's available.  Once you've selected your domain name, click the "Continue to Step 2" button.
IMPORTANT:  If you choose a domain name, and the .com is not available, be very cautious about choosing the .org or .net version of that name UNTIL you've checked with the U.S. Trademark office to ensure that the name hasn't been trademarked.  You don't want a legal hassle on your hands right out of the starting block!  In fact, I'd recommend checking with the U.S. Trademark office before choosing ANY domain name.  You can check their records online here.  Under "Tools" click the first option that says "TESS search trademarks".
On the next page, fill out your contact and billing information, and then click the "Create Account" button.

After you've created your account, you will receive an email from HostGator that has a link to your hosting account, as well as your login username and password.  Click the link, enter your login information, and you'll see your hosting account Control Panel that looks like this…

Now that you have website hosting, you  need to install the WordPress blogging software, and HostGator has made this very simple for you.
Scroll down on the Control Panel screen until you find the section that says "Software/Services".  Click on the "Quick Install" link.

On the next page, you'll see an entire list of software that can be installed on your new website hosting account.  Look for "WordPress" under "Blog Software" and click the link.

It'll bring up information about WordPress (version number, file size, etc.).  Click the "Continue" button.

It will bring up several fields that you need to fill out.  The domain name will fill in automatically, so leave it as it is.  Fill out the admin email, blog title, your first name and last name, and the admin username that you want to use as your WordPress login name.  When you click the Install button, it only takes about a minute (or less) to install, and then you'll see a "Congratulations" message at the bottom with a link to your new WordPress blog, your username, and password.

Click the link to your blog, and you'll see…well…a blog!  It installs with the default Twenty Ten WordPress theme.

To log in to your WordPress dashboard, simply scroll down on the sidebar until you find the login link.  Option 2:  The login panel for any WordPress blog can be found by simply entering "/wp-admin" after the domain name.  For example, my login screen is "https://www.addicted2decorating.com/wp-admin".  That will give you your login page that looks like this…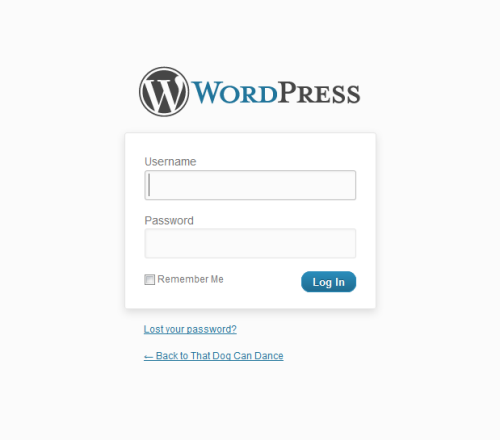 After you log in, you'll see your WordPress dashboard!  The main menu for all of the different areas of your dashboard is in the left column.  The welcome message in the main part of the screen displays the first time you log in, and contains lots of helpful links at the bottom that will help you get started with learning WordPress.  If you don't want to see this welcome page anymore, simply click "Dismiss" in the upper right corner of the welcome message.

I recommend that the very first thing you do, before exploring your dashboard, is change your WordPress password to something other than the automatically generated password.  In other words, change it to something that you'll actually remember.  🙂  Do this by going to Users –> Your Profile on the left main menu.

Scroll towards the bottom, and you'll see an area where you can enter a new password.  After you do this, click the "Update Profile" button.

And now you're ready to explore your dashboard and familiarize yourself with your new WordPress blog!  Everything you need can be found right there on your left main menu.
Enjoy!
*If you read through this tutorial and think it looks too complicated, or you just don't want to do it on your own, I do offer this service completely free of charge. You can read more about it here.) This post contains affiliate links. If you sign up for hosting through my affiliate link, HostGator pays me a commission. Think of it this way…you're helping me save up for that downpayment on a house! 😀 So…THANKS!!
Addicted 2 Decorating is where I share my DIY and decorating journey as I remodel and decorate the 1948 fixer upper that my husband, Matt, and I bought in 2013. Matt has M.S. and is unable to do physical work, so I do the majority of the work on the house by myself. You can learn more about me here.