Last Updated on December 25, 2015 by Kristi Linauer
Yesterday, I was working hard to finish up my bookcase-turned-pantry in my kitchen. (Yay! More progress!!) I didn't quite get it finished, but I hope to be able to do that today.
But the whole time I was working, I was pondering this question…
Do most homeowners truly decorate and design their homes for themselves, or for that elusive "future owner"?
I was thinking about this because even though I know that our time in this condo is drawing to a close (in the next 6 months to one year), I'm still designing it and decorating it the way I want it. I won't be painting over my teal kitchen cabinets. I won't be painting over my argyle walls in the hallway.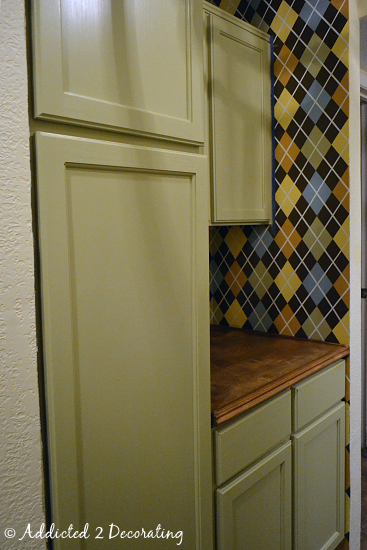 All of that will stay just like it is.
When I was working on the design for my mom's bathroom remodel, I originally had a bathtub in the plan. After all, master bathrooms are supposed to have a tub and a shower these days, right?
Well, she nixed the tub idea. She only ever takes showers, and doesn't enjoy baths, so she didn't want to take up valuable space in her new bathroom with something she'll never use. So she now has a fully redesigned, remodeled, and completely custom master bathroom…with no bathtub.
Before the remodel, we talked about how the "no bathtub" decision would affect resale of the house. In the end, my mom decided that she wasn't concerned with resale. She had lived in that house for over 40 years, and she had no intention of leaving…ever. So she wanted to design it for herself.
But I know from my experience in working with clients for many years, most homeowners seem to always have that "future owner" in mind when making design decisions for their home.
Sometimes this made sense. If they knew they were only going to be in the home for two years, and then they were going to have to relocate for a job or something like that, then it made perfect sense to keep that "future homeowner" in mind, and try to keep things like granite and flooring more universally pleasing.
Other times, it made no sense at all. At times, when I had clients who continually brought up "future owners" and "resale value", I would ask, "So when do you plan on putting your house on the market?"
Their answer? "Well, we don't have any plans to move right now. It's possible that we'll be here for many years."
I'll admit…I never understood that. Why be concerned about making design decisions in your own home that will please a future homeowner, especially if you're not planning on moving and could be in the home for 10 or more year? Do you realize that the granite that's considered "universally pleasing" today could be the avocado and harvest gold kitchen appliances of the next decade?
I say if you want a bright red kitchen, go for it! It's just paint!
Fabulous red kitchen via My Home Ideas, designed by Susan Massey
I think at some point, we all just need to forget about that elusive "future owner" and create homes that WE enjoy. Because if we continually decorate for the next owner, and the next owner decorates for the one after them, what's the point?
What are your thoughts on this? When you're making design decision for your home, do you do so completely for yourself? Or are you always wondering what a future owner would think, and how your decision will affect resale? If you do think about those things, do you actually have plans to sell your home in the near future?
Addicted 2 Decorating is where I share my DIY and decorating journey as I remodel and decorate the 1948 fixer upper that my husband, Matt, and I bought in 2013. Matt has M.S. and is unable to do physical work, so I do the majority of the work on the house by myself. You can learn more about me here.
I hope you'll join me on my DIY and decorating journey! If you want to follow my projects and progress, you can subscribe below and have each new post delivered to your email inbox. That way you'll never miss a thing!