I have running water in my kitchen, y'all!  We've been just over three months without running water in our kitchen.  Three months!!!  But now, I have a real, actual kitchen sink with real, actual running water plus a garbage disposal and a dishwasher.  It's a glorious thing.
And my cat Peeve is as obsessed with it as I am.  😀
After three months without a kitchen sink, I can tell you that this is the most beautiful sight I've seen in a very long time.  I was beginning to lose hope that it would actually happen yesterday, though.  The plumber said it would be "sometime after lunch."  Well, at 3:45, he texted me and said they were still coming, but other things were taking longer than they had planned.  So I waited.  And waited.  By 5:00, I was expecting him to text and say he needed to postpone.  I was so sad.  But they showed up at 5:30, and got everything done in just over an hour.
Installing the sink, faucet, garbage disposal, and dishwasher came to $300, and that included all of the parts.  (Obviously, that didn't include the actual sink, faucet, garbage disposal, or dishwasher, but it did include all of the pipes and doodads needed to hook all of those things up.)  Best money I've ever spent.  Plumbing is kind of like drywall.  I could have done all of that myself, and could have saved about $250 (since I'd still need to buy the pipes and doodads), but it would have taken me two days to do what they did in an hour.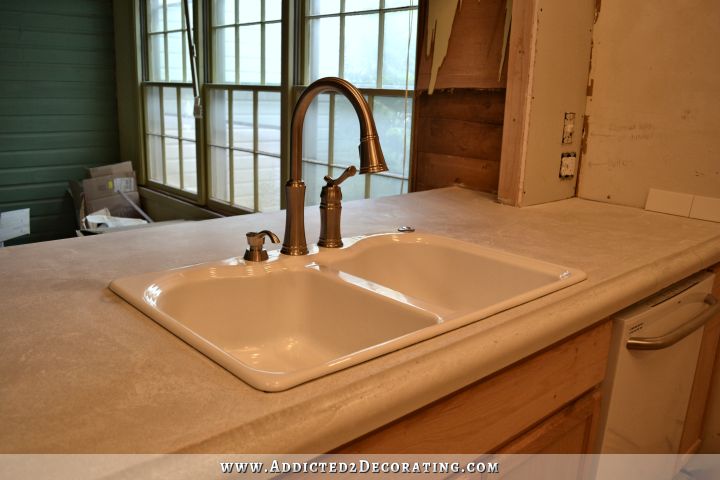 The dishwasher is a GE Artistry in white (obviously) that matches my refrigerator and range.
The faucet is a Delta Lakeview in stainless steel from Home Depot.  Quite honestly, I didn't purchase this one because I absolutely love Delta (I have no allegiance to any faucet brand, frankly), or because I just really loved how this one looked.  I bought it because it was literally the only faucet that Home Depot carried in stock at my local store that would fit the configuration that I wanted and that I thought was pretty.
I had a four-hole sink, and I knew one of the holes needed to be used for the garbage disposal push button, and I really wanted one of the holes to be used for a soap dispenser.  So that left me with two holes for the faucet (which needed to include a sprayer).  That greatly reduced my options, so of the options that would fit my "wants and needs" (I think there were two or three that fit), I chose the one I thought was the prettiest.  🙂
The sink is the one that I bought couple of months ago at the Habitat For Humanity ReStore, and I paid $35 for it.  I wanted a white cast iron sink, but I had no idea at the time that I was purchasing a Kohler Hartland sink that costs over $600 at Home Depot.  Of course, when I bought mine, it looked like this…
It was filthy, but also had some rust spots and dark marks all over the bottom of each basin.  I was pretty sure that most of that would come out with some elbow grease, though.  And sure enough, all but just a couple of spots came out completely.  The ones that remain are greatly diminished, and would probably come out completely if I'd just keep on scrubbing.
But that's not too bad for a $35 cast iron sink, right?
To remove all of the stains and marks, I used this Kohler Cast Iron cleaner that I bought on Amazon.  Many of you suggested it, and it works really well.  Several of you also suggested Barkeeper's Friend, so I plan on getting some of that to see if it'll take out those last couple of spots.
There is one tiny chip on the right corner that obviously I can't do anything about.  But at least it's on the far side of the sink as you walk into the room, so it's not immediately noticeable at all.
I'm on the home stretch with this kitchen remodel!!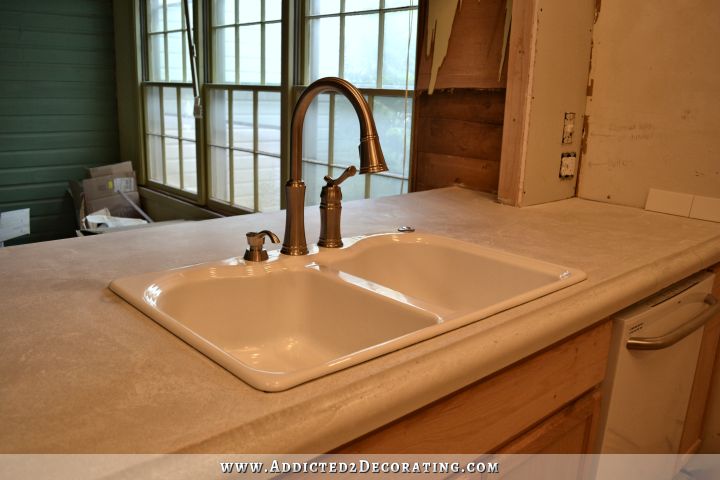 Addicted 2 Decorating is where I share my DIY and decorating journey as I remodel and decorate the 1948 fixer upper that my husband, Matt, and I bought in 2013. Matt has M.S. and is unable to do physical work, so I do the majority of the work on the house by myself. You can learn more about me here.