Last Updated on January 21, 2015 by Kristi Linauer
Well, if you liked my pony walls, you're going to be blown away by this project!  😀
Okay, just kidding.  This took me all of 30 minutes to do, but I was so ridiculously proud of myself.  Why?  Because it's kind of an organization project, and let's just say that organization is not where my talent lies.  And that's an understatement.  I stink at organization.
But in my kitchen, I needed a place for my paper towels.  Yep, paper towels.  You see, I hate seeing paper towel rolls out on the counter or anywhere visible, no matter how pretty the holder is.  And since the main thing I use paper towels for is food (like when I make plantain chips and take them out of the oil and let them drain on plate lined with paper towels), putting them under the sink where the trash can and household cleaners are simply isn't an option.
So I decided to reconfigure my dishtowel drawer so that the front part is a hidden paper towel holder.  Yes, indeed.  Prepare to be blown away…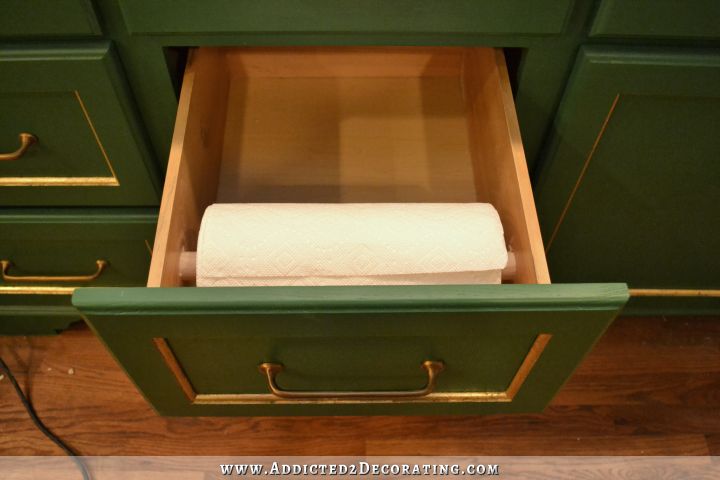 Impressive, right?!  Right??!!  I mean, forget pony walls and such.  This is sheer engineering genius right here, folks!  😀
It all started with a 1-inch dowel rod.  In one end, I screwed a magnet onto it.  This is one of those suuuuper strong neodymium magnets, and I found some that had a hole in the middle just the right size for a screw to fit through.  I found these at Home Depot.
Then on the other end, I screwed on two washers  — a larger one to keep the smaller one from going through the hole in the side of the drawer, and the smaller one so that I could use a screw to hold them on.  (The center hole on the larger washer was way too big for a screw to hold it on.)
Then I measured and marked for placement of the dowel (just using a full roll of paper towels to gauge where it needed to go), and using my 1 1/8-inch spade bit, I drilled a hole in each side of the drawer.
You can see the holes on each side here…
And taaa daaa!!  Here's my new hidden paper towel holder…
The end with the two washers screwed into it keeps the dowel from sliding through the hole.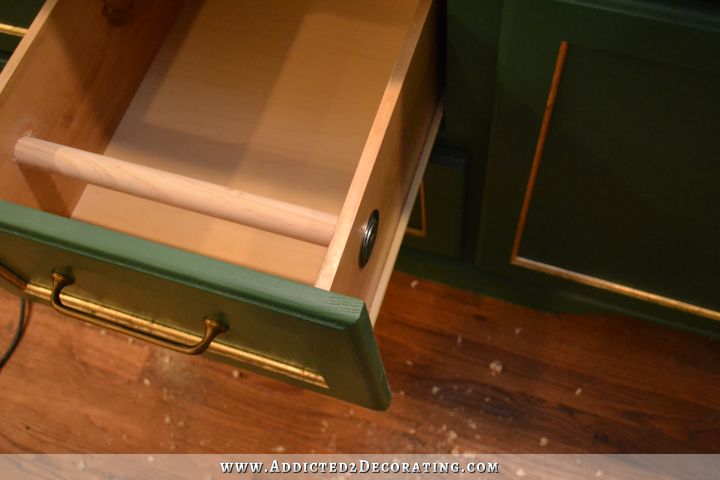 And to secure it on the other end, I hot glued two washers together, and then stuck them to the end of the dowel that has the super strong neodymium magnet attached to it.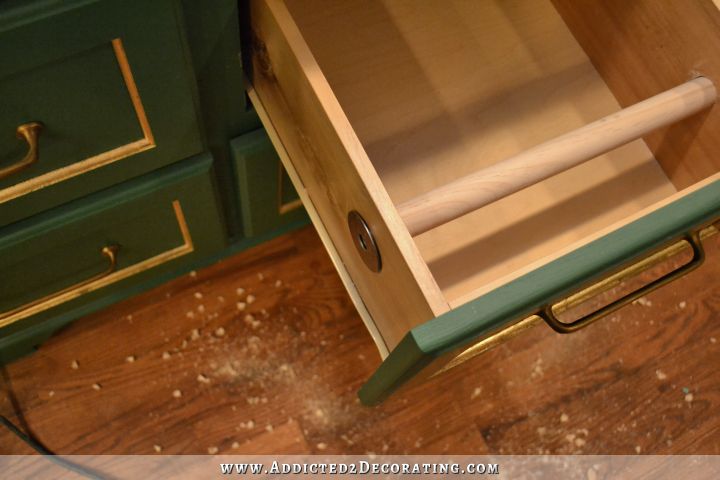 It worked!  And it's wonderful.  And it only took me 30 minutes to complete this engineering marvel.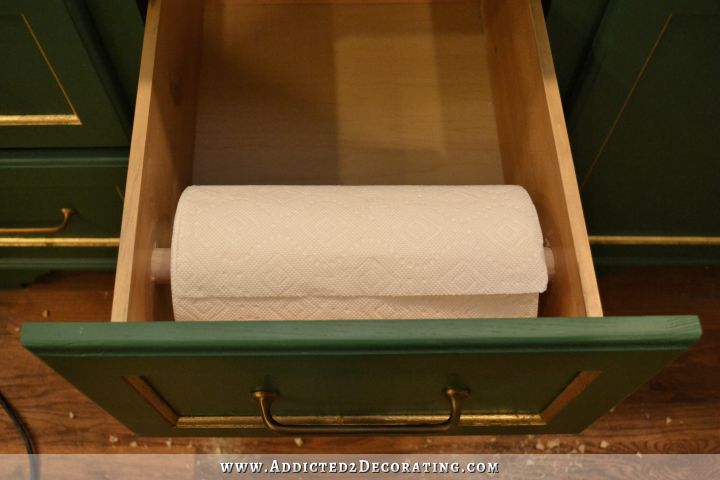 But most importantly, my paper towels can now be hidden away out of sight, and they don't have to live under the sink with the garbage can.  And my dishtowel drawer is large enough that there's still plenty of room in there for my dishtowels.  Huzzah!!
😀
Addicted 2 Decorating is where I share my DIY and decorating journey as I remodel and decorate the 1948 fixer upper that my husband, Matt, and I bought in 2013. Matt has M.S. and is unable to do physical work, so I do the majority of the work on the house by myself. You can learn more about me here.
I hope you'll join me on my DIY and decorating journey! If you want to follow my projects and progress, you can subscribe below and have each new post delivered to your email inbox. That way you'll never miss a thing!