Last Updated on January 14, 2019 by Kristi Linauer
Things are about to start moving full speed ahead on the garage conversion, and I'm about two parts super excited, one part nervous, and one part stressed. Yesterday morning I met with the general contractor and he introduced me to Chuy, who will be the project manager on my remodel. He's the one who will be here overseeing everything, and he'll be my go-to guy if I have questions, changes to make, etc.
I have six more days to get my garage completely cleaned out. My brother and I made quite a bit of headway on that this month, but with my back and shoulder still not at 100%, there's no way I can finish that up myself. So I hired a guy to do that for me, and he'll be here on Saturday with his crew of guys to get the garage and storage room completely cleaned out. I'll be there to tell them what needs to be done and what goes where, and they'll do all the lifting. That's money well spent, and a huge load off my shoulders, both literally and figuratively.
But the thing that has me the most stressed out is that I have one more day to come up with my exact plan for windows and doors. That means I really need to nail down all of the floor plan details, know where I'm putting what, and how I'm using each area of the room. That way I can plan where I want doors and windows and give them the exact sizes for the windows that need to be ordered ASAP.
I have a general idea of how I want the room arranged, so nailing down most of those details today shouldn't be a big deal. But the one thing I'm the most indecisive about is the front wall of the studio, because whatever I do there will directly affect how the house looks from the front. I ruled out French doors a while back, and decided to go with just windows on the front. I'm still 100% on board with that decision. What I'm less sure about is the number of windows. Do I use two windows? Three?
I know. It seems like a small thing, and if it were on the back or side of the house, I'd be way less stressed about it. But since it's on the front of the house, it stresses me out.
What I know for sure is that I want the front wall of my studio to be one long work surface. All 19.5 glorious feet will be one long built-in desk with plenty of space to sew or spread out other projects. So just that fact alone means that the windows on the front of the studio will be different from the windows on the rest of the front of the house. All of those windows are 60 inches tall, but I can't put a 60-inch-tall window above a 30-inch-high desk. So the windows at the front of the studio will be 44 inches high. But how wide should they be?
I went on the hunt for examples of wide exterior areas with multiple windows, and I found these two examples. Here's what two windows on a wide expanse might look like…
But those windows are taller than 44 inches. They look more like 60 inches. If I go with two windows with shutters on them (which I'll need to balance out the windows with shutters on the other end of the house), the windows will be almost square and the shutters will be wider. I imagine that looking something like this…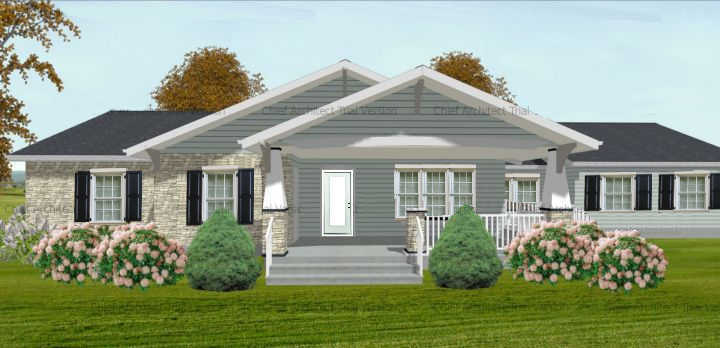 And here's an example that I found of three windows on a wide expanse…
Again, those windows are taller than 44 inches, and there's no way that exterior wall is 19.5 feet wide, so you have to use your imagination. On my house I imagine three windows looking like this…
So this is my main source of indecision right now. Two windows or three? Here are my thoughts:
I like big windows, so the idea of bigger windows appeals to me. However, I don't know that I like the idea of square-ish windows. I do like that using three windows keeps them rectangular rather than square. I also like odd numbers. Things used in odd numbers seem more pleasing to the eye. But on the other hand, I have three windows side-by-side on the front porch, and three windows side-by-side on the front of the breakfast room. So will three windows on the front of the studio be too much? Too predictable? Or does the fact that the front porch and breakfast room windows are close together and will not have shutters break up the three-three-three pattern of windows on that end of the house? Or does it matter?
*Sigh* I honestly don't know which option I like better, but I have to make this decision by the time I go to bed tonight. The window order needs to go in ASAP!
Addicted 2 Decorating is where I share my DIY and decorating journey as I remodel and decorate the 1948 fixer upper that my husband, Matt, and I bought in 2013. Matt has M.S. and is unable to do physical work, so I do the majority of the work on the house by myself. You can learn more about me here.
I hope you'll join me on my DIY and decorating journey! If you want to follow my projects and progress, you can subscribe below and have each new post delivered to your email inbox. That way you'll never miss a thing!