One Last Studio Cabinets Post (Because I'm Driving Myself Crazy With Indecision)
I'm here once again talking about studio cabinets. I know. You thought the decision was made, right? You thought I had placed my order, right? You thought the plan was set and I was moving forward, right?
Wrong.
I can't even tell you how many times I've gone to my IKEA shopping cart online and tried to proceed with the purchase, but I haven't been able to make myself do that yet.
I'm still 100% sure that I'll use IKEA cabinets. That's not the issue. The issue is the style and color. I had decided on the Veddinge white doors and drawer fronts, which is are just plain white slab fronts.
And then my plan was to add trim to the doors and drawer fronts, and then paint them. But the more I think about that, the more I think that I don't want to purchase something that needs to be trimmed and painted. And I'm really having doubts about the durability and longevity of painting those doors and drawers. The more I think about it, the more I'd like to purchase some that don't need any extras — no extra trim added, and no painting. I'd like to unbox them, put them together, install them, and be done.
Plus, I've tried to think through the cabinet color options (I'm limited because of the wallpaper in the studio), and I honestly can't think of anything that appeals to me. I don't want a warm color. Our home gym closet area has taught me that I prefer my warm colors in smaller doses, so a huge room filled with pink or coral cabinets would be too much.
If I had my heart set on a very specific color, I'd probably be more motivated to purchase the Veddinge white doors and drawer fronts and paint them. But I don't. At this very moment, I have absolutely no idea what color I'd want those cabinets.
So I've pretty much resolved myself to purchasing something that I can use as is right out of the box. But here's where I run into issues. I've gone over all of the colors that are available probably a minimum of 50 times now, and I can't seem make a decision. Most of their colors are neutral — black, gray, gray-green. All of those are a no from me.
They do have one called Havstorp turquoise, and I think it would actually go very well with the wallpaper.
But do you know what I'd call that color? Teal. (To me, turquoise is a brighter and clearer color.) So yes, I'm fairly certain that Havstorp turquoise would go great in the studio with the wallpaper. But I'm not certain that it would play nicely with the rooms next to the studio, and the studio cabinets will be seen from these rooms.
My kitchen cabinets are already painted a lighter, brighter, bluer teal…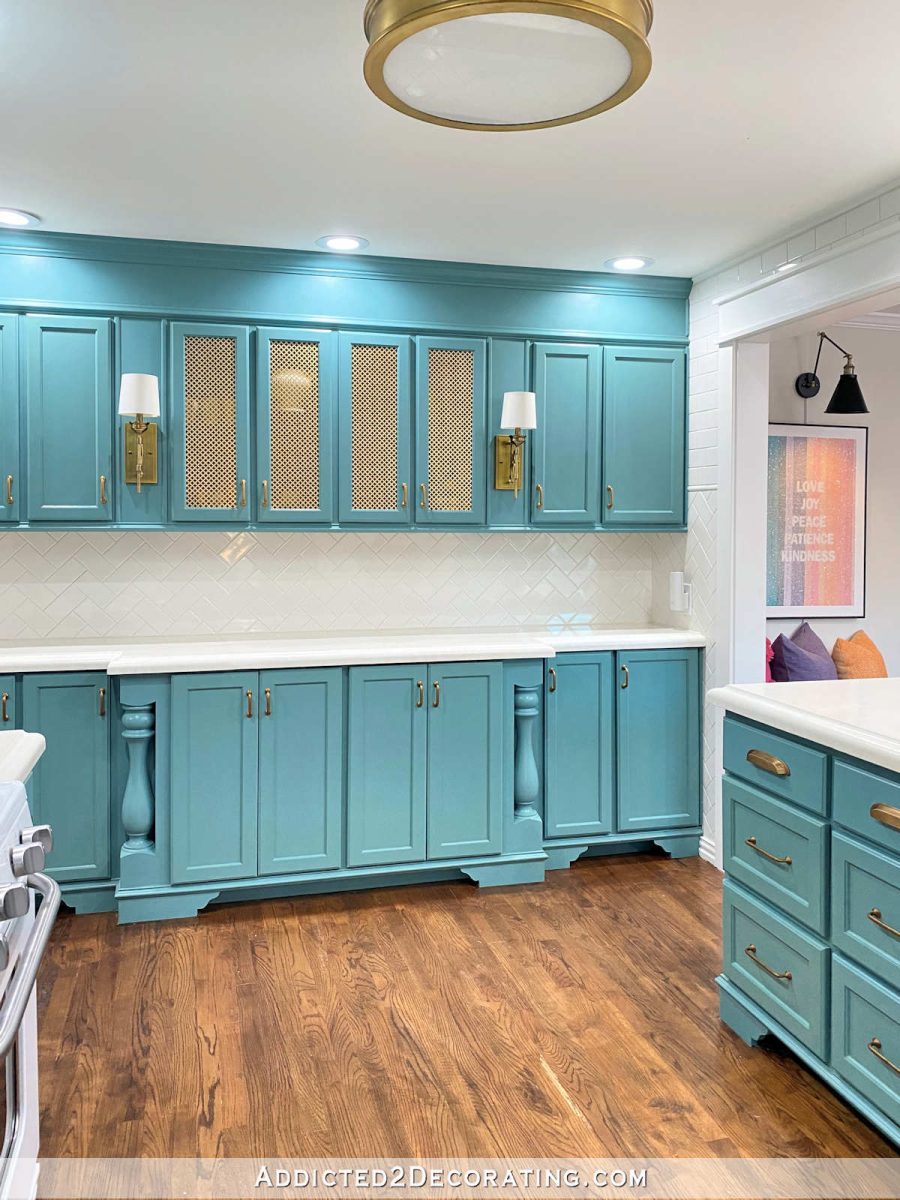 And next to the kitchen, my pantry cabinets are painted a darker, bluer teal…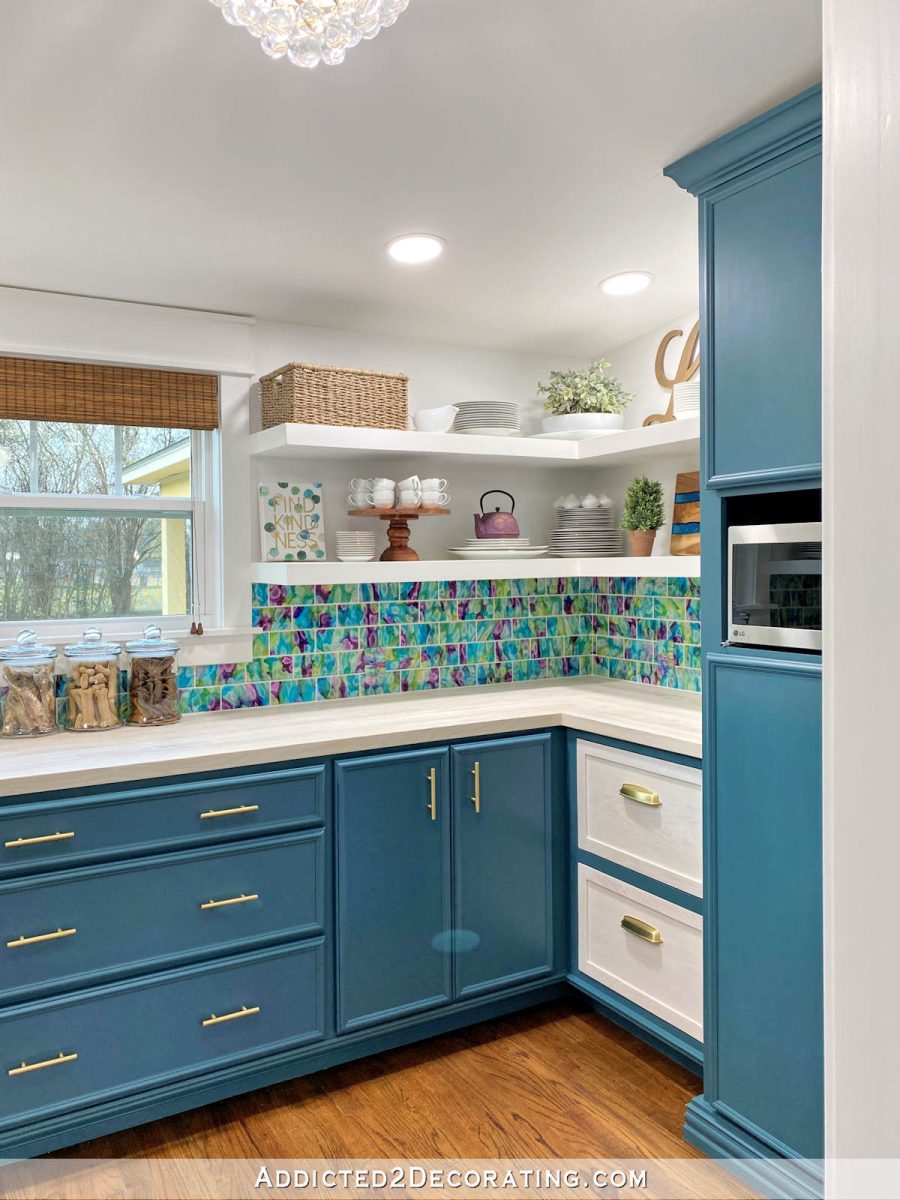 So if I chose the Havstorp turquoise, that means that the very next room over would have darker, grayer, and greener teal cabinets…
And all three of those cabinet colors would be visible when standing in the kitchen, part of the music room, or the breakfast room. I don't think that would work at all. The studio cabinets would look just off enough to look like an afterthought in the whole house scheme.
So that brings me back to white. I'm not a white cabinet kind of person, but I'm not completely opposed to them, either. I've seen so many kitchens, studios, home offices, etc., that have white cabinets that look really nice, bright, and clean. So I'm definitely open to it.
But what I'm also open to is using a combination of wood and white. I love this look…
I just can't decide if that's too much of a kitchen look, or if it would work in a studio as well. And then I have the issue of the wallpaper. So I tried to do a little mock up of the picture above with my wallpaper added, and that floor cut off so that it wouldn't be a distraction.
I really think I might love that. But quite honestly, at this very moment, I don't trust my judgment. I'm working on the home gym, which has caused me frustration over the last couple of days (to the point I sat in the floor and cried on Monday night…ha!), so I really don't trust my judgment right now.
I'm completely open to input on this. I really do want to get the cabinets ordered this weekend, but I also don't want to make a decision that I'm going to regret. And I don't want my studio looking like a kitchen, either. So what say you?
Addicted 2 Decorating is where I share my DIY and decorating journey as I remodel and decorate the 1948 fixer upper that my husband, Matt, and I bought in 2013. Matt has M.S. and is unable to do physical work, so I do the majority of the work on the house by myself. You can learn more about me here.