Living Room Update – No More Puddled Curtains
I've decided that I'm going to go ahead and finish my living room before jumping into the much more extensive hallway and home gym projects. The living room is so close to being finished that it's ridiculous to keep ignoring it and putting it off.
The first thing on my list of finishing touches for the living room was the curtains. You might remember that I broke all of my own rules with these curtains. My rules are (1) always use appropriate home decor fabric (never use apparel fabric for curtains), (2) always use drapery lining, and (3) always sew them properly with blind hems and hidden stitching.
Well, when I found this beautiful pink stretchy polyester suiting fabric, all of my rules went out the window and I was determined to make it work.
I didn't line them because sewing lining to a stretchy fabric seemed like a really bad idea to me. And I didn't use blind stitching because doing that on stretchy fabric was a real nightmare. But when I originally made them, I also didn't hem them because I was unsure how the stretch of the fabric would affect how the panels hang over time. So instead, I left the bottom edges unfinished and just puddled them. Here's how they looked originally…
Puddled curtains really aren't my style, but I decided to live with them for a while. But I also learned pretty early on that puddled curtains and cats don't mix at all. Almost every day, I'd walk into the living room to see some version of this…
So I took some time over the last two days to hem the curtains. And let me tell you, this seemingly simple project wasn't simple at all.
It was incredibly frustrating not only because I was dealing with stretchy fabric, but also because measuring and hemming curtains after the header has been pleated is about a hundred times harder than doing things in the right order. When sewing draperies in the correct order, the hem comes first. And now I completely understand why.
But I managed. It's far from perfect. In addition to the stretchy fabric and panels that wouldn't lie flat, I also have to deal with a very unlevel floor in this room. (We had our pier-and-beam foundation leveled once. It didn't last, so now we just live with an unlevel floor.)
And I broke another rule by doing the same hem on the bottom as I had done on the sides — a doubled 1.5-inch hem that I topstitched into place. Since the fabric is stretchy, I didn't want the weight of a doubled 4-inch hem on the bottom.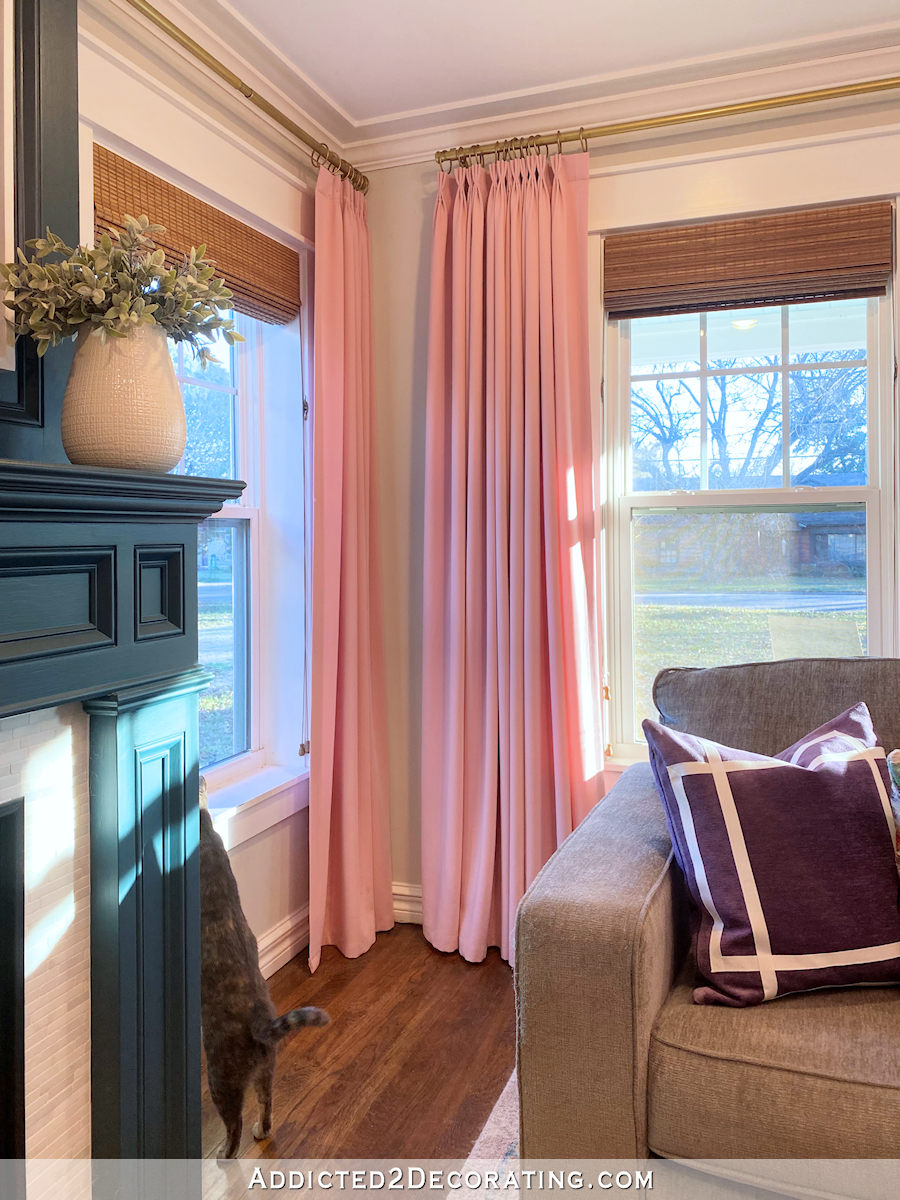 I broke pretty much every rule on these curtains, but I still really love how they look. They're far from perfect, but it's fine, right? Many of you have told me over the years that perfection is overrated. I'm really trying to embrace that mentality. 😀 Because frankly, there's no way to get these curtains perfect even if I tried. But I'm so glad to be done with the puddled look and have a much more polished and finished look to the curtains now. That whole puddle look is just not my style.
There are only a few more things to do in the living room for me to be able to call it finished. I still need to:
Paint the inside of the front door,
Build a sofa table (I decided that I do want one between the sofa and the windows),
Sew two pillow covers,
Touch up the caulk and paint on the walls, baseboards, and crown molding in some areas,
Hang artwork.
It seems like there may be a couple of other little projects I'm forgetting, but you can see that there's just not much left to do at all. Hopefully in a few days, I'll have a finished living room!
Addicted 2 Decorating is where I share my DIY and decorating journey as I remodel and decorate the 1948 fixer upper that my husband, Matt, and I bought in 2013. Matt has M.S. and is unable to do physical work, so I do the majority of the work on the house by myself. You can learn more about me here.