Second-Guessing My Living Room Drapery Fabric Decision
Y'all, I'm hoping you'll take a few minutes out of your holiday preparations and give me a bit of input. My living room has been coming along so nicely. Things are falling into place. It's turning out to be the perfect combination of colorful and relaxing for me. I mean, everything is great…
…right up until I get to the draperies.
Draperies for me are non-negotiable. To my eye, a room looks incomplete with out them. So leaving my windows bare isn't an option.
I had originally planned to use teal linen for the draperies, but the more the room comes together, the more I second-guess that decision. With the room looking so bright and colorful, I worry that such a dark teal will kind of suck the cheer right out of the room. Plus, if I use teal, I'm almost certain that the fireplace will have to be painted white again.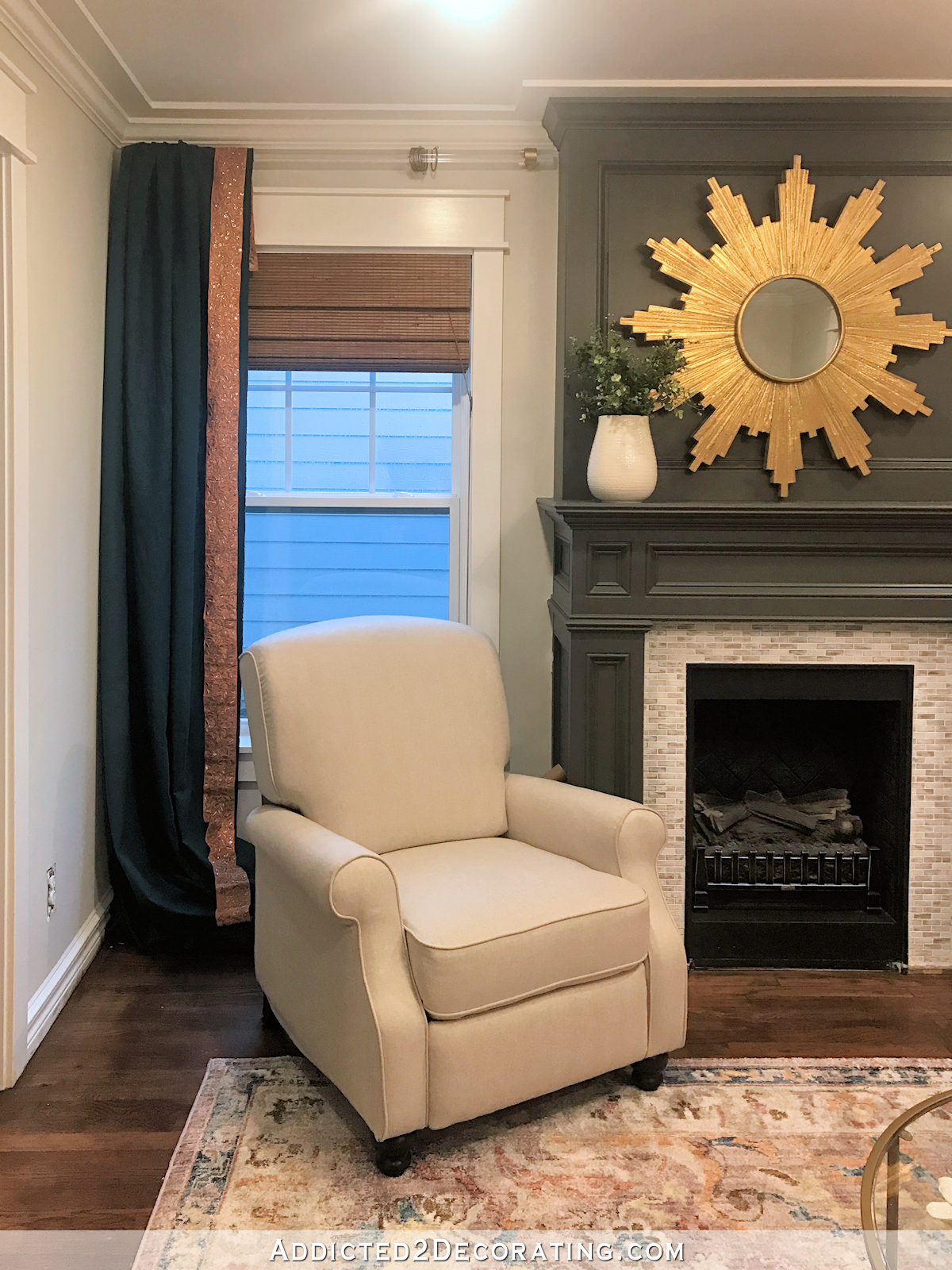 The window of time for me to return that linen fabric is closing within the next few days, so I need to make a decision. I do like how the teal pulls out the dark teal/blue in the rug, but overall, I'm just not sure about the whole look. And there will be a lot of this fabric since this is a small room with lots of windows.
After seeing how the teal looks (that's just the fabric and trim draped over the curtain rod, nothing has been cut or sewn), I decided to try one of the breakfast room curtain panels on the window and see how it looks.
I think it looks better than the teal, which pretty much confirms to me that I should return the teal linen. Don't you agree?
But other than confirm to me that the teal is too dark, the white curtains do absolutely nothing for me. It just looks so boring and lackluster to me. Even the orange sequined sari trim can't save it. I'm just not a white curtain kind of person. When I look at my breakfast room, those curtains are my least favorite things in the whole room, and I hate that I let my fear of doing something bold and colorful persuade me into using plain white curtains in there. I know white curtains appeal to many people, but I think there's just something in my brain that's wired to crave more color and pattern than the average person.
So I'm stuck. Once again.
I considered for a brief moment just using the P. Kaufmann Paint Palette Punch fabric that I found last week (on the pillow below) for curtain fabric instead of pillows.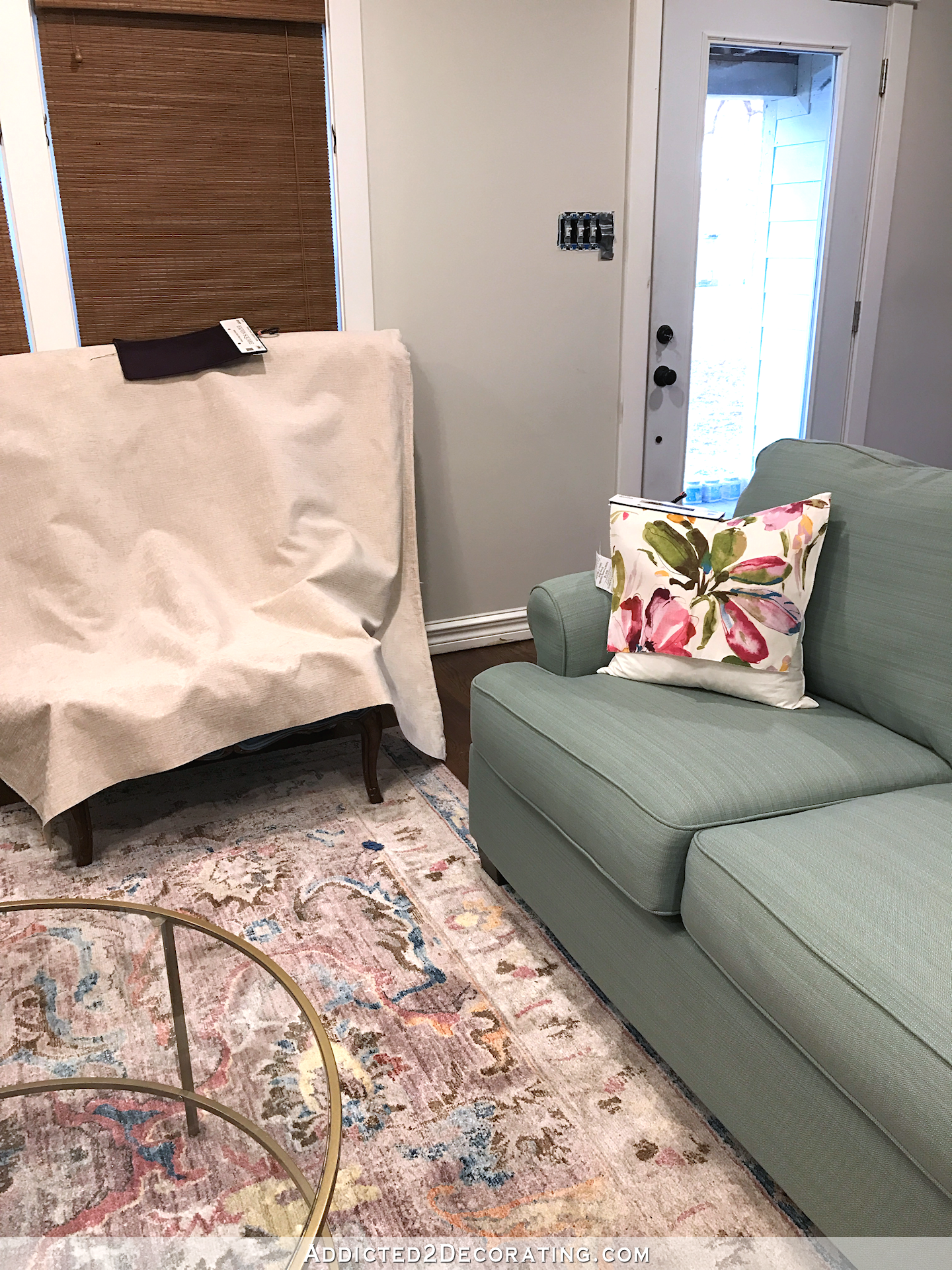 But I think that might be too much even for me. Not to mention, it would cost way more than I want to spend.
So I have no idea what to do. But the teal needs to be returned, right? That's the most pressing decision I need to make right now.
In other news, my house was supposed to be painted today and tomorrow, but the weather has turned cold and rainy. I'm so disappointed. But there will be progress made in other areas today. I have some guys coming over to install the lights on my front porch (I've been without outdoor lights ever since the siding was installed), and they'll also install the 15-lite pocket door between the breakfast room and the studio. I didn't get to enjoy my completely finished breakfast room for very long at all before my new garage door was removed and replaced with this eyesore…
…which I've had since summer. So I'm a bit anxious to have a pretty door there again, and to get the trim reinstalled.
But back to that teal fabric. Return for a refund, or keep and paint the fireplace white again?
Addicted 2 Decorating is where I share my DIY and decorating journey as I remodel and decorate the 1948 fixer upper that my husband, Matt, and I bought in 2013. Matt has M.S. and is unable to do physical work, so I do the majority of the work on the house by myself. You can learn more about me here.