Outdoor Water Feature Ideas (Reader Suggestions)
After reading the comments on yesterday's post, many of you have given me a lot to think about! There were so many great suggestions regarding my search for the perfect water feature for our little "courtyard" area in front of the breakfast room windows that are nestled between the living room and studio exterior walls. If you missed that post, here's what that area looks like now. That one plant has been cut down several times, and it grows back super fast each time. It will be cut down one last time when I get ready to work on this area, and I'll figure out how to keep it from coming back.
Large Wood Planter Turned Into A Lily Pond Fountain
When I first saw the picture of this wood lily pond fountain, it looked very small. Then I watched the video of the person actually building it, and I realized that it's actually quite large! Since I love to build things out of wood, this project is really right up my alley.
Traditional Bird Bath Fountain Combo
This water feature from Overstock is kind of the best of both worlds — a bird bath and a fountain — combined into one water feature. And the color seems pretty perfect for me! I love the tiered design, and I also appreciate that it's not too fancy. It seems like a bird bath fountain that would look right at home in the yard of my house. And of course, I love those cute, fat little birds sitting in the rims! I don't know that this is exactly what I want in my little "courtyard", but I have lots of other places where this could go.
Pottery Fountains
Several people suggested various types of pottery fountains. This two-tier DIY fountain is a pretty basic and easy design to put together. This one is from Lowe's, and the directions are very clear and show just how easy it is to create a fountain like this.
This is another type of pottery fountain, but this is much more involved and requires digging a large hole in the ground to sink a large reservoir that holds the water that gets recirculated through the large vases. These beautiful dark blue pottery fountains are from Boulder Fountain, and there's a video showing these in action here.
Store-Bought, Self-Contained Fountains
Several people provided links to some pretty great store-bought, self-contained fountains. The great thing about these fountains is that you simply fill them with water, plug them in, and turn them on. It doesn't get much easier than that!
I love the shape of this one, and those sweet little bronze colored birds are so pretty. I also love the simple modern rectangle shape of the fountain. I really like the overall design, but the color isn't quite right for me. This one is from Wayfair.
I really love the way this one looks. It's also from Wayfair. The color is much more to my liking, and there's a video on the website showing the fountain with the water turned on. It's really very pretty. I don't like the birds on this one, though. I personally don't like fake birds that are made to look real, because they don't look real. I like my fake birds to look more sculptural (like the bronze birds on the fountain just above), so if I got this one, I'd paint the birds a solid color to look more sculptural. But what I do love about this type of fountain is that the water is shallow so that real birds can drink and splash around in it.
Sculptural Fountains
These next two are very different, but I'm putting them into the same category because they both seem like sculptural pieces of art that also happen to be fountains. This first one is a metal lily pad fountain that stands just over four feet tall. This would be so pretty tucked into a garden, but I do wonder if birds could use this.
I also put this one in the category of sculptural art that is also a fountain. It's made from a wine barrel hoop and copper pipe. The more I look at this one, the more I love it. The pattern of the water spray is so beautiful. It's from this Facebook page, but there's not really any information about it, so you'd pretty much have to figure out how to put this together by yourself.
Boulder Fountains and Pondless Waterfalls
Boulder fountains are generally not a favorite of mine just because, in my humble opinion, they try to look natural, but they rarely do look natural. I mean, there's nothing natural about water spouting up through the middle of a large rock. But with that said, I have come across some that really do appeal to me. Here are a few:
I really like the understated design of this one. It still doesn't look natural for water to be spouting up through the middle of a boulder, but I like that the water spray stays pretty low to the boulder.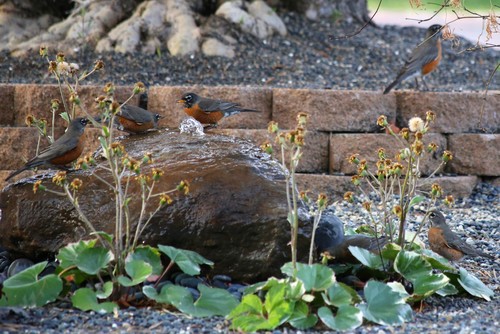 I also really like the look of these three stacked flat boulders and the plants around them. I would want a more natural look with the surrounding rocks, though. Maybe a color other than gray? Maybe a more natural, scattered design?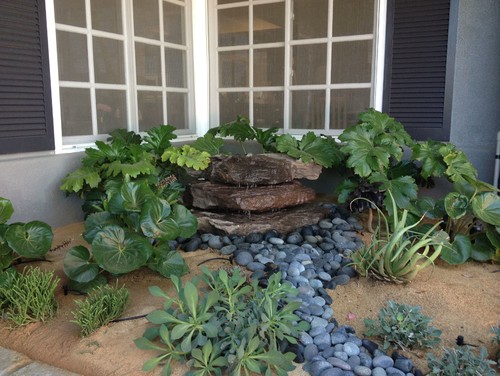 I absolutely LOVE this one! It's both natural (as in, made of a natural material), but it's also sculptural since the boulders have clearly been cut into square shapes. It's a little bit modern, but not so modern that it would look out of place in a traditional setting. Or maybe that's what I'm telling myself because I love it so much. 😀 And there's plenty of space there for birds to drink and bathe.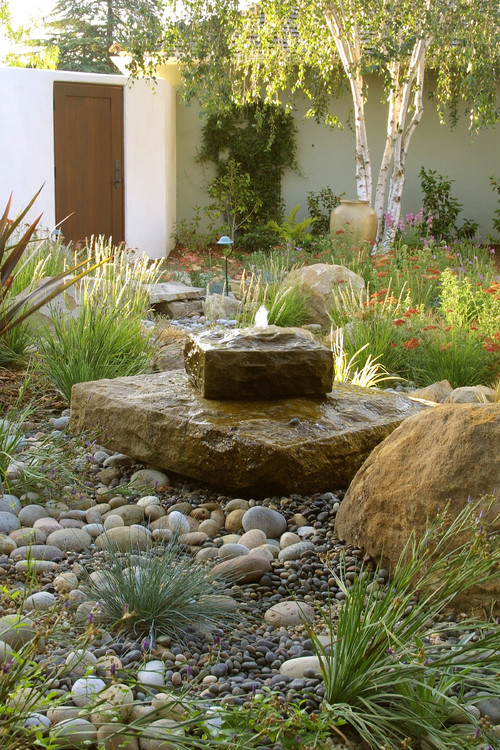 When it comes to pondless waterfalls, I'm pretty particular. Out of every ten that I look at, nine of them look incredibly fake. But this one from the Garden Answer YouTube channel is the most natural one I've ever seen. This is a screenshot from the video, and you can see how gorgeous it is. If you're planning a pondless waterfall, I HIGHLY recommend that you watch this entire video because the guys who installed this one had some amazing tips and suggestions for getting that natural look.
Sugar Kettle Fountains
Until yesterday, I had never even heard of a sugar kettle. Now I can't get enough of sugar kettles! To get the authentic cast iron kind, you'll pay quite a bit of money. As in, a LOT of money. But you can also get replicas made of fiberglass, and while they're not quite cheap, they're a fraction of the price of the cast iron kettles. But the possibilities with these sugar kettles are endless.
This is my favorite one that I've found yet. If these are cast iron, I can't even imagine how much that big kettle would cost. But isn't it pretty?!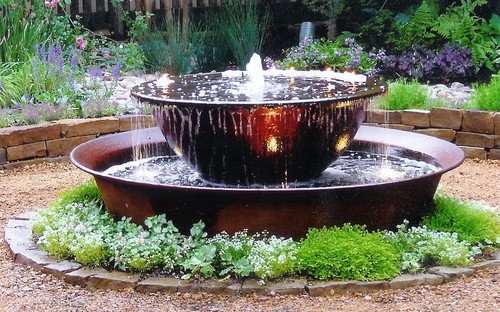 I also really like the simplicity of this one.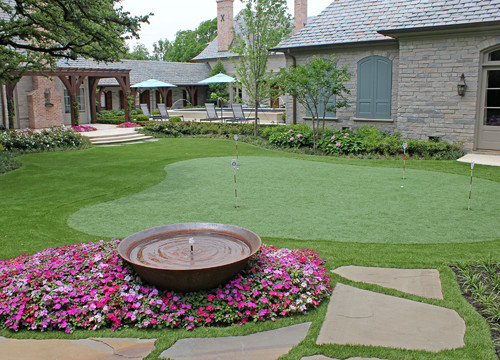 Anyway, those were a few of the ideas and links that people provided for me on yesterday's post, and I've thoroughly enjoyed looking through them, doing a bit more research, and imagining each type in my little "courtyard" area. I don't know that y'all have made my decision any easier, because now I have so many more options before me that I never knew existed before. 😀 But it'll be fun to narrow them down and find exactly which one I want to showcase in that little area of my front yard.
If I were forced to decide today, I'd probably choose either my own design using the wine barrel hoop idea or some sort of sugar kettle fountain design. As of this very moment, those are the ones that stand out in my mind for that particular area. The more natural bubbling boulders and pondless waterfalls seem better suited for the back yard, and those pretty store-bought, self-contained fountains can be tucked into other (smaller) corners of flower beds. But I want something pretty big and eye-catching for this particular area in front of the breakfast room windows, and it needs to be tall enough and large enough so that we can enjoy it from inside as well as outside. So a sugar kettle or tall sculptural fountain seems like a great choice.
I loved looking through all of your suggestions! Now my mind is spinning. 😀 But if you have more, keep 'em coming!
Addicted 2 Decorating is where I share my DIY and decorating journey as I remodel and decorate the 1948 fixer upper that my husband, Matt, and I bought in 2013. Matt has M.S. and is unable to do physical work, so I do the majority of the work on the house by myself. You can learn more about me here.