Why I DIY, Reason #15 (I Hate Getting Ripped Off)
Y'all, I'm going to vent a little today because the frustration I'm experiencing today is all part of remodeling an old house. If you're not okay with a little venting, I suggest bypassing this post. 🙂
There really are many reasons I DIY, and I'm pretty sure I've even written a post or two about it before. The main reason I DIY is obviously because I enjoy it. I don't think I could do something day in and day out if I didn't enjoy it.
The next reason I do it is to save money. Custom cabinets cost a fortune. I can build them for a fraction of what someone else would charge. Having custom draperies made isn't cheap. I can make them for the cost of the fabric only. You get the idea.
But sometimes I think, "It sure would be nice if someone could do this for me and let me focus on something else."
Sometimes when I get a quote for something that I know full well I can do on my own, my thought process is along the lines of, "Well, that price is reasonable, but since this is something I'm capable of doing myself, I could save that money and use it on something else, like having my studio insulated and drywalled."
But every once in a while, I'll get a quote for something, and my initial response is more along the lines of, "WHAT THE HECK?! ARE YOU FREAKING INSANE?! Do I have the word "sucker" written across my forehead?! I don't know who you think you're dealing with here, but you need to get off my property right now, you thieving little @#$#@!!"
This has happened to me twice now in this house. The first time was soon after we moved into the house, and I got quotes for trimming the four or five trees that are the closest to the house. The first person gave me a quote of $10,000. I thought he was joking at first. Then I realized he wasn't joking, and I was just stunned. I ended up getting it done (by the same company that Chip & Joanna use, I've noticed) for $1800.
The second time was just last week.
I really want to get my front porch finished up soon, because right now the rest of the house exterior is looking so much better, but the porch that sits right in the middle of the house exterior is still plagued with some pretty ugly elements. Most of it I'll do myself, but there were two things I wanted to hire out.
First, I wanted to hire out the installation of the rest of the Hardi boards. Since I hired out the rest of the siding installation, and I don't own a siding nail gun, I wanted those same guys to come and finish up the trim on the porch. And to be clear, I'm not even talking about the porch ceiling or wrapping the columns, both of which I plan to do myself. I'm just talking about these areas that are rotten and need to be removed and replaced to tie in with the new Hardi boards on the side…
I don't know all of the correct terms for these boards, but it includes 21 feet of drip edge flashing, the 1 x 2 that goes behind the drip edge, the 1 x 4 that goes behind that, the fascia board that's tucked between that 1 x 4 and the main beam, and then the three boards needed to wrap the three exposed sides of the beam. That's it.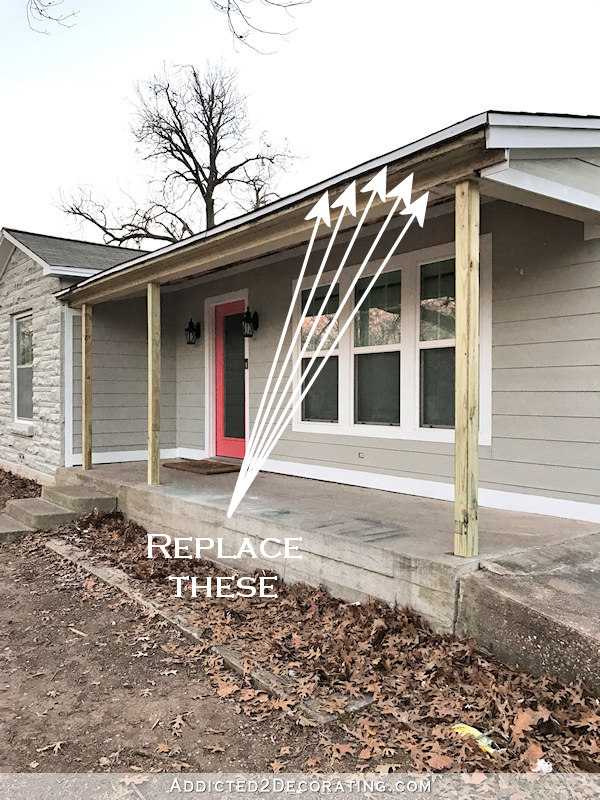 In addition to that, I also wanted to have what I call "risers" installed on the front porch. They did this in the half bath/mudroom area at the back of the studio in order to make that floor level with the main studio. That area back there had a concrete floor, and it was a little unlevel. Also, if they had just added plywood to the top, it would have been about 1.5″ lower than the studio floor.
So they took ground contact pressure treated 2 x 4 boards, ripped them down to the correct height, and nailed them to the concrete. They leveled the strips as they went, and then put the plywood subfloor right over the top. When finished, that floor was level with the studio floor.
Well, I need those same risers/spacers installed on the front porch for two reasons. First, the porch is unlevel, so I want those risers cut so that the final porch floor will be level. And second, I don't want porch boards placed directly onto the concrete because it could cause problems when it rains and the water has nowhere to go. Those porch boards would just be sitting in water until it evaporates. I need those risers installed before I can add my pretty stainable porch boards.
So since they had already done that once, I thought it would be nice if they did that part of the front porch project for me. It's literally taking 5.5-foot-long 2 x 4 lumber, ripping it down (basically to create "floor joists" that I can use to nail the actual porch boards to) and nailing those strips to the concrete, which would look something like this…
If they're spaced like actual floor joists, I'd need 15 of them. That's it. I didn't even want them to install the porch boards. I'm looking forward to doing that myself.
So what was the cost (for labor only — I'd supply everything else needed) for ripping and nailing 15 pieces of wood, plus installing 21 feet of drip edge and Hardi boards?
$2000.
TWO THOUSAND DOLLARS!!!
Two thousand dollars for work that would take two guys one day to do.
For perspective, these are the same guys who did the siding on the rest of the house and charged me $4000. That job included the removing all of the old vinyl siding, removing all of the asphalt siding and original wood shiplap siding under that, removing all of the old rotting fascia boards, removing the old drip edge flashing, installing new OSB sheathing, wrapping with new Tyvek, installing all new siding and trim boards (including the eaves), adding new step flashing to both sides of the breakfast room roof, removing the stone from the side of the living room, reframing that wall, and notching out about 35 feet of concrete footing so that the new siding would sit level. That job took them about a week, and they charged me $4000 (labor only).
And to rip and nail 15 boards to my front porch and install 21 feet of Hardi trim, all of which should take no more than a day, the cost is $2000.
There are times when I get a bid that I think is too high, but it's just high enough to give me that push that I need to start making plans to do the job myself. That was the situation with the porch ceiling. I asked my new favorite handyman how much he would charge to install the ceiling boards on my front porch, and I think his price was something like $550 (labor only). In my mind, I thought that price might be a bit too high for a job that I estimated would take him and his helper maybe three hours to do. But the price wasn't offensively high. It was just high enough that I thought I could do it myself and save that money for something else. And it wasn't so offensively high that it made me want to kick him off of my property, hurl a few choice words in his direction as he left, and permanently scratch his name off of my list of people I hire to work at my house.
But this $2000 labor-only bid for one day's work did just that. It's so offensive to me that I'm still stewing about it three days later. Do they think I'm just some stupid little woman who doesn't understand what goes into these projects? Did he just not want to do the job (which very well may be the case) so he gave me a ridiculous price? I honestly don't know. What I do know is that his name has been permanently scratched off of my list. I won't even bother getting bids from him in the future.
And as for those trim boards and risers? I'll do it myself. I called the rental store this morning and found that I can rent a siding nail gun for $30/day. Add that to the few pieces of Hardi trim, 8 pieces of 12-foot 2 x 4's, siding nails, construction glue, concrete nails, and gunpowder "bullets" I'll need for my Ramset, and I'll bet I can get the job done for about $250 for supplies with FREE labor. 😀
Have you ever gotten a quote that went beyond "that's too high" into the "YOU'RE FREAKING INSANE" territory? Thankfully it doesn't happen often to me.
Addicted 2 Decorating is where I share my DIY and decorating journey as I remodel and decorate the 1948 fixer upper that my husband, Matt, and I bought in 2013. Matt has M.S. and is unable to do physical work, so I do the majority of the work on the house by myself. You can learn more about me here.