Q & A–Decorating Ideas For This Small Living Room?
Denise is looking for some help with her living room…
Here's what she says:
I have a very small living room and I've been thinking of ways to make it functional. I'm not sure what colors to choose or decor that would fit great in the space . Any tips would be very helpful.
Kristi's suggestions:
First, it looks like you already have dark plum/burgundy, orange, and green in the room.  I happen to love these colors together, and I think you could really play up this color palette.  In fact, take a look at the cover of the January 2014 Better Homes and Garden magazine:
The green on the BH&G cover is lighter and brighter, where yours looks darker and earthier, but it's still the same idea.  And the items in the room pictured on the cover also add pink and blue, which isn't needed, but shows just how you could change up and add to the colors you already have.
But before you start playing up these accent colors, I think you need a good "backdrop" color on the wall.  I'm going to go against my nature and actually recommend a neutral color for your walls, such as this Accessible Beige from Sherwin Williams shown on the walls of this entryway.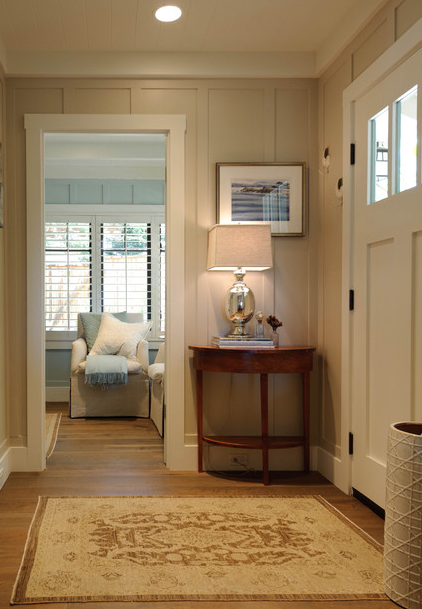 That Accessible Beige is a beautiful neutral color that gives a bit of warmth to the room, and contrasts nicely with clean white trim.  So of course, I would recommend adding/painting the trim in the room.  Add some beefy baseboards, crown moulding, etc., and paint those things a clean and bright (but not too stark) white.  The white shown in the picture just above is Sherwin Williams Alabaster, which is a perfect white for trim.
Next, the window treatments…
I don't think that the window scarves you currently have are accentuating your windows like they should be.  I would suggest using full length drapery panels instead, hung high and wide so that they don't block out the light.  You could make your own, which would widen your options as far as fabric goes.  And you could use whatever you like.  If you could find a pattern like a floral or stripe that had all of the colors in it, that would be awesome…but probably quite a challenge.  So you could even use a solid color, like a solid green.
Furniture arrangement:
It looks like your large, overstuffed furniture might be a bit much for this small room.  I would suggest keeping the sofa, but see about replacing the loveseat with two chairs that will take up less space (both literally and visually) to open the room up a bit.  In addition, I would also mount the t.v. on the wall to the right of the window, and then find an interesting piece of furniture (like a vintage/antique dresser), paint it in an accent color, and then use it below the t.v. to "ground" the television.  That would give you the opportunity to add a bit more style and color to the room than the current black t.v stand allows.
Lighting:
The last thing I would suggest is removing the current "boob light" and replacing it with something that will give you a bit more style.  Since it looks like you have an eight-foot ceiling, you'll need to find something that is either a flush mount or semi-flush mount.  Depending on the style that you like, you could add a bit of a modern touch like this Modern Matrix ceiling light from Shades of Light…
…or if you prefer a traditional look, you could go with something like this Smokebell Semi-Flush Ceiling Lantern from Shades of Light.
Really, the possibilities are endless, and there are flush and semi-flush lighting options available to fit just about any and every style, and they will add much more interest to your room than the builder-grade boob light.  😉
Once you get those foundational things in place, of course you can start adding accessories and artwork to complete the room.
Those are my suggestions for Denise's living room.  What would you suggest?
Addicted 2 Decorating is where I share my DIY and decorating journey as I remodel and decorate the 1948 fixer upper that my husband, Matt, and I bought in 2013. Matt has M.S. and is unable to do physical work, so I do the majority of the work on the house by myself. You can learn more about me here.