Last Updated on December 24, 2015 by Kristi Linauer
This fireplace project was one of those that seemed to take me forever to actually get started on.  There were several reasons for that.  First, actually coming up with the plan — complete with all of the very specific measurements and detailed building plans — kind of intimidated me.  So I procrastinated on that.  But one morning last week, I finally made myself do it.  And yes, it took me all morning to translate this picture…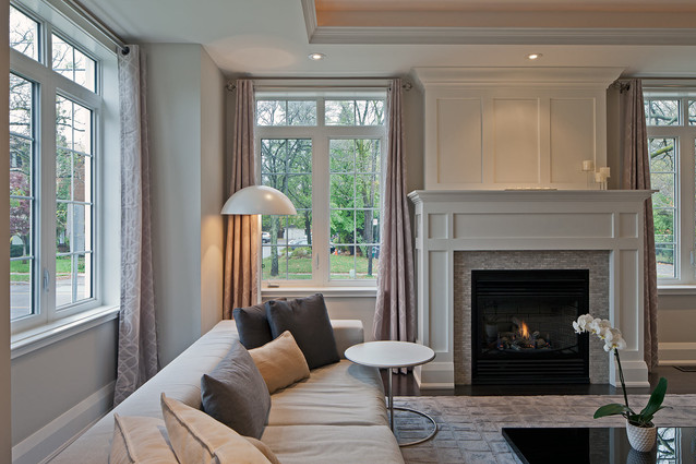 ..into this drawing…
…with measurements specific to my room where the fireplace will go, plus come up with my detailed building plan, a cut list and supply list.  (I did this diagram using MS Excel, and one square represents one square inch.)
So with my diagram plus a detailed cut list and supply list in hand, I headed to Home Depot.
By the way, when I go to Home Depot to get MDF or plywood cut, I always make a drawing showing exactly how I want my pieces cut from each piece of MDF or plywood, and I even make notes of the order in which the cuts need to be made for maximum efficiency and so that I come home with the most perfectly cut material possible.
It saves so much time in the store, not to mention the fact that the HD employees never, ever want to cut the material in the way that makes the most sense.
For example, from my diagram above, I had them rip the 11.5-inch strip off the top first.  Then with the remainder, I had them measure over 49 inches and cut.  Then I had them set the saw to rip (cut horizontally) 15.5 inches from the bottom.  (This is where they never think like I do.  They always want to measure from the top, and cut, then measure from the top again, and cut.  If they measure from the bottom and set the saw once, they can rip both pieces without having to measure and reset the saw again.  Plus, each piece will be exactly the same size.)  So after setting the saw 15.5 inches from the bottom, I had them rip the two 15.5 inch pieces.  Then from the remaining MDF, they measured and cut the 36 x 39 piece.
So I literally go in and tell them, "I have a diagram here, and if you'll just do exactly what I tell you to do, this will go really fast!"  And then I direct them through the whole thing.  🙂  I've never had anyone get irritated with me for doing that, and in fact, most seem really appreciative that they don't have to waste time figuring out how to get the pieces I need cut out of one sheet of material.
Anyway, after being delayed for a few days because of weather, and then getting ready for my father-in-law to come here from Oregon (he's staying for two weeks and will be helping me get some things done around the house!!), I was finally able to get started yesterday.
Granted, I didn't get much done at all, but at least it's a start!  I started by using wood glue and a nail gun (16 gauge 1.5-inch nails) to build the basic box that will form my fireplace.  I had all of the pieces cut from 3/4-inch MDF.  The front piece is 48w x 49h.  On the sides, I attached the 15.5 x 49 pieces.  And then to brace the back, I cut two strips of 1 x 2 lumber to 46.5 inches long and nailed inside on the top and the bottom.
And then on the front, I measured and marked my cut lines where I would cut out the rectangle that will allow for the decorative tiled inset as well as the firebox to be attached.
Next I used my circular saw to cut along the lines.  The two side lines were easy to do, but I had all kinds of trouble with the top line since I couldn't start cutting on the edge.  I had never done a cut like this with a circular saw, where you have to start several inches from the edge, so I ended up kind of butchering it.
To remedy my bad cut job, I re-measured and re-drew a new line (at 10.75 inches down instead of 11 inches like I had planned), and then used my jigsaw to cut along the line.
That cut was much better, but still wasn't perfectly straight, so I had this brilliant idea.  🙂  I got a piece of lumber and placed the edge right along the line that I drew and used two nails to secure it in place.
And then I used my sander to sand the MDF right up to the straight edge of the lumber.
It worked!  I ended up with a perfectly straight top edge on the opening.  I'm so glad I went with MDF instead of plywood, because this little trick would not have worked on plywood.
So that's as far as I've gotten.  Like I said, it's not much, but at least it's progress!!  And really, all of the planning was the hardest part.  Now that that's out of the way, the rest should go smoothly
And here's a peek at the tile that I got for the fireplace.  I found it at Home Depot, and it doesn't say specifically what kind of stone it is, but it looks like a combination of various marble and granite.
I'm hoping to finish up all of the building today (with the exception of the mantel), and then maybe do the tiling and painting tomorrow.
Addicted 2 Decorating is where I share my DIY and decorating journey as I remodel and decorate the 1948 fixer upper that my husband, Matt, and I bought in 2013. Matt has M.S. and is unable to do physical work, so I do the majority of the work on the house by myself. You can learn more about me here.
I hope you'll join me on my DIY and decorating journey! If you want to follow my projects and progress, you can subscribe below and have each new post delivered to your email inbox. That way you'll never miss a thing!