Q & A–What Foyer Paint Color Will Coordinate With This Living Room?
Victoria is having trouble choosing a paint color for her foyer in her new home and is hoping that we can help her out!
Here's what she says:
Normally I don't have much problem landing on that ONE color I want to use in a room – and I'm not afraid of color – but I'm drawing a complete blank on this one.

We're buying a 1898 Victorian home and I love the house, love the colors in most of the house – but hate, HATE the foyer color.

The adjoining room is close to a Behr Paint "Deep Blue Sea" (which I love and plan to keep)…. but the foyer is an olive drab, think Army Olive Brown (and did I mention that I hate it). Anyway, I'm having the hardest time finding a color for the foyer.

It's a large area (15×15) and while I've had some suggestions from family (such as "Paint it salmon") I'm just not that into "Flesh tones" on the walls. (Peach, Salmon, Rose, etc)

I want the foyer to be light and inviting while remaining warm and comforting. But I also want it to be a peek-a-loo partner to the rest of the downstairs (Sea Blue, Dapper Tan, Black and Crisp White). I'm looking for that fab color that will make you go "ahhhh, I love this room" and compliment the adjoining living areas at the same time.

The foyer is much darker in person than it appears in the photos — OH and the color will also have to extend into the powder room located off the foyer (which is actually rather small).

I've included photos of the foyer (in both directions) and the living room.

Do you have any suggestions? Ideas? Thoughts? Inspiration?
Kristi's Suggestion:
Since you mentioned that you're not afraid of color, and that you want the entryway to be warm and bright, and that it needs to blend with the living room wall color, I personally would suggest yellow.
Yellows can be tricky, though.  Choose one that's a bit too saturated, or too bright, and your room will look like it's glowing.  Or it could look like a child's room, which is probably not the impression you want to make in your entryway.
So I would recommend finding one that's more of a buttercream color — very light and muted.  It'll still give you the brightness and the warmth without being an in-your-face yellow.
My favorite light buttercream yellow that I've used is called Rich Cream from Behr.  It's the color that I used on the walls in the kitchen, breakfast room, and living room of our condo.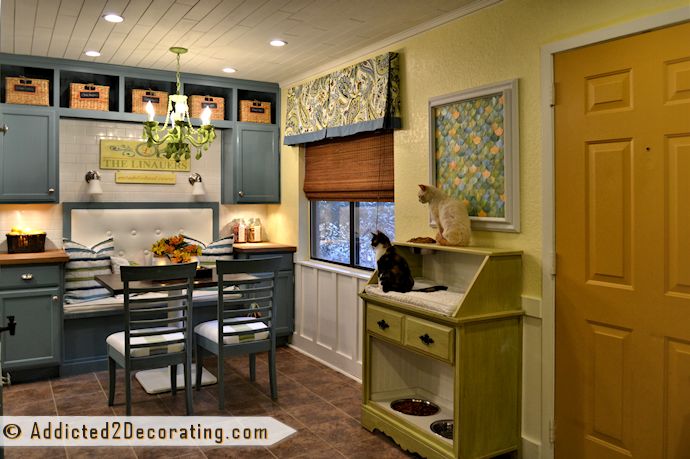 It's light enough that it almost reads as a neutral, but still yellow enough that it actually looks yellow.  And obviously, I think it coordinates beautifully with various shades of blues and teals.
That's my suggestion!  Do any of you have a suggestion for Victoria?  What color(s) do you think would coordinate well with her Deep Blue Sea living room walls, and the rest of the colors she mentioned?
Psstt…Have a decorating dilemma in your own home?  Submit your question and photos here!
Two questions will be selected and answered every weekend.
Addicted 2 Decorating is where I share my DIY and decorating journey as I remodel and decorate the 1948 fixer upper that my husband, Matt, and I bought in 2013. Matt has M.S. and is unable to do physical work, so I do the majority of the work on the house by myself. You can learn more about me here.