I believe that last year was the first year I made a master house goals "to do" list at the beginning of January for the whole year, and then for the first seven or eight months, I did a "Last Month's Progress/This Month's Goals" post at the beginning of each new month.
While I did make a master list of house goals for 2018 (you can click here to see that), I hadn't really planned to do those monthly progress posts this year. But y'all…I kicked butt on that list in January. I mean, I came out of the gate strong, I kept a great pace all month, and I got stuff done. Some of it was done by my own hands, and some of it was hired out, but the bottom line is that things were getting checked off of that list.
So today, I felt like taking a little victory lap with a progress post. (Wow, I sound really braggadocios today, don't I? 😀 I don't mean to be. I'm just very excited about getting such a strong start to the year.)
So let's check out the progress so far.
The biggest change last month is that the whole exterior of the house was painted. Granted, I didn't do that myself, but it's done. ✅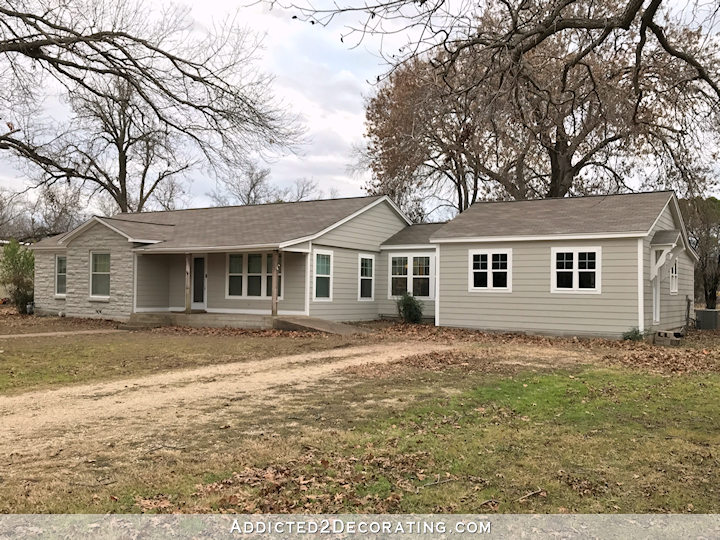 You can click here to see more pics of our newly painted house, as well as some "before" and "progress" comparison pictures.
Then I had the porch lights installed ✅, and I painted the front door a very happy coral color called Bird of Paradise by Benjamin Moore. ✅
My brother and I were able to remove the sag and straighten out the roof line on the front porch by adding new (stronger and taller) porch posts. ✅
And a few days later, I had the ugly concrete ramp removed from the side of the porch. ✅ (Don't worry. Matt NEVER used that ramp. It was way too steep and dangerous.)
Now let's see the progress inside. In the living room, I painted and re-tiled the fireplace. That wasn't on my original list, but I added it because it needed to be done, and it was a pretty big job, so…✅
In the music room, I finished refinishing the piano. ✅
In the hallway, I built new drawers and finished the cabinet. ✅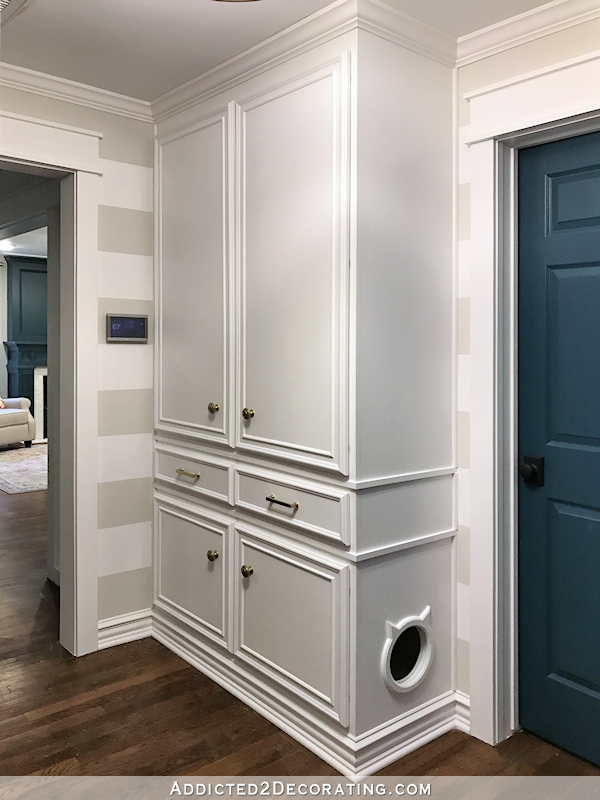 I also finished painting the console table ✅, and I framed and hung the artwork on two walls. ✅
In the hallway bathroom, I chose a new paint color that wouldn't clash with the hallway door color, and I repainted the vanity. ✅
And in the breakfast room, I painted the new 15-lite door ✅, installed the door casing ✅, and repaired the hole in the drywall left by the removal of the switches. ✅
That's a strong start to the year, right? By my count, that's fourteen items crossed off of my 2018 Master List of Home Goals in the month of January!
I have no idea if I can keep up this pace all year long (probably not), but so far seeing things get crossed off of the list has only motivated me to keep going and get more done. So here's to an amazing and productive February!
Addicted 2 Decorating is where I share my DIY and decorating journey as I remodel and decorate the 1948 fixer upper that my husband, Matt, and I bought in 2013. Matt has M.S. and is unable to do physical work, so I do the majority of the work on the house by myself. You can learn more about me here.
I hope you'll join me on my DIY and decorating journey! If you want to follow my projects and progress, you can subscribe below and have each new post delivered to your email inbox. That way you'll never miss a thing!