Remember the ugly leaning pecan tree in my front yard? If you're standing in the street looking at my house, I'm talking about the one on the right side of the front yard. Here it is in the picture I took right after we bought the house in 2013.
I'm happy to report that it's gone! That pecan tree is finally gone, and my yard looks so open and airy now!
Of course, the front of the house isn't much to look at right now, so having the tree gone and the front of the house more visible isn't quite as exciting right now as it will be when we finally do our front porch remodel and it looks more like this…
But I'll take what I can get when I can get it. And seeing that I've hated that sad leaning pecan tree since the first time I saw it, and the opportunity presented itself to get it cut down last week, I jumped at the chance.
When we got our trees trimmed that first year we were here, the tree guy told me that the pecan wouldn't be with us much longer anyway because it was dying from the top down and was no longer producing pecans. Honestly, I was happy to hear that. I would have felt guilty cutting down a perfectly healthy pecan tree that was still producing pecans.
But that first year, we couldn't afford to have it removed completely, so we just had it trimmed along with the other trees. And over the last two years, the limbs that were still alive grew like weeds, completely covering that side of the yard and extending over the roof.
We weren't really planning on having it cut down right now. In fact, just a couple of weeks ago when the concrete guys were here working in the breakfast room, one of those guys told me that he was actually just helping his friends with the concrete, but his main line of work was trimming trees, lawn care, etc. So I asked him how much he would charge to cut down the pecan tree, and he gave me a price of $1500. I decided that it could wait until after the breakfast room was done.
But then we had squirrels in our attic…again. Or so I thought. I could hear them running around up there in the evenings, and it was driving me crazy, so I called out the critter guy last week to come and get them out of my attic and close up their entry points.
Well, he came, he spent about an hour inspecting inside the attic and all around the outside of the house, and then told me that he couldn't see any way that squirrels were getting into our attic. He said that the attic was still completely sealed up with the new spray foam insulation, and he didn't see any points where they had chewed through. And he also didn't see any entry points on the outside of the house. Plus, he said that since we don't have fluffy batt or blow-in insulation for them to nest in, they have no incentive to even want to get into our attic.
He said what he thought was happening was that our trees had gotten so overgrown since having them trimmed two years ago, to the point that we actually had about three limbs lying directly on the roof (oops! I hadn't noticed!), and those limbs were creating easy access points onto the top of the roof. So the top of our roof had basically become a squirrel superhighway.
He told me to get the trees trimmed away from the roof and see if that solved the noise issue. If I still heard them after that, he would come back and do another inspection and move on to Plan B.
That was last Tuesday, so I added "find a tree trimmer" to my list of things to accomplish by the end of the week.
Well, on Wednesday, my neighbor randomly showed up on my doorstep with a friend of his who just happened to be a tree guy! So we walked around the house, and I pointed out everything that the critter guy told me needed to be done. Since I had already gotten an estimate of $1500 the week before for cutting down the pecan tree, I just asked him to give me a quote for trimming it. So he was going to cut down one medium-sized tree in the back yard, two medium-sized trees on the side of the garage, and then trim both large pecans and the huge oak in the front yard.
His price for all of that? $350. I nearly fell over when he gave me that price! So I went ahead and asked him what it would cost to just cut the pecan tree down completely, plus do all of the other work we had talked about.
$850. Eight hundred fifty dollars!!! Umm….SOLD!
So he and another man came bright and early on Saturday morning and got busy. I had intended to get a current "before" picture of the front yard with the tree, but by the time I realized that they were here working, they already had two trees cut down and the limbs hauled to the curb. But I managed to get a few pictures…
You can really see in this picture how the limbs had become overgrown and sprawled out to the point that the house was barely visible behind it.
And of course, the dead limbs looked awful.
They made quick work of cutting the pecan tree down, and even with the fallen branches covering the yard, it looked so much better. I loved how open it looked, and especially liked that sunlight could actually reach part of the yard now.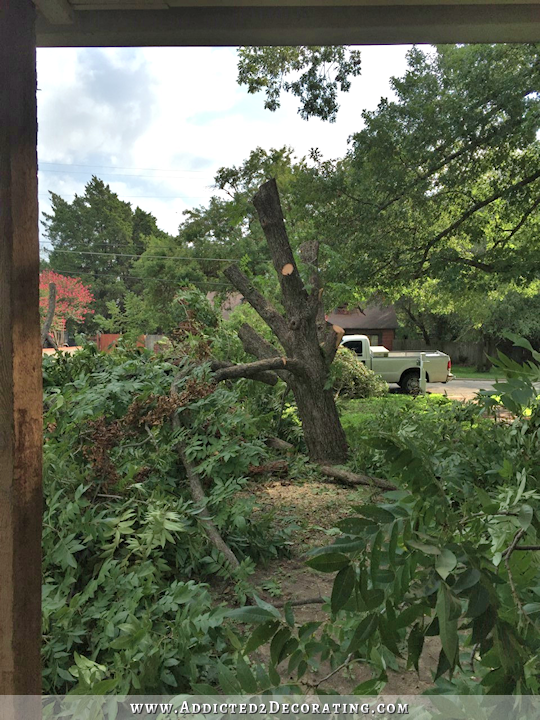 And now that the whole thing is gone, the house is actually visible from the street again!
And one day, that will actually be a good thing. 🙂 Right now, though, it might just provide the necessary incentive to get out the pressure washer and see if I can get those paint samples off of the stone since I've decided to hold off on painting.
So for now, it's just a small improvement, but one that I've looked forward to from Day 1 in this house. It'll be even more exciting when we finally get to the front porch remodel and I can actually do some pretty landscaping now that at least part of the yard can get some sun.
They also trimmed up the other pecan tree, and it looks so nice now.
That pecan tree actually produces a huge amount of pecans each year. Last year, I never got a chance to go out and gather pecans, so the squirrels got them. I plan to gather as many as I can this year, because those pecans are big and delicious! It's silly to let free pecans go to waste.
Addicted 2 Decorating is where I share my DIY and decorating journey as I remodel and decorate the 1948 fixer upper that my husband, Matt, and I bought in 2013. Matt has M.S. and is unable to do physical work, so I do the majority of the work on the house by myself. You can learn more about me here.