Why I'm Okay With Redoing Projects (Over and Over and Over Again!)
If you've read my blog regularly for any amount of time, you already know this about me. I have no problem starting over on a project if it's not turning out like I had hoped. Heck, I have no problem doing it over two or three times. I'll continue to do it over until I get it right.
I get criticism for doing that, but until recently, that criticism was elsewhere and stayed off of my blog, so it didn't bother me in the least. But a couple of weeks ago, when that criticism reached the calm, peaceful shores of my internet home, it frustrated me. It was something along the lines of, "I'll be surprised if you ever finish your house. You keep going back and redoing projects, and I wish you wouldn't do that. You seem to waste a lot of money."
I generally don't let comments bother me, but for some reason, that one did. And I've thought about it every single day since I first read it. I've thought a lot about my house, my projects, the money and time I spend, and my blog. And you know what I've concluded? I'm not going to change a thing. I'll continue to work on my house at my own pace, and I'll continue to redo projects as many times as I see fit. And after giving it some serious thought almost every day for the last two weeks, I can actually articulate exactly why I feel that way. (And because written blog posts eliminate the benefit of voice inflection and facial expressions in communication, I'll ask you to please not read "angry" or "defensive" into this post. I don't need to defend my decisions to anyone other than Matt. So if I had to describe my attitude towards this topic, it would be more "contemplative," and I simply wanted to share my thoughts with you.)
1. I'm perfectly content with what I have right now.
I'm painfully aware that I live in a house that's horribly outdated and needs a ton of work in order to be updated and pretty. It's what I chose, because I've always wanted to buy a fixer upper and remodel it, and this was my chance. This was the challenge I've been waiting for. But yes, for now, it needs a ton of work.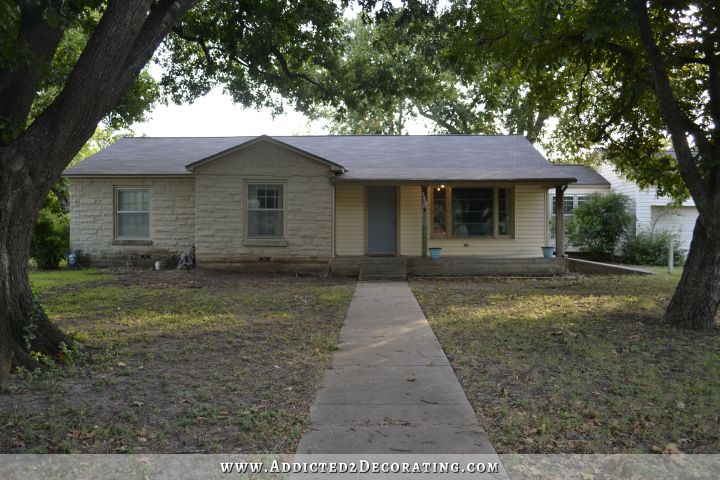 I mean, it'll take a lot of work, a lot of time, and a lot of money in order to get this house like I envision it in my head. Just the front exterior of the house alone will probably cost about $20,000, and that's with me doing as much of the work as I can do in order to cut down on costs, and that also doesn't include landscaping.
(For the record, what I envision in my head doesn't include Craftsman-style columns in the front porch. I'll be aiming for a much more traditional style.)
But you know what else I'm aware of? The fact that I am blessed beyond measure. I actually have a house, with a roof over my head, while 100 million people in this world are completely without a home . I may still have one bathroom that is so awful that I can't bear to look at it, and I keep the door closed when not in use. But I have two bathrooms in my house, when 60% of the world's population doesn't even have toilets. I have clean running water coming out of my indoor taps, while 783 million people in his world don't even have access to clean water, much less indoor plumbing.
My point is this. So what if I never get my house finished? It's fun to dream about, think about, and plan, but the fact of the matter is that I already have everything I need. Everything else from here on out is just icing on the cake.
2. Doing house-related projects is my hobby.
The thing about hobbies is that they don't always have to serve an end goal. I think it would be less confusing if my hobby was buying and restoring old cars, or collecting artwork, or golfing, or fishing, or something else like that. There are some hobbies that cost people hundreds, and thousands, and tens of thousands of dollars, but because it's labeled a "hobby" it's perfectly acceptable, right?
Someone whose hobby is fishing may spend thousands or tens of thousands of dollars on boats, engines, fishing tackle and other gear, clothing, and on, and on. They don't spend that money because there's some great payoff in the end. They do it because they enjoy the activity. And even if they don't catch anything on a particular day, they still enjoy being out in the boat on the water. Spending that money on all of that gear is perfectly fine and acceptable because it's their hobby.
Well, my house is my hobby, and I'm perfectly fine with "wasting" money on my hobby simply because I enjoy the activity. In my case, there is an end goal. I would like on day to end up with a house that's completely remodeled and decorated. But if that doesn't happen, I'll defer to reason #1 above and simply realize how blessed I am with what I already have. In the meantime, I'll enjoy the process — my hobby.
3. It's MY house.
This should be plainly obvious, but this house belongs to Matt and me. What I do in this house has absolutely zero affect on anyone in this world other than the two of us, and if we're okay with what I'm doing, then I have no idea why it would bother anyone else.
The other day, Matt and I had this conversation:
Me: Does my mess in the music room, dining room, and entryway bother you at all?
Matt: Ummm…no. Why would it?
Me: Well, I don't know. I just though maybe the mess from my projects and the unfinished rooms might be getting to you.
Matt: Nope. I don't care about your mess in there, or about the rooms being unfinished.
Me: So you're not anxiously awaiting the day that those rooms are finished? You're not anxious to get in there and spend time in the music room, or the dining room, or the entryway?
Matt:  (looking at me like I've lost my mind) What the heck am I going to do in the dining room?  Or the music room?
Me: I don't know, but they're rooms in our house, and I thought you may be anxious for me to get finished so that you can have access to those rooms.
Matt: I don't understand. Are you planning on putting the t.v. and my video games in the dining room or the music room?
Me: Well…no.
Matt:  Then I really don't care. You do what you want to do. Make as much mess as you want to, redo things as many times as you want, and take as long as you want to. I don't care. And besides, once you finish the house, aren't you just going to start over again anyway? So what's the rush?
😀
The bottom line is that the unfinished nature of our house only affects two people, and one of those people couldn't care less.
4. I have thousands of idea, and only one house.
I've been collecting house ideas for about ten years now — way before the advent of Pinterest. I have folders on my computer filled with thousands of ideas. Those ideas would easily fill 50 houses, but unfortunately, I only have one house. But that lack of space isn't going to stop me from trying things and testing out ideas. Again, this may go back to the hobby thing, but so much of the fun of this for me is in testing out different ideas. And I have no problem spending money in order to test out an idea, and then throwing it away if it doesn't work. My enjoyment comes from the process.
I approach many, if not most, of my projects like that. For example, just the other day when I went to Home Depot to purchase everything necessary to build my music room bookcases, I literally went there with the attitude that the bookcase idea was something I was going to try out, and if it didn't work, then I'd tear it out and try to come up with another idea. I spent about $250 on a test — an idea that I wasn't certain would pan out. Fortunately, that idea did pan out…so far.
Others didn't make the cut.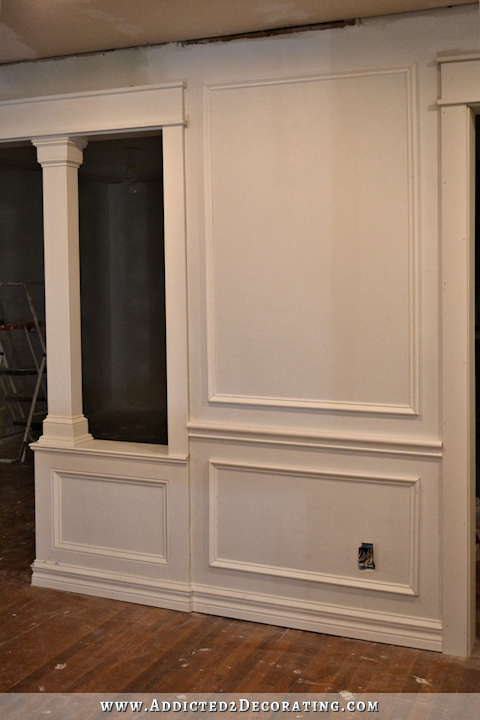 I'm never going to stop trying out different ideas. Some may stick, others may get the axe, and others may stick around for a while before being replaced. And I'm certainly never going to make myself live with something that I don't like just because it cost me time and money. Money can be replenished, and I have all the time in the world. In my mind, making myself live with something that I tested out but don't particularly like just because I don't want to take the time and effort to redo it is just laziness. I'll be lazy when I die. Until then, I've got a ton of ideas to try out.
5. Remodeling my home isn't my full-time job. Blogging is my job, and I have a monthly budget for that.
This is where things get a little muddy for most people who don't write a blog as their full-time job (which, of course, is most people). My blog is our bread and butter, and I blog about interior design, interior decorating, and DIY. Blogging is my job, and it's what brings in my income. For the time being, it just so happens that most of my blog posts are about projects that I'm doing in my house. Since Matt and I bought a fixer upper that needed lots of DIY work, it's a natural fit for my blog. But if Matt and I had purchased a brand new, completely decorated and furnished home, that doesn't mean that my blog wouldn't exist. That just means that I'd be blogging about something other than my home, but still related to the topics of design, decorating, and DIY.
Blogging is my job. Blogging brings in my income. The projects I'm currently doing in my house simply provide the bulk of my content for my blog for now. But remodeling my house is not my job.
It may seem like I'm splitting hairs, or parsing words, but it makes more sense when you get down to the money part of the issue. Just like any other business person, I budget money every month that goes back into my business in order to keep things going. You've all heard the saying — you have to spend money to make money. In order to have a blog, I have to have content, and my favorite type of content is writing about projects. To that end, I have a budget of $1200 per month that I get to spend on projects for my blog. Because again, my blog is my job. Notice I didn't say that I have $1200 a month to spend on the house. I have that amount to spend for my blog. I would have that amount regardless of where I live, and regardless of what I'm spending it on, as long as it's benefiting my blog.
If I wanted to spend my monthly budget on creating 25 different decor-type craft projects that would all end up in the trash can after being photographed and blogged (and there are many craft bloggers who do exactly this), then it's still money being spent on exactly what it's intended for. If I wanted to spend a month demonstrating 25 various wall treatments with paint, and I painted the same wall in my house over and over again each time, that would still be money spend on exactly what it's intended for.
For the time being, it just so happens that the vast majority of that money goes into home-related projects for my own home — projects that I photograph, write about, and use to demonstrate various DIY projects on my blog. But whether that money is spent on a project that will stay in my house for the next ten years, or it's spent on something that will only stick around for a month before being torn out and replaced, it's still money being spent on exactly what it's intended for. Neither the time nor the money spent on doing that project is wasted.
I'm sure there are plenty of other reasons that haven't come to mind that all add up to this: I love doing projects. I love blogging about projects. And I have a budget for my projects. Whether I keep them for years to come, or enjoy them for a very short while, my satisfaction comes from the process. I'll always be okay with redoing projects over and over again, as long as I'm enjoying the process.
Addicted 2 Decorating is where I share my DIY and decorating journey as I remodel and decorate the 1948 fixer upper that my husband, Matt, and I bought in 2013. Matt has M.S. and is unable to do physical work, so I do the majority of the work on the house by myself. You can learn more about me here.