My Finished Music Room Ceiling (Painted Wood Plank Ceiling)
I've finally finished the ceiling in the music room! This ceiling took way longer than I had expected it to, but I'm very pleased with how it turned out.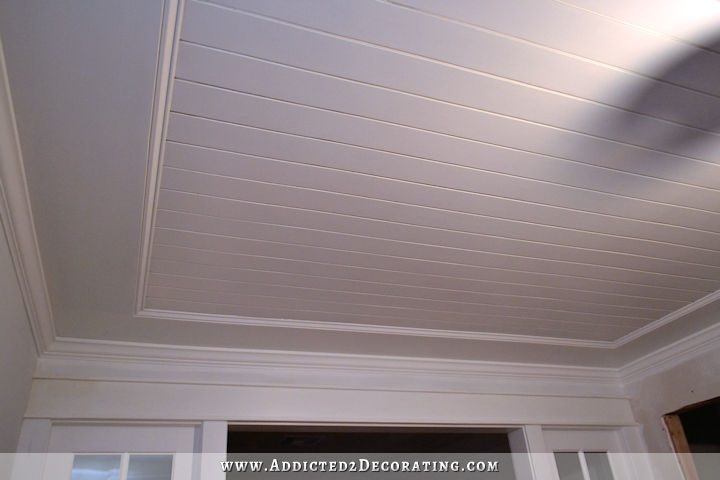 Since this project took me so long, let me recap how to install a wood plank ceiling like this.
I started with 4′ x 8′ sheets of 1/4-inch plywood, and cut them into strips that were just under 4 inches wide and 8 feet long. Then I attached those to my ceiling using Loctite construction adhesive and 18-gauge finishing nails. To see how I installed these by myself, click here.
Because the plywood strips were only 8 feet long, and my room is just over 10 feet wide, I left a 13.5-inch perimeter around the wood planks.
Next, I attached some strips of 1/2-inch MDF around the perimeter of the room and around the plywood strips.
And then I attached 12-inch-wide pieces of 1/2-inch MDF to those strips using 16-gauge finishing nails.
For more detail on that step, click here.
And after wood filling all of the nail holes and joints in the MDF border, and then sanding those smooth with my sander, I added decorative trim (I used base cap moulding) just inside the MDF border on top of the plywood strips. And then I installed crown moulding around the room.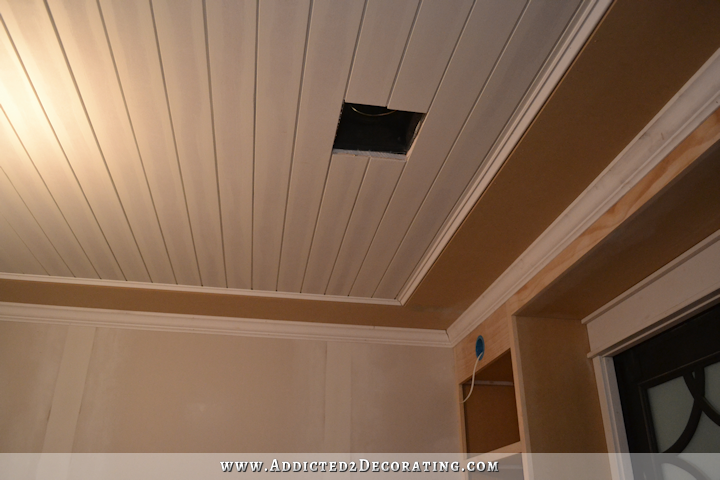 And finally, before I could prime and paint, I had to caulk. I caulked above and below the crown moulding, and also caulked the small gap between the MDF boards and the base cap moulding. But before caulking between the MDF and the base cap moulding, I sanded the sharp corner off of the edge of the MDF piece by hand using 150-grit sandpaper. This just cleaned up the edge a bit, and gave that corner a softer, more finished look.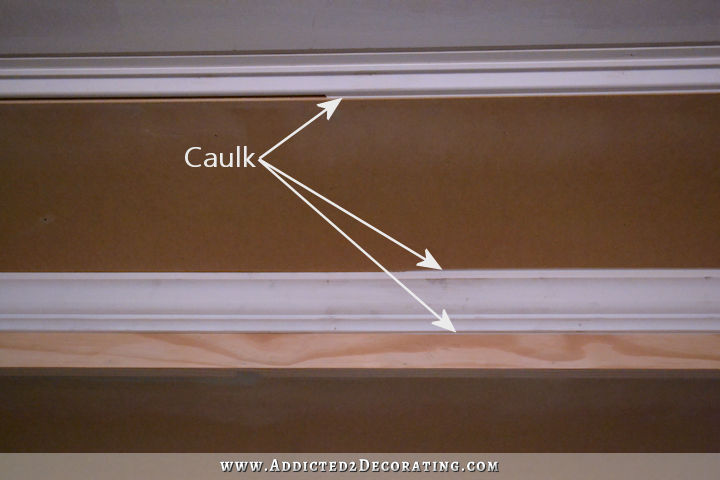 And of course, I caulked the corners where my crown moulding had small gaps. Before caulking, those corners looked like this…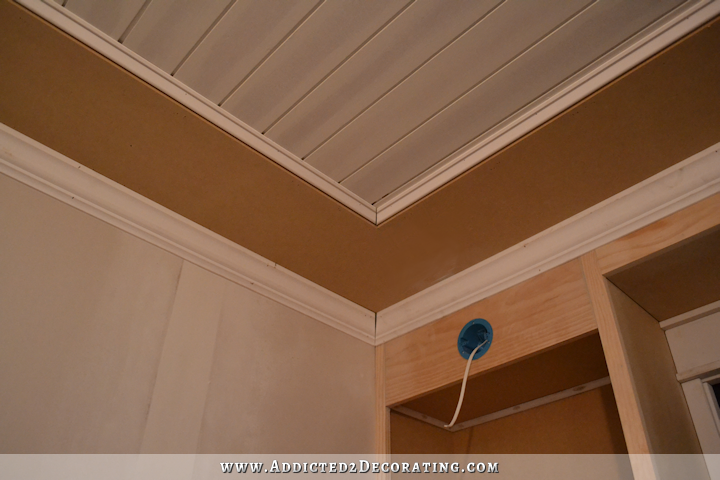 And after caulking, they looked like this…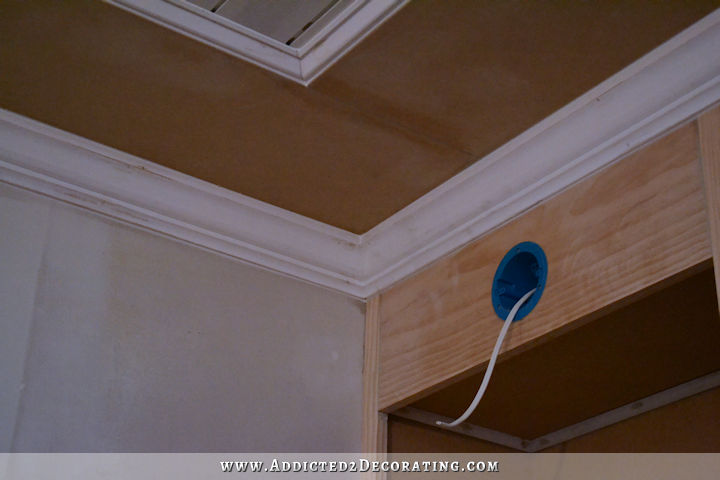 See why I love caulk so much? 🙂 The caulk I use for trim is Dap Alex Fast Dry latex caulk.
After the caulk dried, it was just a matter of priming everything, and then painting. Against my better judgment, I used water-based primer on this because it was all I had on hand, and it was late and I didn't want to make a trip to Home Depot. I would normally use oil-based Zinsser Cover Stain to prime wood trim and MDF. I generally only use water-based primer on unprimed drywall, and use oil-based primer on just about everything else. The paint color that I used is my favorite trim color — Polar Bear by Behr.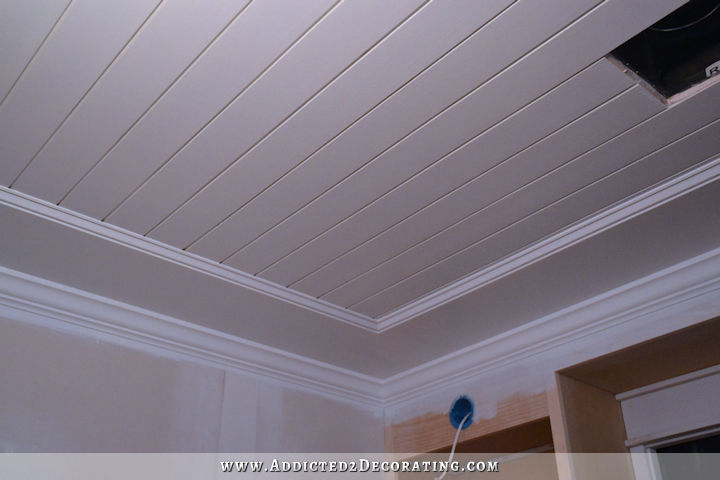 I painted the trim and edges with a brush, and then used one of those small 6-inch rollers with a 3/8-inch nap roller cover (labeled for smooth surfaces) to paint all of the flat parts.
I finished at midnight last night, so when I see it in the daylight this morning, I'll probably find that it all needs a second coat of paint.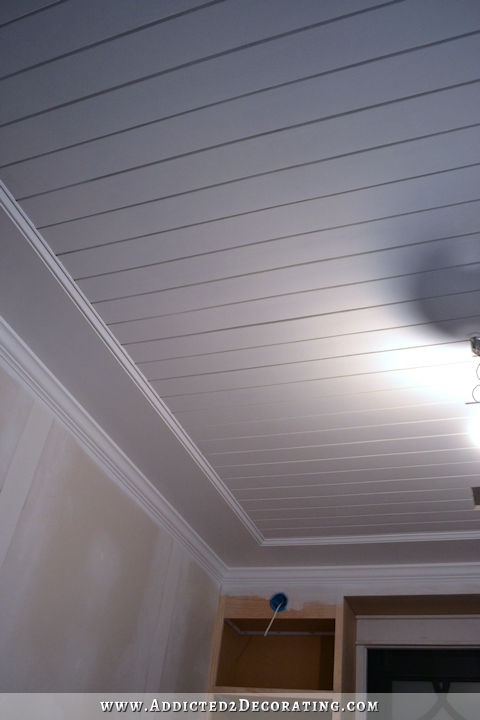 But thankfully, second coats always go much faster than the first.
Now that my ceiling is done (or as soon as I do my second coat of paint), I can FINALLY get some paint on my walls!  I'm still undecided on whether or not I'll stencil my walls. For now, I'll just paint and live with that for a few days to see how I like it. But I'm really liking the idea of making a custom stencil to match the design on my doors. It might try it out in one area just to see how it looks.
Addicted 2 Decorating is where I share my DIY and decorating journey as I remodel and decorate the 1948 fixer upper that my husband, Matt, and I bought in 2013. Matt has M.S. and is unable to do physical work, so I do the majority of the work on the house by myself. You can learn more about me here.