Yesterday I shared my plans for my breakfast room walls.  In my search for the one perfect (to me) idea for that room, I came across so many amazing ways to add interest to neutral walls.  I'll be using some of these in other areas of the house, like the hallway, music room, and eventually the family room.  I haven't decided exactly which ones I want to use, or how I want to use them, but all of these prove that neutral walls don't have to be boring!
I love just about anything with nailhead trim on it, so this entryway really caught my eye.  The trim (looks like twill tape) and nailheads really add some amazing style to this small wall, which could have looked pretty unremarkable without that added detail.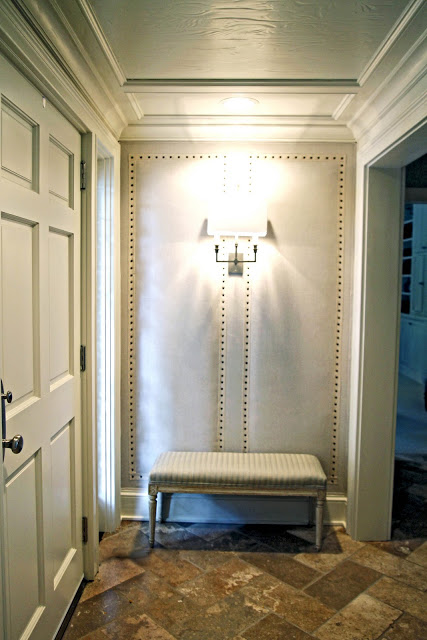 via Lucy and Company
A great alternative to wallpaper is a fabric, like burlap.  This wall was covered in burlap, and then the edges were covered with twill tape and nailheads.  I think this looks amazing used on the upper part of the wall with wainscoting on the bottom portion.  The neutrals keep everything light and bright, but the different textures give it a designer touch.
via Kara's Kottage
Or you can skip the wainscoting altogether, and use the twill tape and nailheads to outline your walls and doors.  You can use this idea in combination with grasscloth, burlap, or even just plain painted walls.
via Womack Interiors
Or if you're like me and you really, really love nailheads, you can use them to create a design on the main areas of your walls.  This is actually Phillip Jeffries Rivets wallpaper, but a similar design (or any other design your imagination can come up with) can be created with nailheads.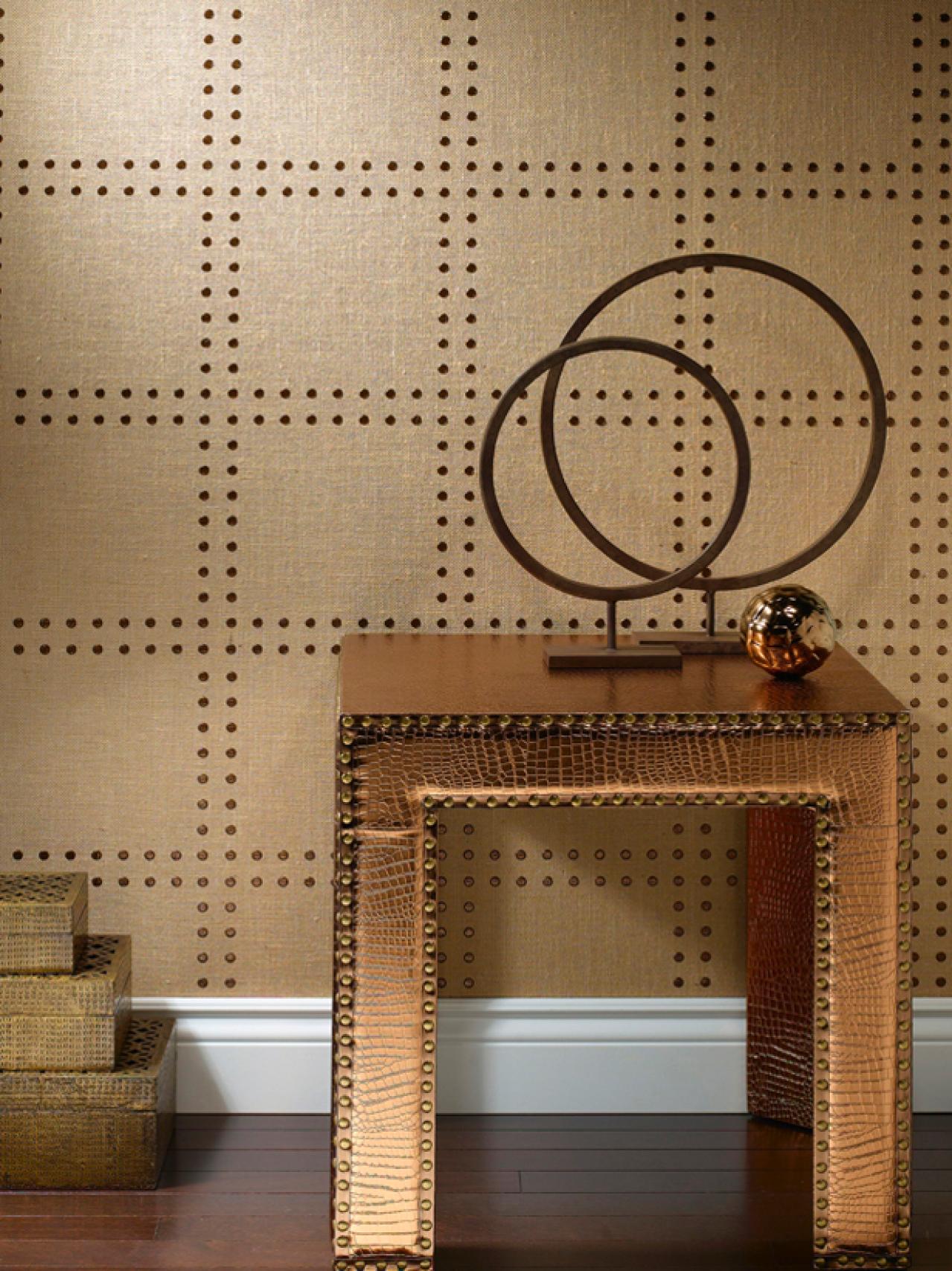 via HGTV
Of course, if you don't quite love nailheads as much as I do, there are plenty of ideas sans nailheads to spruce up your neutral walls.
White wainscoting with a soft neutral color on the top portion of the wall is always a great choice.
Traditional Bathroom by Toronto Interior Designers & Decorators kathy daukant interior design
Or you can take the wainscoting right up to the ceiling, like this board and batten treatment that covers the entire wall.  There are countless ways to add trim to your walls to add architectural detail, while keeping your walls neutral and bright.
via Life On Virginia Street
Stencils are another great way to add interest to a neutral wall.  You can use white along with another soft neutral to create an allover design that adds interest to the room without demanding too much attention.
via Design Indulgence
A large gingham design in neutral colors can also add an unexpected design element to a room without being too overpowering.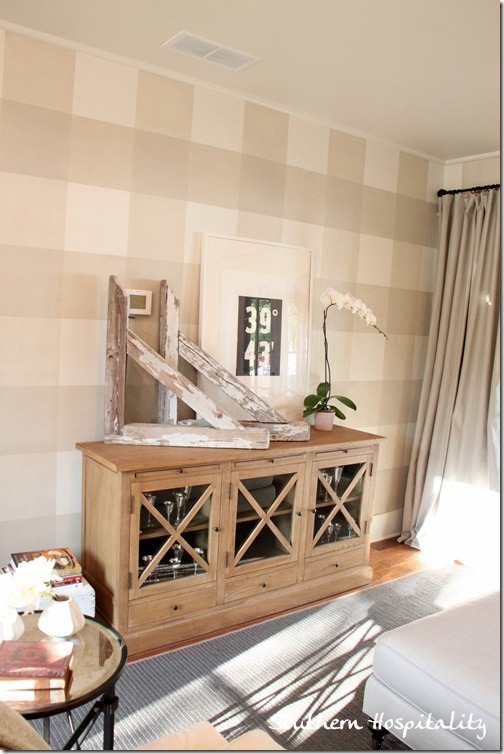 via Southern Hospitality
And of course, this list wouldn't be complete without my all-time favorite — stripes.  I love stripes any way they come, whether vertical…
Beach Style Hall by New York Interior Designers & Decorators MuseInteriors
…or horizontal…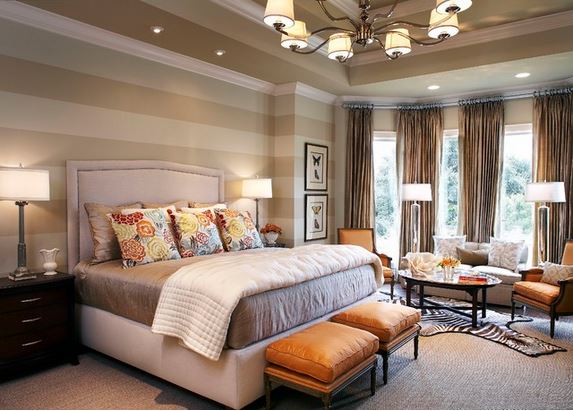 Traditional Bedroom by Dallas Interior Designers & Decorators CDA Interior Design
And of course, any of these ideas can be mixed and matched for a virtual endless list of options — horizontal stripes above white wainscoting, burlap with a nailhead design above wainscoting, full wall board and batten with nailheads outlining the squares.  The possibilities have my mind on overdrive lately!  🙂
So I'm on a mission — neutral walls in the main "public" areas of my house, but no boring neutral walls.  I'm in the process of working on the music room walls.  Hopefully my idea works out like it looks in my head.  I hope to share it with you soon!
Addicted 2 Decorating is where I share my DIY and decorating journey as I remodel and decorate the 1948 fixer upper that my husband, Matt, and I bought in 2013. Matt has M.S. and is unable to do physical work, so I do the majority of the work on the house by myself. You can learn more about me here.
I hope you'll join me on my DIY and decorating journey! If you want to follow my projects and progress, you can subscribe below and have each new post delivered to your email inbox. That way you'll never miss a thing!