Breakfast Room Plans: Black Is Out, Light & Neutral Is In (But It Wont' Be Boring!!)
Well, black walls are no longer an option for my breakfast room.  Long story short, I've been waffling back and forth on the stencil idea for a while now, but I was still full steam ahead on the black walls idea.  But this weekend, as my mom and I were standing in Home Depot looking at paint samples for my niece's bedroom, she told me that she hated the idea of black walls in that room.  She's not opposed to black walls in general.  She's just opposed to them in that room, next to my beautiful green kitchen cabinets.  I'm pretty sure her words were that the black walls in the breakfast room would "suck the life" out of my kitchen…or something like that.  😀
I value my mom's opinion, so I went home and talked to Matt about it.  I've been thinking for two months now that I had gotten him on board with the idea.  As it turns out, I hadn't.  He hated the idea as well, but was willing to keep his mouth shut so that I could have what I wanted.  *Sigh*  He's so good to me, but I don't want to take advantage of that and just completely disregard his thoughts.  He so seldom has an opinion about the house, so when he does have an opinion, I need to listen.
So it was back to the drawing board.  I needed light, bright, and neutral.  But I didn't want boring and plain.  So I turned to my main sources…Pinterest and Houzz.  And within minutes, I found exactly what I want.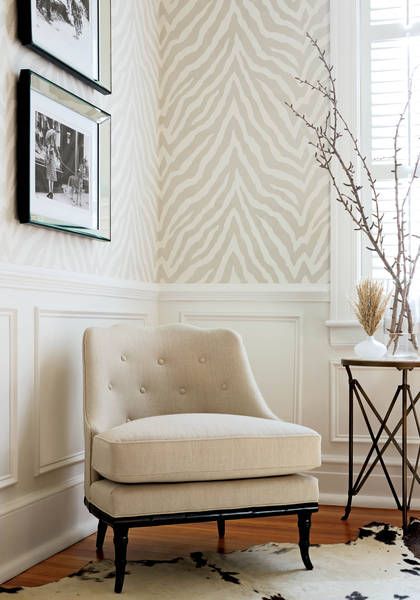 That is Thibault Etosha wallpaper.  I don't know the price, but anything from Thibault is generally out of my price range, so I'll probably end up having to hand paint a design inspired by this wallpaper.  And yes…wainscoting too.  I've said time and again that I wouldn't consider wainscoting in the breakfast room since the ceiling is so low, but I've changed my mind.  I'm a woman, so I'm allowed to do that.  Often.  😀
Oh, and the best thing?  Matt loves it!  When I showed him the picture, his response was, "Wow!  Now that's classy!"
I've looked for a stencil online that I could use, but I can't find one I like.  All of the zebra print stencils I've found are way too small, too busy, and the repetition of the pattern is very obvious.  But I'm not opposed to tedious work, especially if I can end up with walls as gorgeous as the ones above.
Here are a few more rooms with neutral zebra striped walls.
Nursery designed by Sarah Richardson
Transitional Kids by San Antonio Interior Designers & Decorators GALEANA
Transitional Kitchen by Manchester Kitchen & Bath Designers New England Design Works
Beach Style Bathroom by Philadelphia Home Builders Blake Development Corporation
I'm really loving this new direction.  It keeps my breakfast room light and bright.  It's neutral, but it's not boring neutral.  Matt loves it.  My mom won't cringe and/or cry when she comes for a visit.  And most importantly, there's no risk of it "sucking the life" out of my colorful kitchen.  😀
So the next question will be, "When are you going to stop talking about it, and start working on it?!"  Right?
Well, Matt and I are trying to decide just how we're going to go about it.  The floor alone, with leveling the concrete, putting down subfloor, installing hardwood, and finishing the hardwood, will cost about $5000.  That's just for the floor.  In one room.  That's a lot of money when we're still living without an HVAC system.
And then the walls and ceiling need drywall.  I thought maybe I'd be up for doing it myself, and I even bought a really inexpensive drywall lift on Amazon so that I could tackle it on my own.  But quite honestly, the thought makes me want to cry.  I don't know why I'm so overwhelmed with it, but I am.
But about four days ago, I pulled into the Home Depot parking lot and parked.  The truck right next to me was a remodeling company, and one of their services listed was drywall.  As the guy was walking to his truck, I stopped him and talked to him about the breakfast room.  Based on the measurements I gave him, he gave me a very rough ballpark estimate of about $500 to drywall, tape, and mud the walls and ceiling.  That's 1/5 of the first company's estimate!!!  And it's also way more in line with what many of you told me it should cost.
That gives me so much hope that I can have pros do it, rather than doing it myself!!  So he'll be coming out soon (hopefully this week) to look at it and give me a real estimate.  If his ballpark estimate was really in the ballpark, I'll schedule him ASAP and get this room underway.
Addicted 2 Decorating is where I share my DIY and decorating journey as I remodel and decorate the 1948 fixer upper that my husband, Matt, and I bought in 2013. Matt has M.S. and is unable to do physical work, so I do the majority of the work on the house by myself. You can learn more about me here.