An Entryway Change & Sitting Room Rug Doubts
*This post contains affiliate links.
I had hoped to have the sitting room (aka, breakfast room) completely finished by now, and be well on my way to having lots of wide angle pictures of all of these finished areas to share with you by now, but as always seems to be the case, I hit a little snag. I think. I'm actually not 100% sure.
But first things first, I made a little change in the entryway. When I originally finished this area, the rest of the room was pretty far from being finished. Since the wall wasn't balanced with anything on the other side of the room, I did a gallery wall with 12 framed bird images.
I loved it as long as that was the only finished area in the room. But ever since I finished the rest of the room, I've wanted to pare down the number of pictures and add mirrors that will reflect more light into this end of the room.
So I went on the hunt for interesting mirrors, and finally decided that I wanted arched mirrors. I finally found these mirrors on Amazon that were a pretty reasonable price, so I went for it.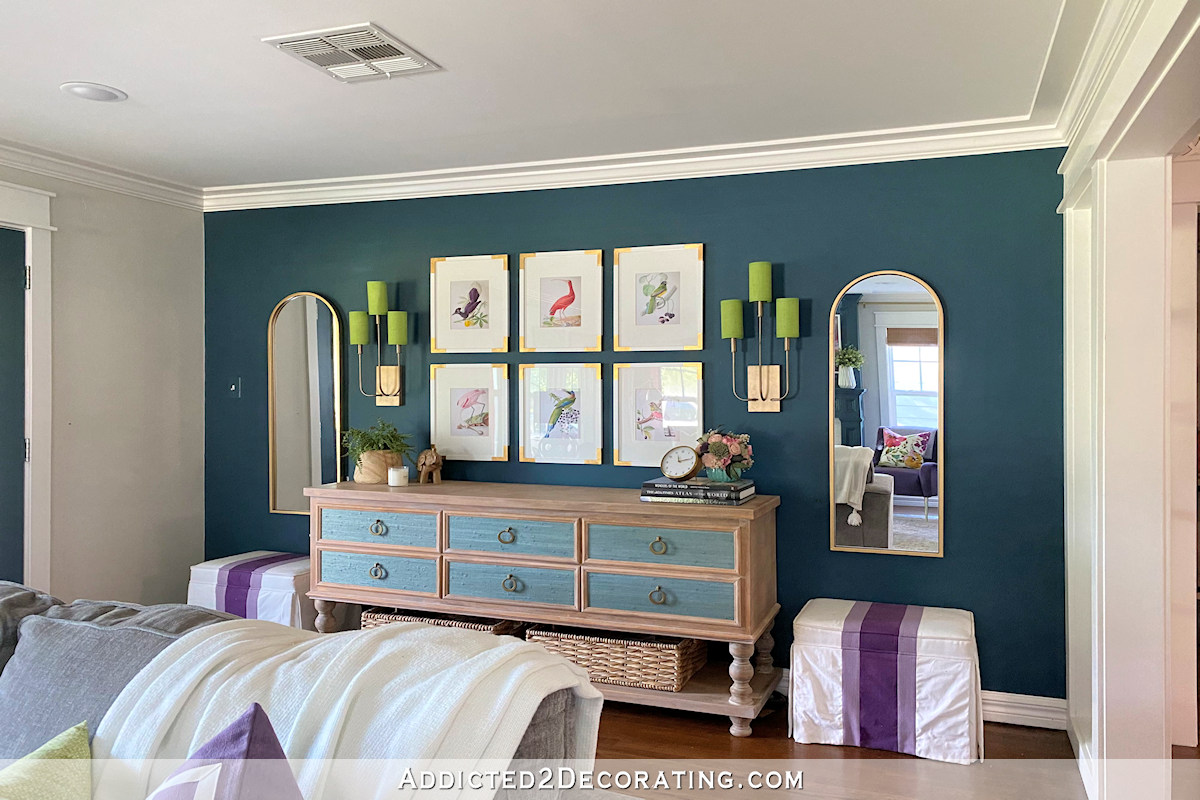 I like the calmer look with the finished living room. I was able to keep my six favorite birds, I still get the symmetry I love so much, and now the entryway seems a little lighter than it did before.
So now let's talk about this rug. I got this rug from Overstock, and I'm just not sure about it.
(Note: If you're reading this post on any website other than Addicted 2 Decorating, that means you're reading on a site that is stealing my blog content. I hope you'll consider joining me on my actual blog by clicking here.)
Have you ever purchased something for your home, and one moment you love it, while the next time you see it, you don't? And then the next morning it seems to have grown on you again, but then during the course of the day, you're just not sure again?
Because that's exactly how I've been with this rug. I go from loving it, to disliking it, to really enjoying the colors, all in the span of a day. Or even in the span of an hour.
I don't know if it's because the room isn't finished, or if I just really don't want this rug in my home. And I honestly can't even put my finger on exactly what it is about it that bothers me.
I was in need of a table to go between the chairs, so my mom gave me this table that she was no longer using. I had intended to paint it (yes…ORANGE! :-D), but now that I"m not sure about the rug, I have to hold off on painting the table as well. Plus, none of the oranges that I liked seemed to work with the rug with the exception of that one obvious one. Unfortunately, that's the one orange that Matt didn't like.
He said it didn't matter, and I should go ahead and paint the table that color, but I'll hold off on making that decision until I get this rug issue squared away. And in the meantime, I've been thinking that maybe I'll simply strip the table and see what the natural wood color is underneath. Since every bit of wood in this room is painted (kitchen peninsula, buffet, bases of the purple benches, doors and trim), some pretty, natural wood might be just what this room needs. I do know for sure that I don't want that dark, heavy stain in the room, so hopefully there's some pretty wood under that dark finish.
So the rug is still in question. I went ahead and ordered a new rug for the room. This one has more blue/teal in it, but still has lots of bright colors.
It will be here Friday, and I'm hoping that it will be immediately obvious to me which rug is the better choice for the room. If I were a betting person, my money would be on the second one, but we'll see. How about you?
Addicted 2 Decorating is where I share my DIY and decorating journey as I remodel and decorate the 1948 fixer upper that my husband, Matt, and I bought in 2013. Matt has M.S. and is unable to do physical work, so I do the majority of the work on the house by myself. You can learn more about me here.