An Impromptu Bathroom Makeover – Day 1
As you know, my in-laws have been here this week, and they've been helping me with projects around the condo.  My mother-in-law has sanded my kitchen countertops and re-oiled them so that they look absolutely perfect for putting the condo on the market.  She also sanded the new bookcases that I built in the living room after I did all of the wood filling.  And of course, she's also helped with other projects.
I've had my father-in-law busy repairing a constantly-running toilet, installing three ceiling fans, and installing a bi-fold closet door, among other things.
So yesterday when he arrived, he said, "Well, what do you need my help with today?"  The only other thing I could think of that I really wanted his help with, and absolutely didn't want to do myself, was install a new toilet in the second bathroom.  The problem is that we couldn't just uninstall the old  one and install a new one, because the entire bathroom was disgusting, and several things needed to happen before a new toilet could even be installed.
I mean, if the other bathroom was disgusting before its makeover, then this bathroom was disgusting times ten.  Seriously, gross.  It has basically been the forgotten room in the condo, tucked away behind a closed door for about three years now and never used.  But of course, if it stayed that way, it would be a big liability when we go to sell this place.
So yesterday, we decided to tackle it.  Here's how it looked before (although he had started removing the toilet, and I forgot to put the tank lid back on before taking pictures.  Oops!)
Get ready for grossness.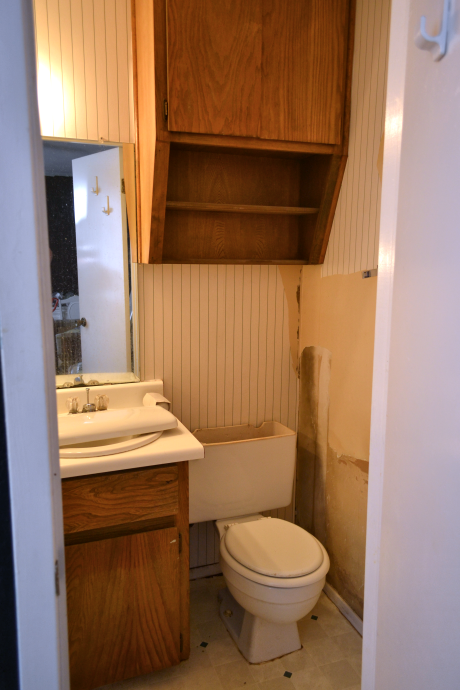 It has that same massive wall cabinet that the other bathroom had before I ripped it down.  But it doesn't seem as intrusive in this bathroom, even though it's so tiny.  I think it's because you see it from straight ahead, rather than from the side sticking out into the room.
And about five years ago, I started ripping the wallpaper off the walls, and only got far enough to make the room look even worse.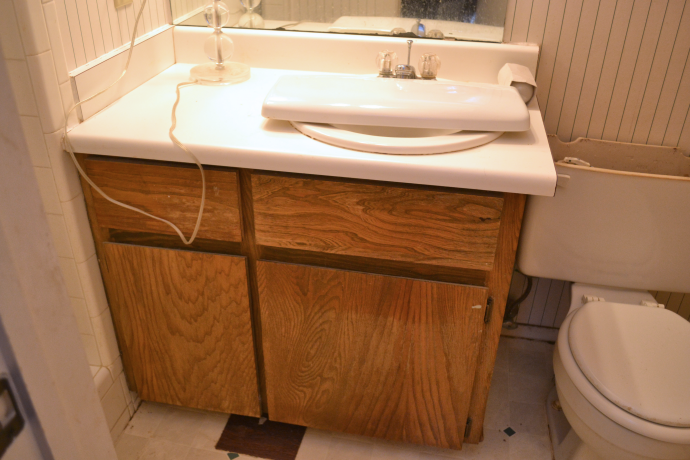 This bathroom also has the very same cabinet and doors that the other bathroom had.  And it's just as gross.  Same cheap apartment-grade countertop also.  Yuck.
This bathroom is so tiny that it's impossible to get good full-length pictures.  But as you can see, there's a shower in this bathroom, with a very narrow door.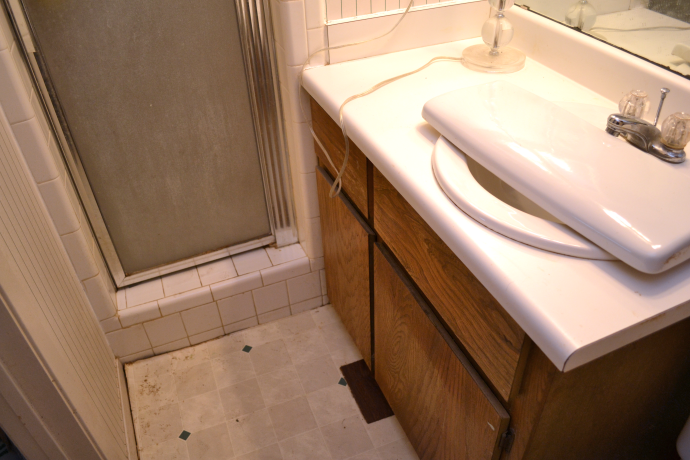 And all the way around the perimeter of the room, as well as around the toilet, the two layers of vinyl flooring are curling.  It was like that when we purchased it, and it's only gotten worse over the years.  So there's all kinds of incredibly gross muck and yuck caught around the perimeter of the floor.  And the thing that really grosses me out is that it's not just our muck and yuck.  It's other people's muck and yuck as well.  That seriously makes my stomach turn.
I had to decide quickly how to tackle this room.  I didn't want to spend days peeling two layers of wallpaper, repairing drywall, and prepping the walls for paint.  So I decided to put wood slats right over the top, from ceiling to floor.  So while I went to Home Depot to get all of our supplies for this bathroom makeover, I had my father-in-law remove the toilet, the countertop (along with the sink and faucet), and all of the baseboards and quarter round in the room.
As soon as I got back, I tackled the floor, removing the two layers of vinyl flooring.  Then we got busy on the walls.
We started on the area above the sink, working from the ceiling down.  The wood planks I bought are tongue and groove, and fit together quite easily.
With two of us working (one cutting, and the other nailing up the wood strips) the work went very quickly.
It was pretty smooth sailing, but working around the angle on the wall cabinet was definitely a challenge.  But we figured it out.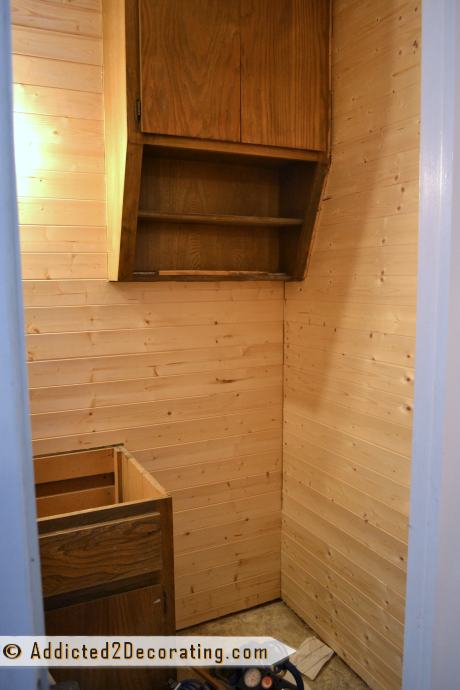 And of course, all of the corners and the areas around the wall cabinet will be nicely finished with quarter round.
In all, we got three of the four walls done.  We could have finished the fourth, except that I want to install a new door before that wall gets planked.
So today, I'll work on the trim and flooring, and hopefully at least get enough of the walls primed and painted so that he can install the toilet for me.  I know how to install toilets myself (I uninstalled and reinstalled the one in the other bathroom a total of three times during that makeover), but if I have someone volunteering to do that stuff for me, I'm going to take full advantage of that if I can!  🙂
I'm hoping to get this whole makeover knocked out in just a couple more days.  Needless to say, it won't be as involved as the other one.  It'll just be a basic makeover to make this room look decent so that it won't be a liability for us when we put it on the market.
Addicted 2 Decorating is where I share my DIY and decorating journey as I remodel and decorate the 1948 fixer upper that my husband, Matt, and I bought in 2013. Matt has M.S. and is unable to do physical work, so I do the majority of the work on the house by myself. You can learn more about me here.