I'm Joining The "Imagine" Challenge
It seems that I need a bit of a kick start on completing some of my projects, and I think I found just the "kick" I need.  I've decided to join the "Imagine The Impossibilities" challenge…
I love working on projects, but I find it more motivating when I know I'm taking on this challenge with other people, and we can share in each other's triumphs when we all complete (or come closer to completing) our projects.  Of course, I'm getting in kind of late on this challenge, so I had to really think about what I project I wanted to choose.  With only 16 days left before the challenge ends, I wanted to choose something that would challenge me while still being attainable.  So, the project I chose is…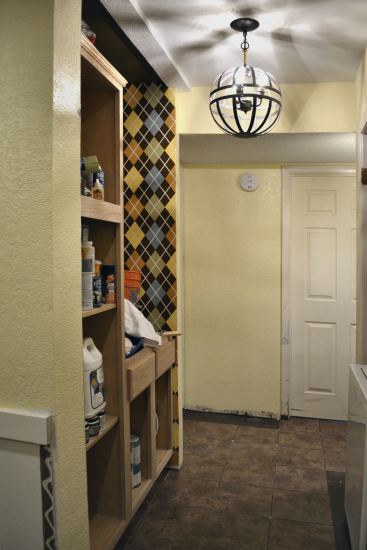 My hallway! Remember my hallway and my utility closet? I know, I know…a more appropriate question would be, Kristi, do you remember your hallway and utility closet?
I had such good momentum going for a while, and then it fizzled out…completely. But I'm determined to have this finished by January 31st. There's quite a bit of work that needs to happen.  The most obvious thing is that I need to paint the cabinets.  I'm still undecided on a color, but I'm inching closer and closer to a decision.  In addition to painting, there are about a hundred other medium-sized projects to small detail projects that need to be completed.
The floor is still not finished. I still need some tiles around the edges and corners, and then I need to grout.  Then then baseboards need to be installed…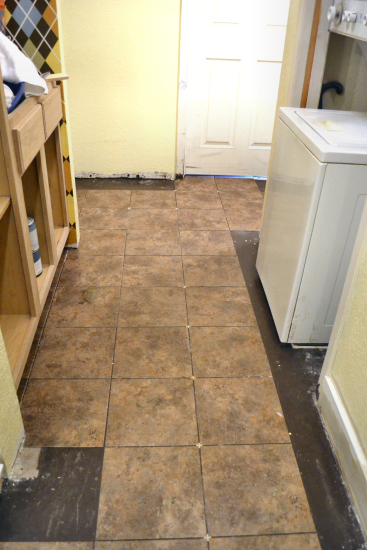 This closet that contains the washer and dryer has been a real frustration for me.  No matter how hard I shoved, I simply couldn't ever get the washer/dryer pushed into the closet enough to get the doors closed.  So, off came the doors, and I'm going to hang some sort of curtains over the opening.  I also need to sand and paint the trim, and find some way keep the washer/dryer from scooting forward when the dryer is on.  There are still a few inches back there, but every time I dry something, the entire thing inches forward.
The cabinets are out of control…especially my paint cabinet.  I have things shoved in there haphazardly, and finding anything I need is virtually impossible without at least partially unloading the cabinet each time.  Probably half of this stuff could just be thrown away.
And because I don't have a countertop on my lower cabinets, I've just piled stuff on there, making the drawers completely useless.  I definitely need to add a countertop!
This wall needs to be prettied up a bit.  Perhaps it's time for me to round up my paint samples again and create another piece of artwork!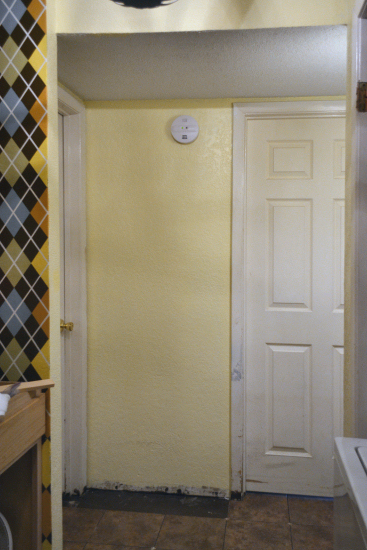 My light fixture needs some attention.  Can you see the problem?  The "cage" is about three inches lower than it should be.  That's what happens when you try to put together a DIY lighting project with painters tape!  It'll be a simple fix, but definitely needs to be addressed.
And the last thing that I'll include in this hallway challenge is my bedroom door (since it's the only one that can be seen from the front door/family room area).  I've already made one change–I swapped out the plain hollow core door for a six panel door.  The problem?  Even though they were both 36″ doors, for some reason the new one is about 1/4″ too narrow.  When I pull the door all the way closed, you can see a sliver of space, and the space is just enough so that the door closure thingamabob won't reach the thingamabob hole in the door facing.  In other words, there's no way to keep a dog and two cats out of our bedroom at night unless we put something heavy in front of the door.  I'm still not sure how I'll fix this problem, but I'm sure there's a solution. (And wow…check out that filthy moulding! How embarrassing!)
So that's my challenge, and one that I hope to complete by January 31st.  Think I can do it?  We'll see!
Have you joined the challenge?  What are  you working on?  If you want to join the challenge, it's not too late to start!
Addicted 2 Decorating is where I share my DIY and decorating journey as I remodel and decorate the 1948 fixer upper that my husband, Matt, and I bought in 2013. Matt has M.S. and is unable to do physical work, so I do the majority of the work on the house by myself. You can learn more about me here.