How To Build A Bookcase (And Accomplish The Impossible)
My bookcases are looking more like real, actual, quality bookcases now! Here's how they looked last night when I went to bed.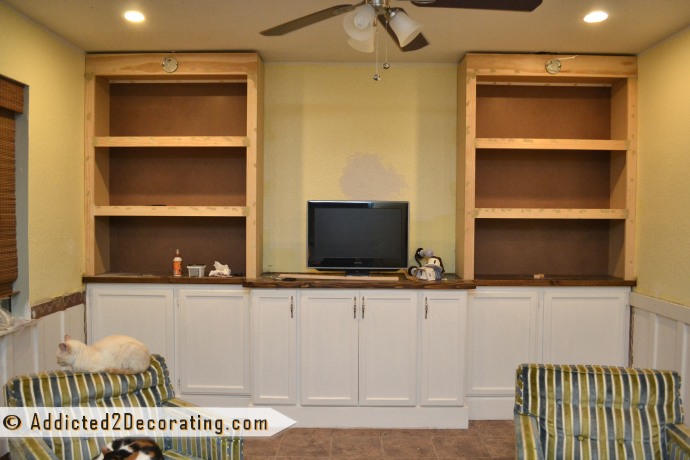 And remember how I read that there's no way to make long MDF shelves sturdy enough so that they won't bow?
Well, I accomplished the impossible, because these shelves are sturdy enough to hold nothing but old, heavy encyclopedias from one end to the other without bowing and sagging.  I'm quite confident of that.
So let me show you how to build a bookcase like this, beginning to end:
I started out by building a very basic bookshelf form.  The side pieces are 58 inches by 11 3/4 inches, cut from 1/2 inch MDF.  The three horizontal pieces are 45 inches by 11 3/4 inches, also cut from 1/2 inch MDF.  I attached the top horizontal piece about four inches from the top of the side pieces in order to leave clearance for the wires and light installation. I put those pieces together using wood glue and my nail gun.  Then I attached a piece of 1/4 inch hardboard (the same stuff I used to create my planked walls in my bathroom).
Next, I cut a piece of 1 x 6 lumber to the width of the bookcase, and then determined the placement of the metal plate for the light, and drilled the hole for the wire.  I also attached a temporary strip at the top that is the same height as my trim so that I'd know how far down to attach the 1 x 6.  Again, I attached it with wood glue and my nail gun.
Next I cut two pieces of 1 x 3 lumber and attached them to the sides of the bookcase.
Then I cut more strips of 1 x 3 lumber to attach to the shelves.  With this piece attached, the shelves were already very sturdy.
To support the back edges of the shelves, I cut lengths of quarter round and attached it just under the back edge of each shelf.  With that, the shelves were very sturdy.
But, since I wanted there to be no question about the structural quality of the shelves, I decided to add one more bit of reinforcement.  I used a 1-inch square dowel…
…and attached it right behind the front trim piece on each shelf.  I used wood glue, and then nailed it through the front trim piece, as well as through the shelf.  The 1 x 3 that I used as the trim covers this square dowel completely.  And with that last piece of reinforcement in place, these shelves were amazingly sturdy.  I'd be quite confident to put anything on those shelves, regardless of the weight.  (Anything within reason, that is.  I don't think I'd use them to store a set of free weights. 🙂 )
I'm always amazed at what a difference the trim makes.  Here's a view of the right bookcase all trimmed out, and the left bookcase without any trim.
And here they both are, all trimmed out.  I got all of the nail holes filled with wood filler.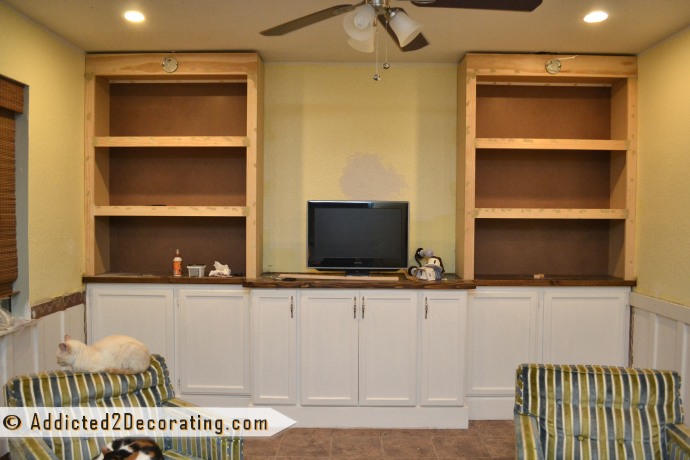 I'm hoping to get it finished today!  I still need to sand all of the areas that have wood filler, then caulk, prime, and paint.  Then I can install the lights.  I'm so thrilled with how it's turning out, and I'm so anxious to see it finished!!
On another note, doesn't my t.v. look tiny now? It's always looked small, but now it seems ridiculously tiny next to those big bookcases!  😀
Addicted 2 Decorating is where I share my DIY and decorating journey as I remodel and decorate the 1948 fixer upper that my husband, Matt, and I bought in 2013. Matt has M.S. and is unable to do physical work, so I do the majority of the work on the house by myself. You can learn more about me here.