Last Updated on June 5, 2021 by Kristi Linauer
Y'all, I'm finally feeling motivated again! I went into the studio yesterday knowing I needed to just get busy and get stuff done. I dreaded it, and procrastinated, but finally picked up my tape measure, took measurements to trim out the cased opening between the studio and back entry, and just made myself do it.
And you know what? The more I worked, the more I got into it, and the more excited I got about getting things finished! Sometimes you can't wait until you "feel" like doing it. Sometimes the doing comes before the feeling.
But anyway, Matt and I finally got our plans for the bedrooms and bathroom figured out, and as it turns out, just getting to the point where we can start on the bathroom is going to be a much bigger job than I had originally anticipated. And while we were deciding on those details, I also made a decision (base on some of your absolutely brilliant suggestions!!!) about how to turn the carport into my workshop.
But first, here's the plan for the bedrooms and bathroom. This is how the area currently looks…
So here are the changes that we plan to make during this first phase of the remodel.
The room labeled "Matt's Game Room" above will actually become our bedroom until we do the big addition. The door to the front porch has already been closed up, and we'll also remove the side window, leaving just the one front window.
The room labeled "Guest Bedroom" will actually become Matt's game room, and until we do the big addition, it will also be the only entrance into the new master bathroom.
The closets for the two bedrooms will be removed, making Matt's game room (labeled Guest Bedroom above) much larger.
The room labeled "Master Bedroom" will be turned into our master bathroom, and until we get the big addition done, the only access into the new bathroom will be through Matt's game room.
The new bathroom (labeled "Master Bedroom" above) will be squared up to include the current master bedroom closet and part of the current hallway.
The current tiny "Master Bathroom" will be torn down.
So after all of that is done, the area will look more like this (without the area in pink, which will be added on later).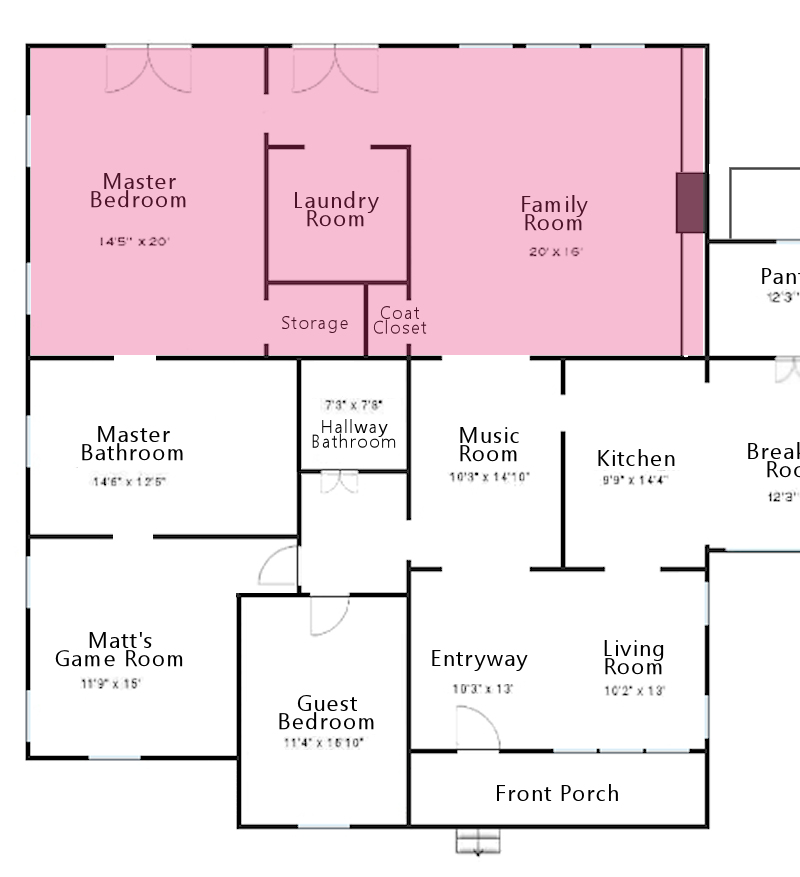 I still don't have closets and details figured out for the master bathroom/master bedroom. Hopefully I can finalize those details soon.
As far as closets in the guest bedroom go, I do have plans for that. The current closet is so small that it's pretty much useless, so I have no qualms about removing it. I'll be doing some sort of built-ins, but I don't have the details decided just yet. I may do closets on either side of the front window with a window seat in the middle. or I may do an entire wall of built-ins on the long side wall to include a Murphy-type bed so that we can continue using that room as an exercise room with my treadmill and Matt's exercise bike. But I'll decide those details later.
And of course, Matt's room will be his game room/museum. 😀 So everything in there will be customized to fit his collection.
These changes will make the hallway much smaller, which I really don't mind. Right now, that hallway is about 10 x 10. That's a hundred square feet for a big rectangle hallway, so we've got plenty of room to spare.
Now that we finally have our plans finalized, I can get my contractor over here, get a price estimate, and move forward. Matt is very excited about this next phase. 🙂 And, of course, I am too!
And moving on to the carport-turned-workshop idea…
Let me just say that y'all are BRILLIANT!!! The idea of turning the area just outside the studio doors into an open-air covered breezeway between the studio and workshop was just amazing, and that is definitely the idea I'll be going with. So it'll look something like this…
So basically, you'll walk out of the back doors of the studio and be in an open-air breezeway with the wheelchair ramp. And then a few feet ahead will the the front wall of the workshop. The entire workshop, when enclosed, will be about 15′ x 20′. That's plenty of room for a workshop!
And I envision some sort of sliding barn doors on both the front and the back, wide enough so that I can pull my truck to the back and unload plywood, MDF, and lumber when needed.
I've been looking for inspiration for those doors, and I came across this amazing pool house. It has glass barn doors on the inside, and solid barn doors on the outside.
I love that idea! On days with beautiful weather, I can leave them both open on both sides of the workshop. On hot or cold days, I can just have the glass doors shut so that I still get plenty of light. And at night, I can close and lock up the solid doors for security.
And since none of the walls in my workshop will need to actually bear weight, I can actually make the glass doors pocket doors so that they won't take up usable wall space inside the workshop.
So while I don't know all of the details about that just yet, what I do know is that the idea of the covered breezeway between the studio and workshop is an absolute, definite YES. That idea is absolutely brilliant, and I'm going with it.
Addicted 2 Decorating is where I share my DIY and decorating journey as I remodel and decorate the 1948 fixer upper that my husband, Matt, and I bought in 2013. Matt has M.S. and is unable to do physical work, so I do the majority of the work on the house by myself. You can learn more about me here.
I hope you'll join me on my DIY and decorating journey! If you want to follow my projects and progress, you can subscribe below and have each new post delivered to your email inbox. That way you'll never miss a thing!