So much progress was made on my studio yesterday! They got the ceiling all vaulted and reframed, and I would show pictures except that by the time I realized I hadn't taken pictures of the finished framing, they had already boarded up the doorways and window cutouts for the evening, and there's no electricity in there right now. So it's way too dark in there to take pictures.
But in addition to the ceiling, they also made big progress on the side exterior of the studio. The two layers of siding were removed (the vinyl siding and the original wood siding under it)…
…and they resheathed the side with new OSB.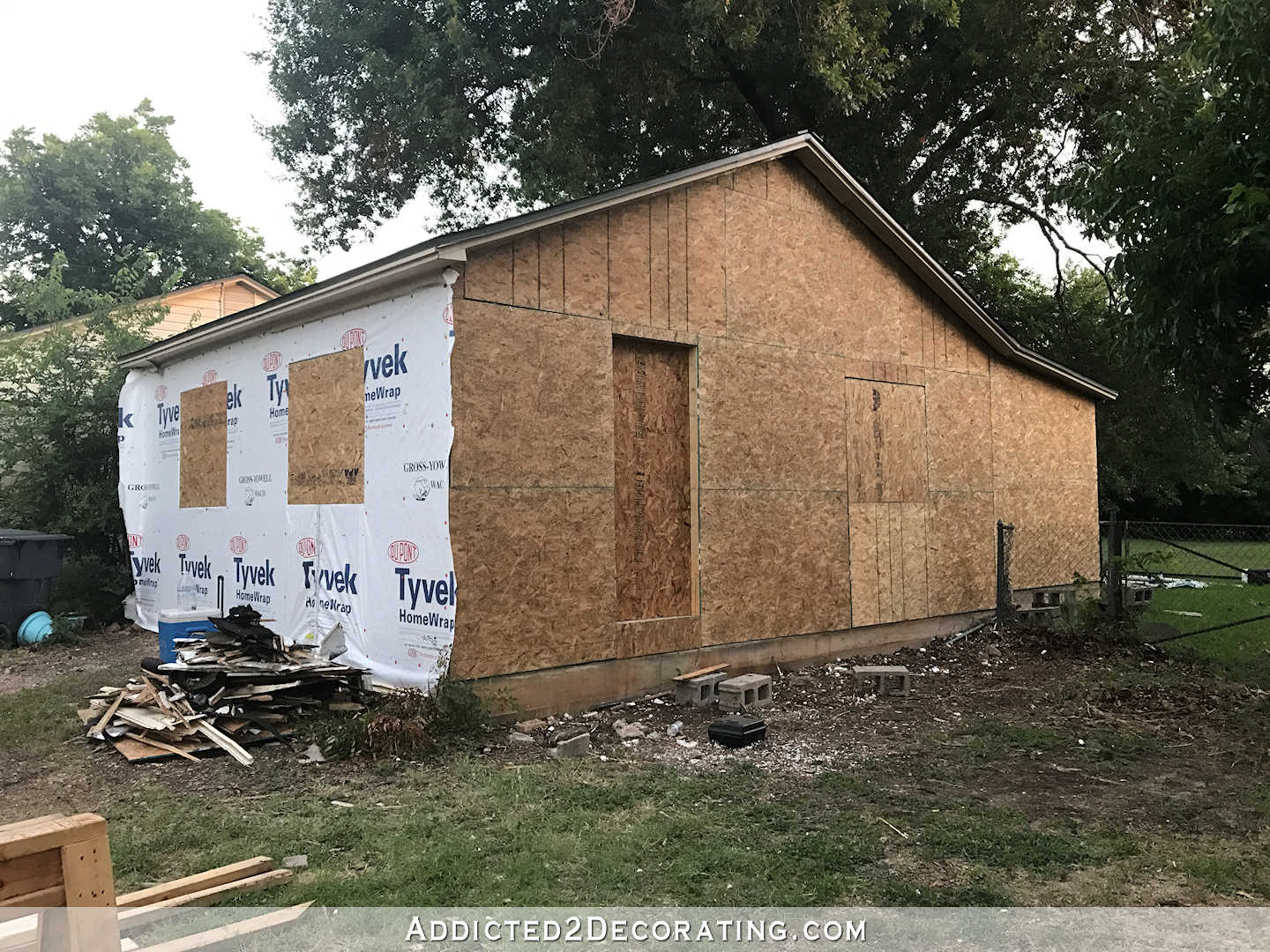 So as soon as the door and windows are installed, it's ready for house wrap and new Hardiplank siding.
I've been thinking about what I want to do with that doorway. It'll eventually have steps with a handrail down to the driveway, but I'd also like a little something above the door. My initial plan was to do a small portico. My favorites tend to be the ones that peak over the door with all of the supports attached to the house (i.e., they aren't held up by columns sitting on a porch).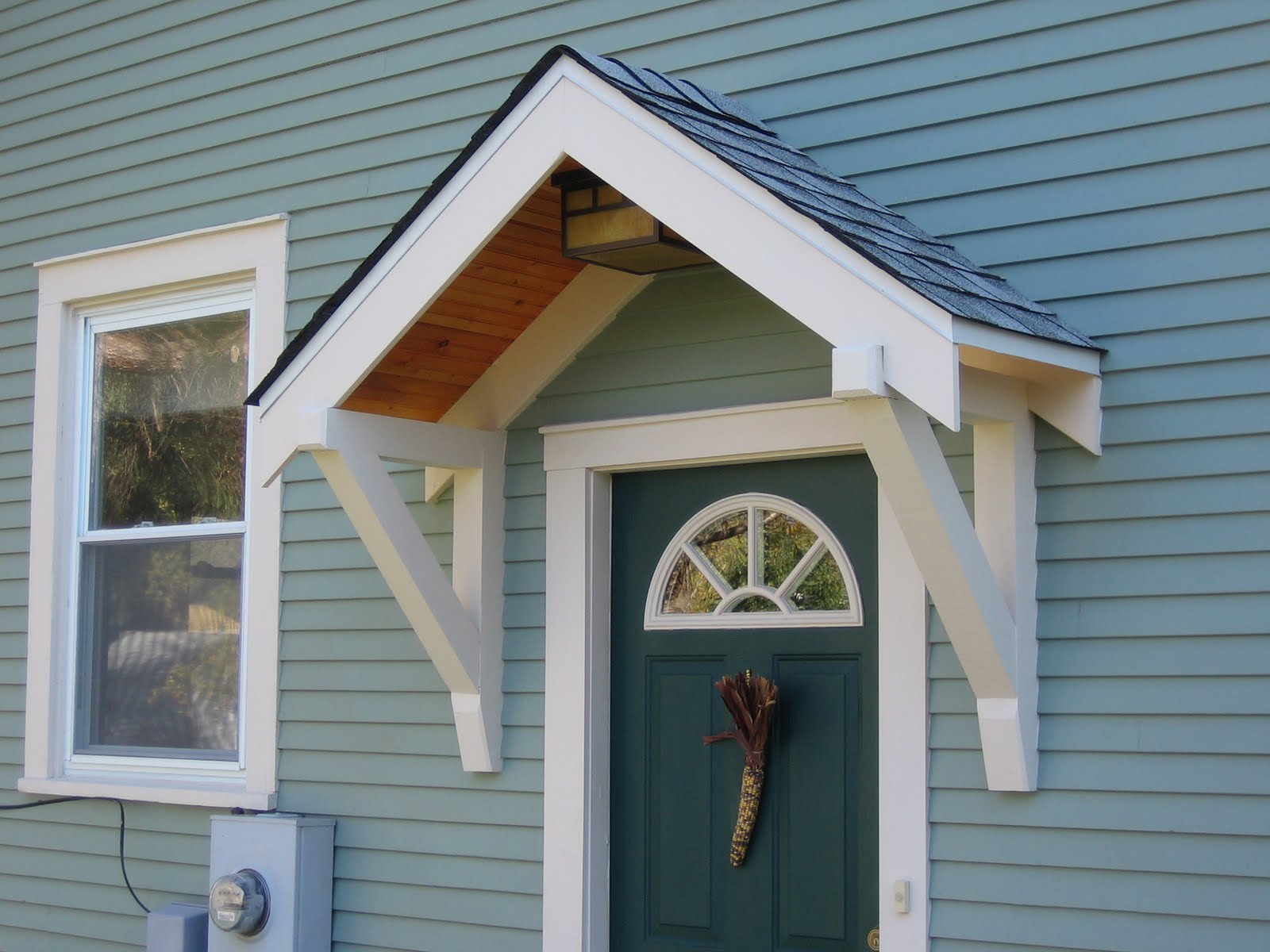 via Bungalow Restoration
via Sixty-Fifth Avenue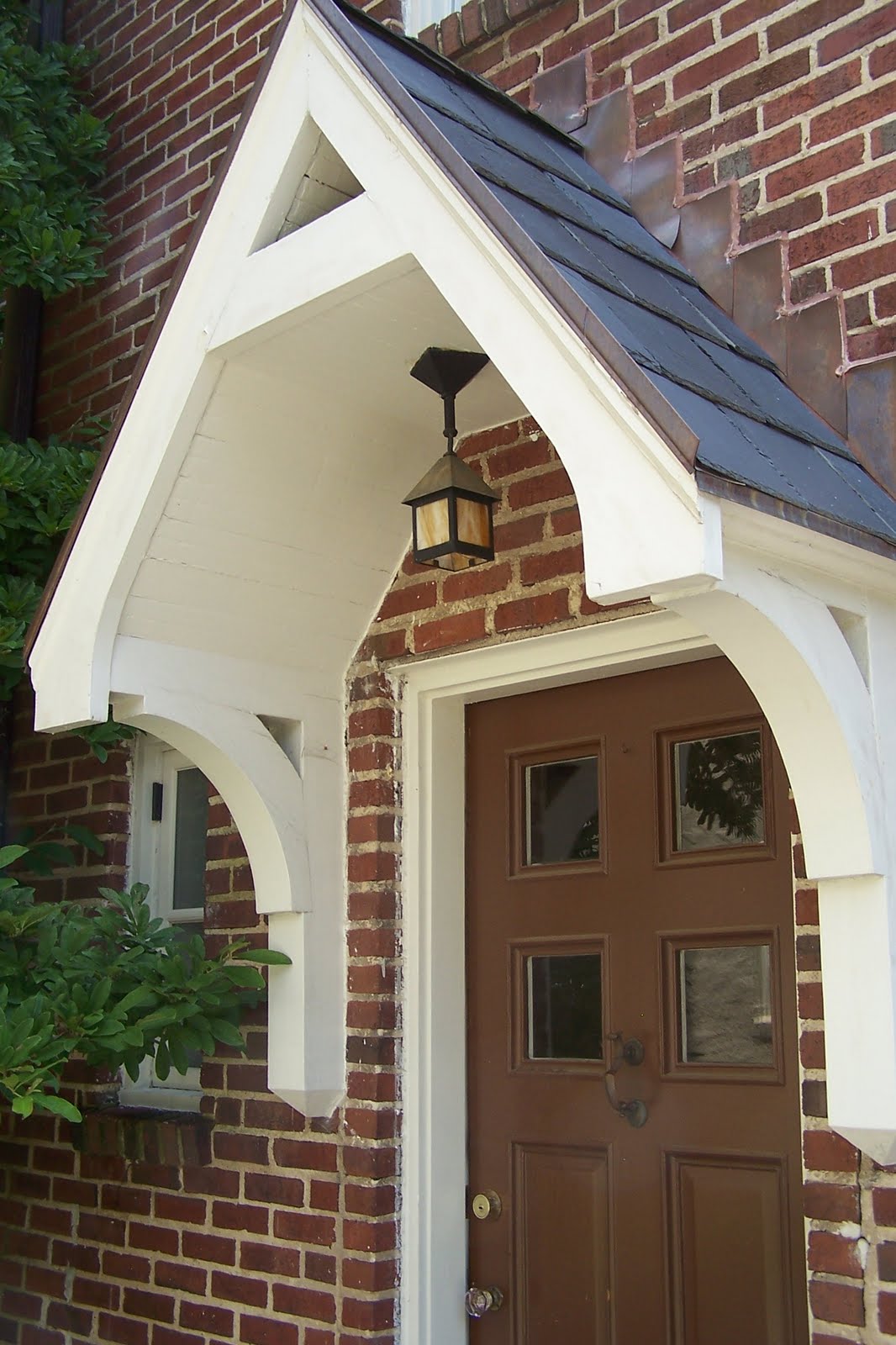 via Tara Dillard
The one over my side door would need to be a bit smaller than the second and third one above, but I think that design would look great over the door.
But there's another option that always stops me in my tracks when I see it — a fabric awning. My taste in fabric awnings is very narrow. I like either solid black trimmed in white, or black and white stripes. That's it. Nothing else. And while awnings come in about twenty standard shapes, there are only about two or three shapes that I like. My favorite is this shape…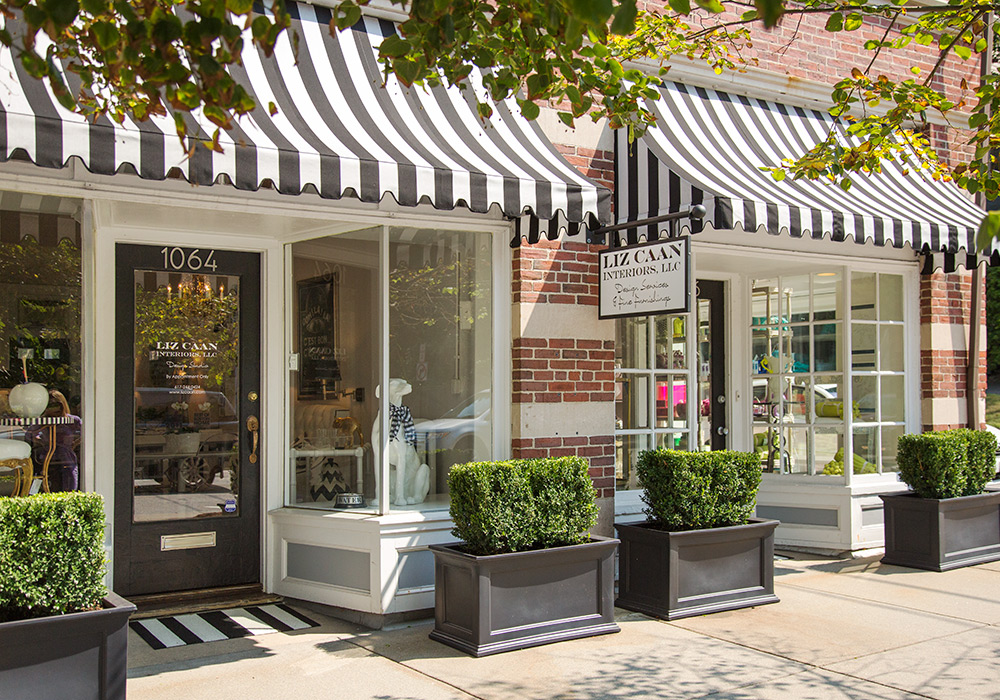 via Liz Caan Interiors
…but it has to have the gentle swoop exactly like the ones above rather than a triangle shape with straight sides. In fact, the ones above are perfect in every way, from the shape, to the scalloped design around the bottom edge.
If I go with this the awning option instead of the portico, that's pretty much the exact shape I want. And if I use it on the side door, I'd also add one over the back door(s) once the new addition is done, and I'd want to use one over the breakfast room windows on the front.
From a design/style standpoint, I actually prefer the awnings. The one drawback to my very limited taste in awnings is that I can't envision black and white stripes on anything other than a white house.
via Hunted Interior
via Baldridge Landscape
So those are the two options I'm considering right now. The portico would allow me more options as far as house color goes. The black and white stripe awnings would limit me, but I think I might be okay with a white house with lots of black and wood accents, a colorful front door, possibly reddish brown brick used on areas like the porch, sidewalk, etc. I think it could be a whole chic vintage-meets-modern look that I would love, but I might also need some help putting it all together. Interiors are my domain. Exteriors leave me feeling a bit like a fish out of water. I have the general idea of what I want, but I get hung up on the details and pulling it all together. But I do love dreaming about it!
I do need to make a decision within the next couple of weeks, though. If I go with a portico design, I'm pretty sure it needs to be built prior to the siding being installed. Right? That seems to make sense to me.
Addicted 2 Decorating is where I share my DIY and decorating journey as I remodel and decorate the 1948 fixer upper that my husband, Matt, and I bought in 2013. Matt has M.S. and is unable to do physical work, so I do the majority of the work on the house by myself. You can learn more about me here.