Well, folks, the year is halfway over! I've really slacked off lately in getting things done. First, my day off for my birthday kind of turned into a week of being lazy. Then I started my 60-day keto challenge group and focused on that for a while, and then there was Independence Day and that excuse for a long weekend.
And now here we are. The year is halfway over, and my progress on my "to do" list for 2019 is nowhere near where I had hoped it would be.
The good news is that I've gotten quite a bit done on the studio and half bathroom so far this year. At the beginning of the year when I wrote my "to do" list, the studio looked like this…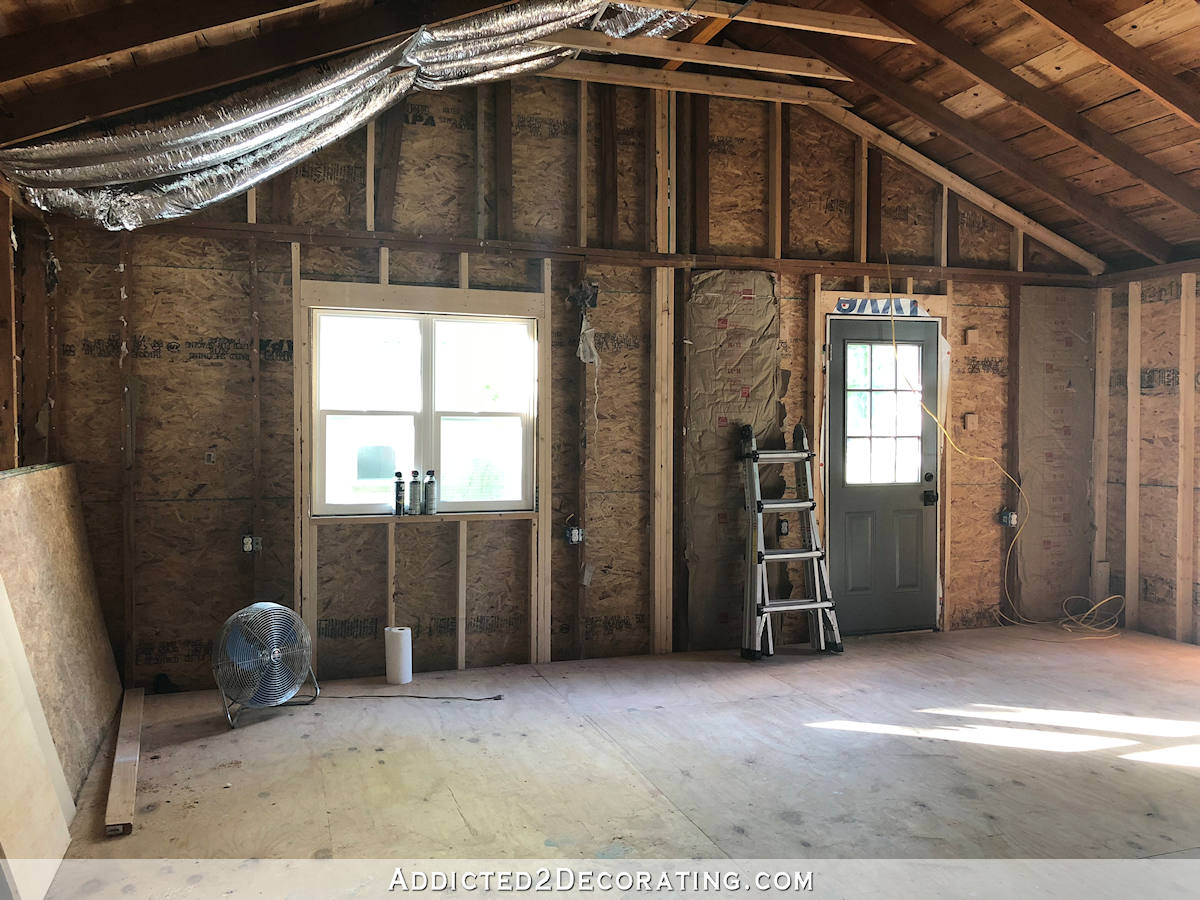 And now it looks like this…
I just realized I don't have any recent wide angle views showing the finished floor, painted walls, and wallpapered front wall. I'll have to remedy that soon!
But that's quite a few items crossed off of the list.
Electrical work is finished (other than installing four lights)
The room is insulated and drywalled
The flooring is installed
That's progress, but there's so much left on my list to finish in this room!
Install door casings and baseboards
Caulk, prime and paint all trim
Prime and paint the doors
Build cabinets in the "office" area of the room
Build cabinets and a long desk in the "projects" area of the room
Build a huge rolling work table
Install lighting
Organize and accessorize to finish
And at the beginning of the year, the half bathroom and back entry area looked like this…
And now those look like this…
Again, that's a few items crossed off the list…
The electrical work is finished (except for installing lights and one outlet)
All of the insulation and dryall is finished
The floor is installed and finished
Most of the casings are installed, with the exception of one door casing
The pocket doors are installed
So that leaves…
Finishing the casings and trim, including caulking, priming and paintingall the flooring

Install window casings, door casings, baseboards and other trim
Installing ceiling lights in the bathroom and storage closet
Installing the toilet
Finishing the tile border and wainscoting on lower walls of the bathroom
Painting the two pocket doors
Installing the new door handle
Making some artwork for the entryway and bathroom walls
So that's just the studio area. I have certainly made progress, but there's so much left to do!
And the studio wasn't the only room/area I wanted to work on this year. I had all kinds of projects I wanted to do outside, like building window boxes, and finishing the stone around the front porch. While the stuff has been cleared off of the front porch by now, the stone skirting still looks like this…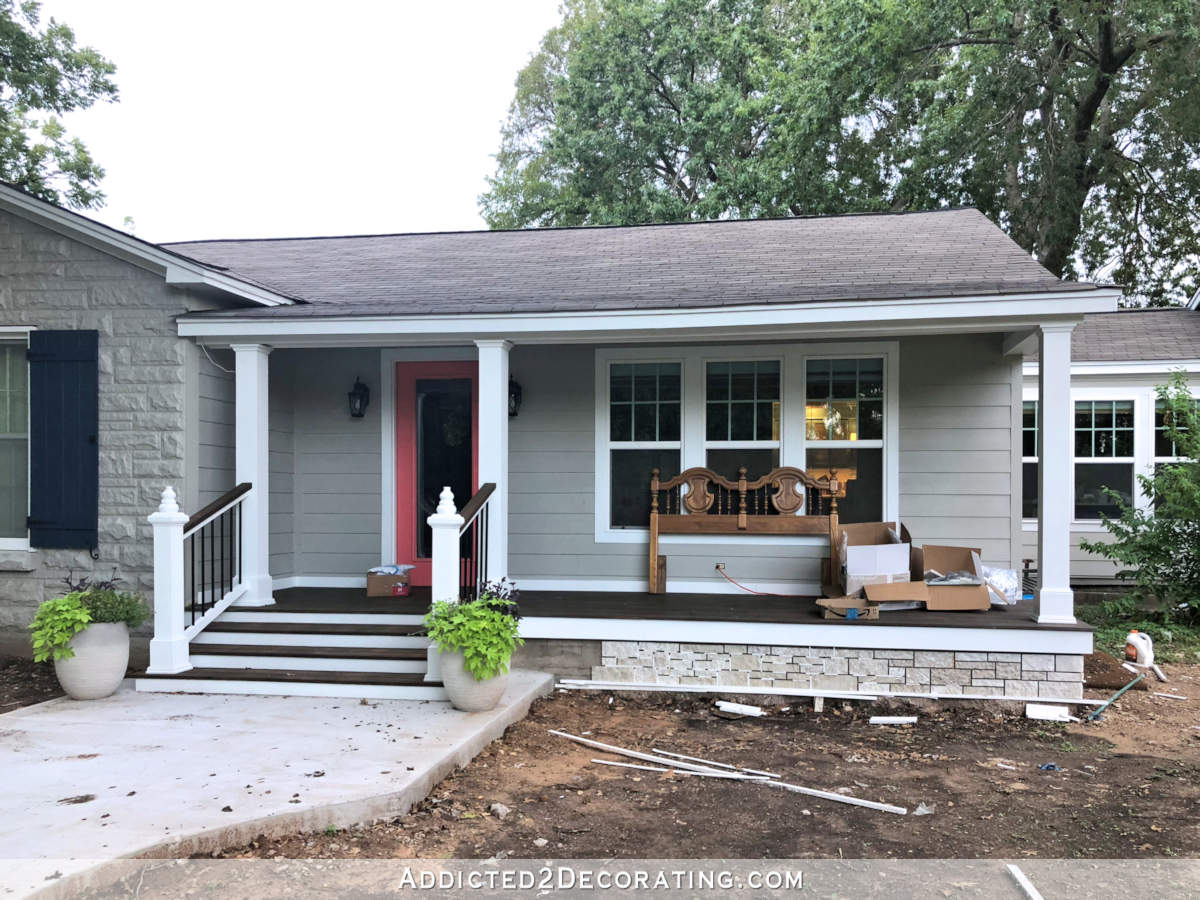 I'd really love to get the front of my house looking more finished before the end of the year. It has come such a long way from where it started…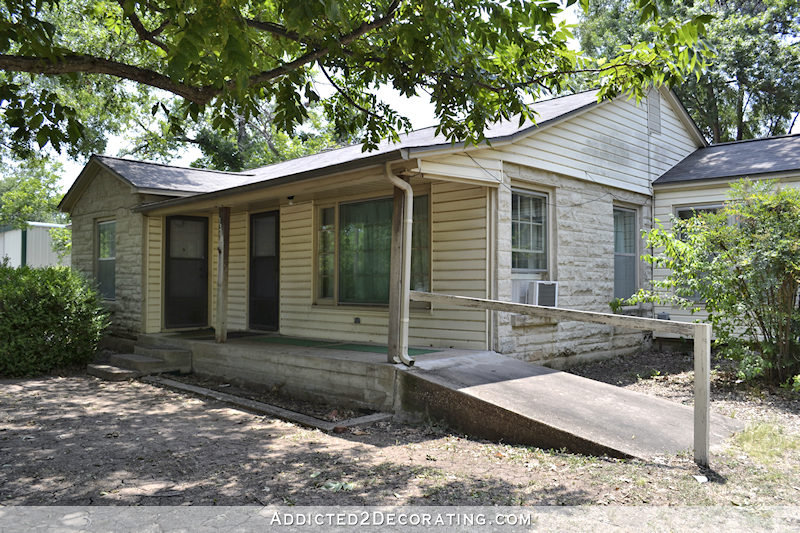 …but it still looks very unfinished in its current state. And my lack of a proper lawn and landscaping is getting old. I'd love some grass and pretty plants!
And I also had plans for the music room, living room, and kitchen that I haven't even given a second thought to since writing my initial "to do" list for the year.
I really, really want the studio finished, but at the same time, I found myself really running out of steam and motivation these last few weeks. I think it's the singular focus that's getting me down and worn out, so I might need to do some non-studio-related projects every now and then just to keep me going.
But starting today, I'm ready to take on the second half of the year with renewed vision and enthusiasm. Let's see what I can accomplish in six months!
Addicted 2 Decorating is where I share my DIY and decorating journey as I remodel and decorate the 1948 fixer upper that my husband, Matt, and I bought in 2013. Matt has M.S. and is unable to do physical work, so I do the majority of the work on the house by myself. You can learn more about me here.
I hope you'll join me on my DIY and decorating journey! If you want to follow my projects and progress, you can subscribe below and have each new post delivered to your email inbox. That way you'll never miss a thing!